Eileen Davidson may not return full time to 'The Young and the Restless'
Ashley Abbott will be seen in Genoa City when the storyline dictates she was a necessary.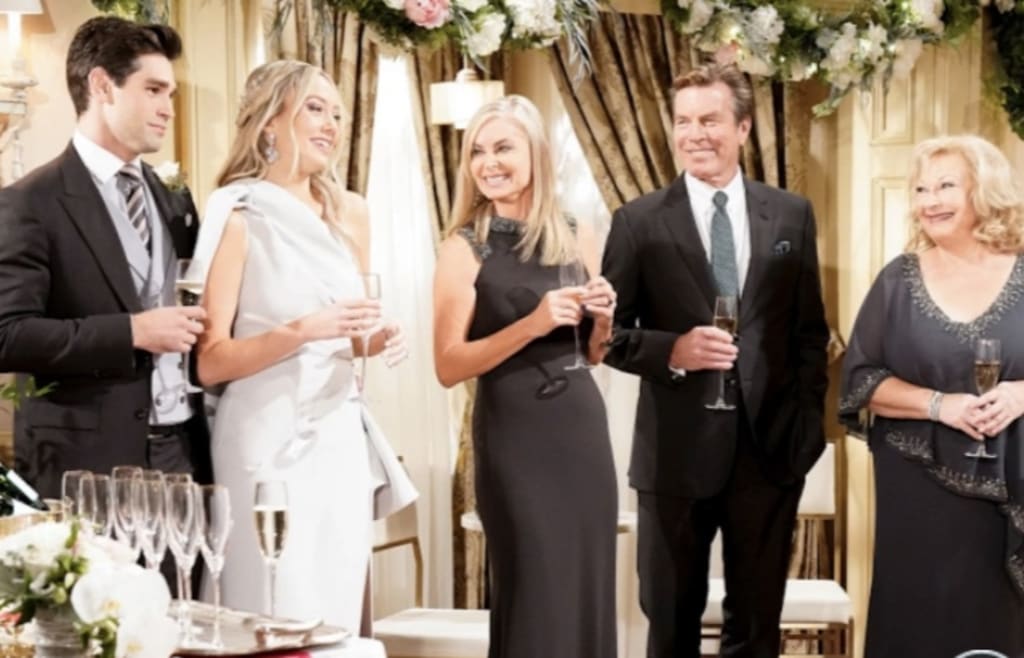 When it comes to the soaps, loyal viewers enjoy keeping up with the people who portray their favorite characters. Sometimes accurate information is released regarding the actors and at other times there may be misinformation or even falsehoods that prevail. On a recent forum for The Young and the Restless a fan asked where Eileen Davidson was because she had not seen her character in Genoa City recently. Ashley was last on hand for the wedding of her daughter Abby to Chance Chancellor.
On a different site there was a rumor that the actress might be returning full time to the CBS daytime drama. Eileen Davidson's character, Ashley Abbott is a fan favorite and a beloved legacy resident of Genoa City. She was on screwn quite a bit during her mother's last weeks prior to her death and leading up to the holidays. Ashley now is no longer around and it's assumed she returned to Paris.
Jack has been occupied with Sally Spectra and has not mentioned his sibling. Abby seems to be leaning on Nina and not even reaching out to her mother in the midst of her baby drama. Rumors regarding soap stars can lead to quite a bit of confusion, especially when they cannot be substantiated. An interview done with Eileen Davidson in September 2020 gave clarity in regard to the intentions of the actress. You can read it by clicking on the following link.
Davidson has portrayed Ashley off and on since 1982. She officially walked away from the show in October 2018 in the midst of turmoil related to then head writer Mal Young. At that same time Christel Khalil went on recurring status as Lily and Mishael Morgan left Y& R when contract negotiations fell through. It was rumored at that time that all 3 women were uncomfortable working with Young who was later replaced by Josh Griffith. Shortly after Griffith took over,Khalil returned full time and later Morgan came back as Hilary's twin Amanda. Davidson began showing up here and there and became pretty regular as Dina was living out her last days.
Viewers became used to seeing her and it was assumed by some that she was back to stay. Davidson has never stated that she was back full time, but only that she was going to be on screen ax the storyline dictated. Once Dina passed away thetr was no reason for her daughter to stick around. Eileen Davidson said when she left Y&R in 2018 that she wanted to spend more time with her family and that has not changed. Viewers will see Ashley again when there is a situation that demand she return to Genoa City. That's the last official statement that she gave but actors often change their minds.
When Steve Burton left his role as Jason Quartermaine on General Hospital, he announced that he would no longer be acting and would spend more time with his family. About six months later, however, Burton began portraying Dillion Macavoy the son of Nikki Newman on The Young and the Restless. He left that role and went back to General Hospital as Jason. Other soap stars have made decisions and backtracked from them so no one can say for certain what Eileen Davidson will do.
At this particular time there really is nothing going on in Genoa City that would require Ashley's presence but she could easily be written into the storyline. The rumors of Eileen Davidson returning to The Young and the Restless do not seem to have merit at this time based on her statement in September. That was five months ago so there could be some negotiations going on behind the scenes. Until further notice, fans should take Davidson at her word that she wants to spend time with her family,
Who knows, perhaps Ashley might come home to help Kyle deal with Ashton Locke. Bring a business woman, Ms. Abbott may have crossed paths with Locke at some point. If Davidson does decide to come back to The Young and the Restless, there is no doubt the writers will make away for her. Be on the lookout for spoilers and updates to find out when Eileen Davidson's character will next be in Genoa City.
celebrities
Cheryl is a poet, freelance writer, published author and former Newspaper columnist. She has degrees in Psycology and Biblical studies. She enjoys sharing natural cures, and Nostalgia related info. Tips are greatly appreciated.
Receive stories by Cheryl E Preston in

your feed