Days of Our Lives: Hell hath no fury like Ava scorned
The mob princess has already begun her revenge against Rafe and Nicole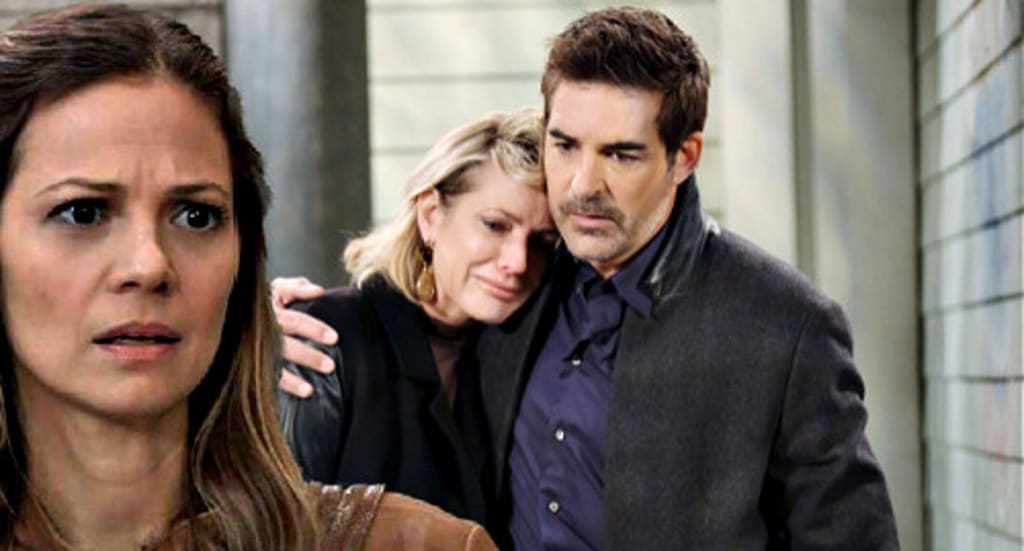 Days of Our Lives: Ava becomes unhinged
Thursday on Days of Our Lives Chloe Lane (Nadia Bjorlin) and Brady Black (Eric Martsolf) had what they thought to be a private conversation in the Basic Black boardroom. Ava Vitali (Tamara Braun) was lurking nearby and heard every word. The mob princess is now aware that Rafe Hernandez (Galen Gerig) and Nicole Walker (Ariane Zucker) slept together on the boardroom table. Ava had just told Rafe to invite Nicole to spend New Year's Eve with them but now she has other plans on her mind.
Ava is angry that her best friend and the man she loves both betrayed her and has vowed to now be on her worst behavior. She said she thought Rafe was one of the good guys and she was trying to change for him. Ava is now scorned and hell hath no fury like the revenge she will unleash on Nicole and Rafe. Days of Our Lives spoilers indicate that Rafe will pick up on signals that Ava is giving him and realize she is becoming unhinged. The detective will make a grave error and decide to give her the benefit of the doubt and by the time he figures out the truth, it might be too late.
Days of Our Lives: Rafe will be slow to pick up clues
Rafe will try to make things work with Ava, but eventually, he will come to that realize she knows about his betrayal with Nicole and has been plotting against him and trying to set him up. Ava's first step was to take a pair of scissors and cut off the head of Duke the Basic Black bear. This woman ran a mob family and is responsible for people losing their lives.
Rafe knows this and in addition, he is aware of her obsessive-compulsive behavior with Steve Johnson ( Stephen Nichols). In a way, Rafe has set himself up for whatever will now come his way and Nicole will get a payback that makes all of her crimes seem like misdemeanors. Spoilers say that Ava's behavior will become so unhinged that she will torture the two offenders but there are no details of how this will play out.
Days of Our Lives: What goes around comes around
It was not long ago that Ava and Gwen Rizczech (Emily Obrien) helped Kristen DiMera (Stacy Haiduk) escape prison in order to keep their secrets from coming to light. Gwen has done something to Sarah Horton in order to keep Zander Kiriakis (Paul Telfer) in her bed. Ava does not want Rafe to find out that she assisted Kristen in the past. All of this hard work, lies, and deceit has been for nothing as her plan is unraveling.
Zander and Maggie Horton Kiriakis (Susanne Rogers) have figured out something is wrong because Sarah's phone has been turned off. Both Ava and Gwen will eventually be busted and lose the men they love. There are many tricks Ava could have up her sleeves regarding her lover and her best friend. She could find a way to gaslight them or play more tricks like cutting up Duke the bear.
Ava will plan and execute revenge on Nicole and Rafe and her own misdeeds are going to come back to bite her and Days of Our Lives viewers will be glad. They say what goes around comes around so be on the lookout for updates related to how Ava plans to exact her revenge and how far she will go before Rafe finds out what is going on. Ms. Vitali might soon be history in Salem so stay tuned.
celebrities
About the author
Cheryl is a poet, freelance writer, published author and former Newspaper columnist. She has degrees in Psycology and Biblical studies. She enjoys sharing natural cures, and Nostalgia related info. Tips are greatly appreciated.
Reader insights
Be the first to share your insights about this piece.
Add your insights