Dark, Surreal and Achingly Beautiful, 'Undone' Is the Best New Show of the Year
A deeply moving look at mental illness.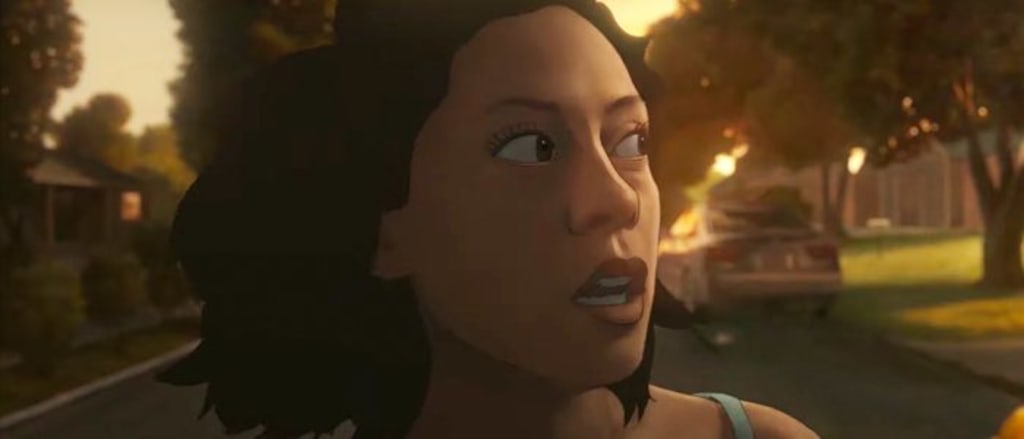 Hailing from BoJack Horseman heavyweights Kate Purdy and Raphael Bob-Waksberg, Undone has some serious pedigree to get expectations high, and similarly to Netflix's groundbreaking animated series, Undone is funny, dark and deeply moving. Like BoJack too, Undone is an exploration of mental health in modern society and is an empathetic look at people afflicted with mental illness, perhaps inherited through family. Undone also has a unique animation style rarely seen on television by combining rotoscoping and 2D oil paintings to create an achingly beautiful look for this dark and surreal show. The series opens with our tear-stricken protagonist Alma crashing her car after seeing her deceased father on the street opposite her; the show's pilot then retraces to introduce us properly to Alma and the people surrounding her all of whom she has complicated relationships with. There's her deceptively optimistic sister Becca trying to masquerade some deep-rooted issues; her faithful, very concerned mother Camila trying to prevent her daughter from neglecting her own health; and then there's her boyfriend Sam who she shares a profound bond with but is concerned by their contrasting outlooks on life. Alma's mental health is shown to be deteriorating from the onset of the episode as she's struggling with the mundanity of her routine life, and this causes her to act self-destructively in a series of events that leads up to the crash and have repercussions when she reawakens in hospital some time later. However, what strikes her most after waking from her coma is that she can now see her deceased father, who sets a mission for her to uncover the mysteries behind his death with her new abilities to manipulate time and space. With this fantastical premise, Undone breaks a lot of rules to give a wholly unique viewing experience with amazing visuals and great lead performances both in the actors' vocal and motion capture performances.
Through all the time-shifting and journey spanning events that bind Alma and her father together, Undone grounds its fantasy elements with real themes and messages, and it shifts perspective to make each supporting character three-dimensional. Through Camila and Sam's eyes we can see legitimate concern as the former is aware of her family history of mental illness and the latter discovers some troubling things about Alma's father that she isn't aware of. We too begin to worry about Alma as it becomes more unclear whether what she is seeing and doing is real or not; what we have been told by her father is doubted as lines are increasingly blurred. Alma's dad simply says that their brains work differently and says this is true for her grandmother who was in a mental institute for her schizophrenia, but the further we get in the more this seems to be a lie. Sam even tells Alma that people with schizophrenia hear these voices and believe themselves to have different abilities, and the more we see the more this becomes plausible. It's deeply moving to see everyone's concerns for her, but Alma's wants for herself are so human that her perspective is so believable we don't know what to trust. Alma wants to repair everything that has gone wrong not only for herself but for those around her as well as her sister's wedding is about to implode due to her recent mistakes and her want for mother to no longer be frustrated by her. With time being so fluid in the show, there are some really powerful montages that showcase the tragedies of Alma's life as she relives some of her most bittersweet memories in emotionally powerful scenes as we see her in her happiest memory that she regrettably has to leave whilst also having to face resurfacing traumas. Sometimes she taps into other people's memories, and a particularly moving episode looks into her boyfriend's difficult upbringing as their relationship becomes unstable after a recent breaking of trust, and we see their funny, beautiful first encounter. This all builds to a gripping finale where harsh truths are uncovered about her father's death and facades are broken that are disheartening and shocking. Even after every awful fact she uncovers, Alma still chooses to believe, and we watch her push every person who is concerned for her aside as she believes that she's fine and that she's right to believe in her abilities. After having emotional confrontations with her sister and mother, the series ends on a brilliantly open-ended note that leads us to believe either option could be true. It's such a fantastic ending that it's hard to see how a second season could be pulled off, but I have faith that if the writers have a plan then I am sure it will be remain a flawless piece of television. Here's hoping Amazon realises what they have here since they've hardly marketed this amazing series that deserves your attention.