Classic Movie Review: 'The Age of Innocence'
Flowers for Martin Scorsese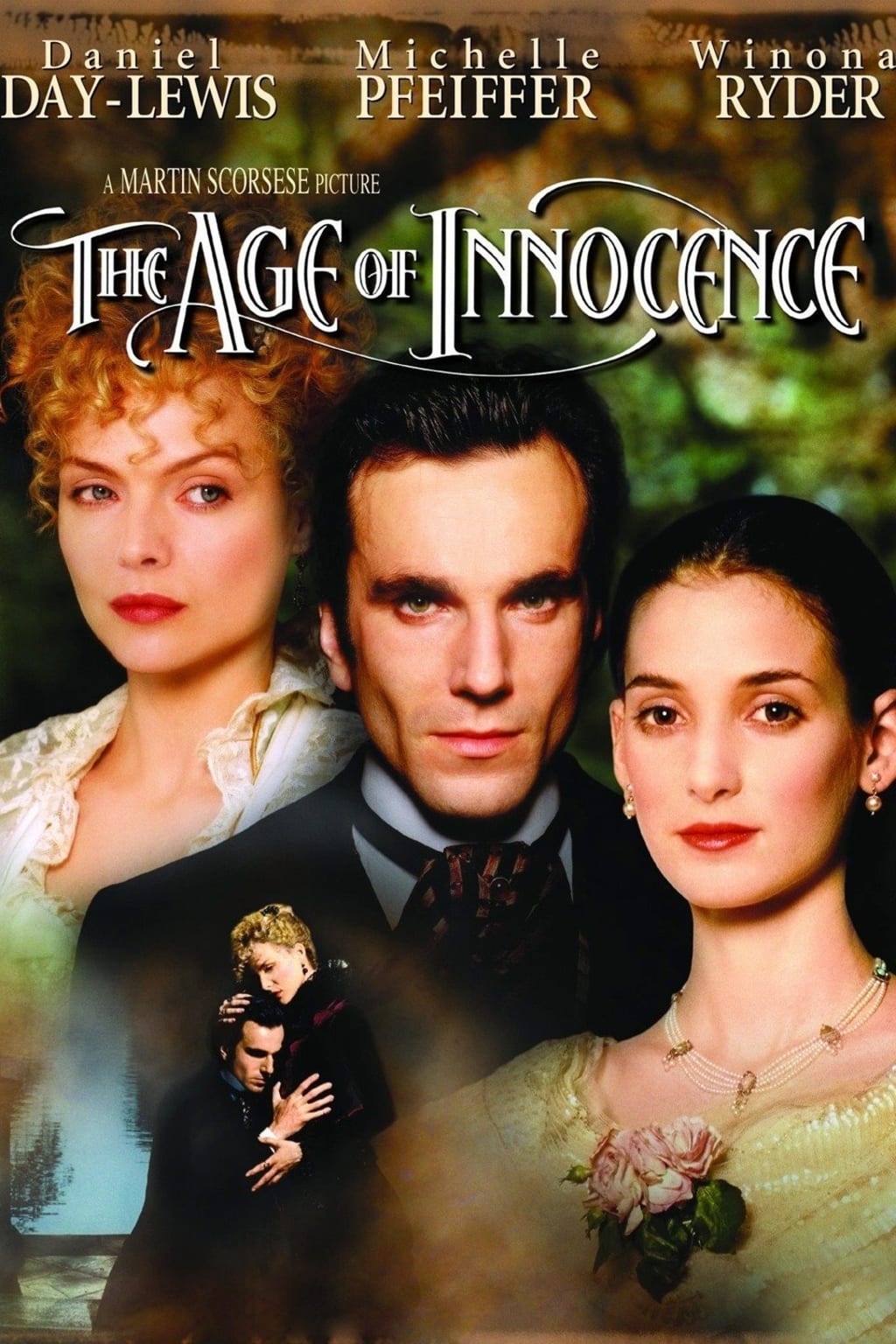 The Age of Innocence (1993)
Directed by Martin Scorsese
Written by Jay Cocks, Martin Scorsese
Starring Daniel Day Lewis, Michelle Pfeiffer, Winona Ryder
Release Date October 1st, 1993
Published September 2023
Flower imagery is important for Martin Scorsese in The Age of Innocence. The opening credits roll over footage of a flower. The first moving image of The Age of Innocence is an opera singer (Cindy Katz), picking up a flower as she sings. According to the Old Farmer's Almanac, conveying meaning via flowers was something of an elaborate pastime in the late 1800s, the time in which The Age of Innocence is set. The color of the flower, the type of flower, the bow tied to the flower, and the way in which the flower was given all had a specific meaning that was known among those in the Victorian Era.
For instance, a yellow flower indicates romantic rejection whereas Red is the color of passion. The opera singer in the opening of The Age of Innocence has picked a yellow flower and whether or not you understand the language she is singing in, the flower is an indication that the man who is behind her in this scene, played by Actor Thomas Gibson of Dharma and Greg fame, is receiving a romantic rejection. Daniel Day Lewis' Newland Archer is seen as Scorsese pans over the crowd at the opera and is seen wearing a white carnation which, again, according to the Old Farmers, indicates innocence, pure love, and sweet love.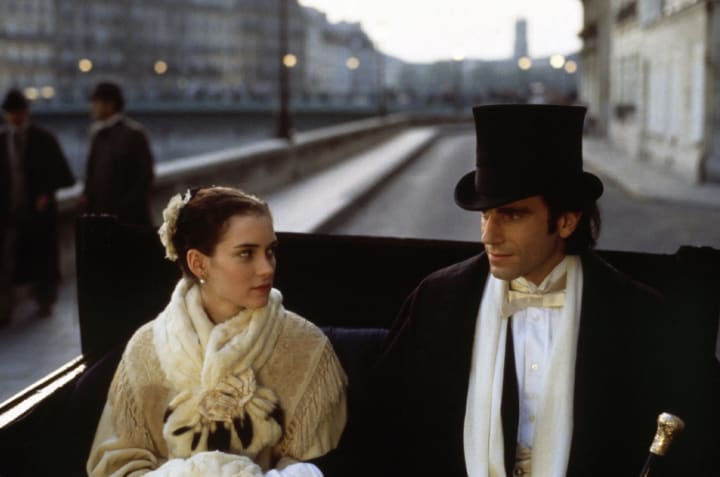 Newland is newly engaged to May, played by Winona Ryder, and appears happy to be betrothed to a young woman from a good and respectable family. Newland's commitment to May is upended by the appearance of Countess Ellen Olenska, played by Michelle Pfeiffer. Where May is much younger than her husband to be, Ellen is the same age and the two had known each other in their youth. For various reasons, they never became romantically involved. Ellen moved to Europe, married into royalty, and is now scandalizing New York City with the notion that she may actually become divorced. The plot truly kicks in when Newland is assigned by his law firm to represent Ellen and encourage her to return to her powerful husband or risk scandal and ruin.
Nearing the end of the first act we get more flower imagery. Newland, after having visited Countess Olenska, decides to send her flowers but not before he's reminded by the florist that he should send flowers to his wife-to-be, May. Newland sends May her favorite flower, Lilly of the Valley which symbolizes sweetness, tears of the Virgin Mary, and humility. These are lovely and also damning traits. For the Countess, he sends yellow roses. Now, yellow does symbolize rejection but, yellow roses have their own meaning. in this case, they symbolize jealousy, decrease of love, and infidelity.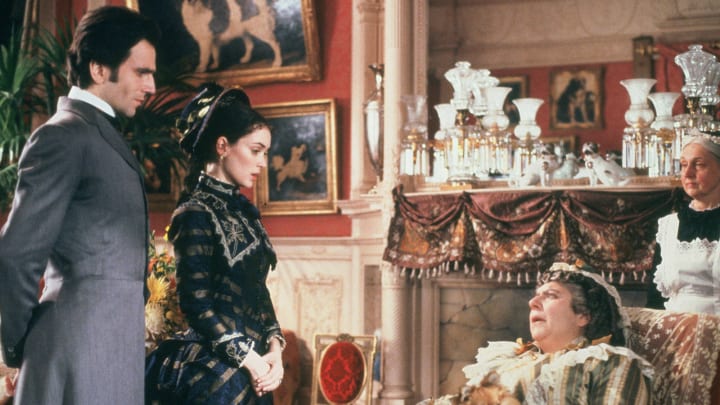 This takes a little parsing, but you can infer that Newland is jealous of Beaufort (Stuart Wilson), the caddish married man who brought the countess home in time for her meeting with Newland. The decrease in love could also be related to this jealousy. But the last one, infidelity, that is using flowers as foreshadowing as the story is clearly building toward Newland being unfaithful to May by starting an affair with the countess. Honestly, I didn't know there would be this much homework regarding flowers, but I am kind of enjoying this.
In dialogue, we hear Newland own up to sending flowers to the countess, who is also May's cousin. May tells us and him that the countess did not mention receiving flowers from him though she received orchids from Mr. Beaufort and carnations from Henry Van der Luyden. Sadly, the Old Farmer's Almanac has no symbolic meaning for orchids and carnations would require us to know the color to know the meaning. What Scorsese and co-screenwriter Jay Cocks are doing with this dialogue is underlining the importance of flowers and hinting at how the countess has taken Newland's flowers in the fashion he intended, as a secretive flirtation. Notably, his confession to May makes sending flowers to the countess seem innocent, as if a gesture on both of their behalf. But he fails to mention what flower he had sent. A lie of omission.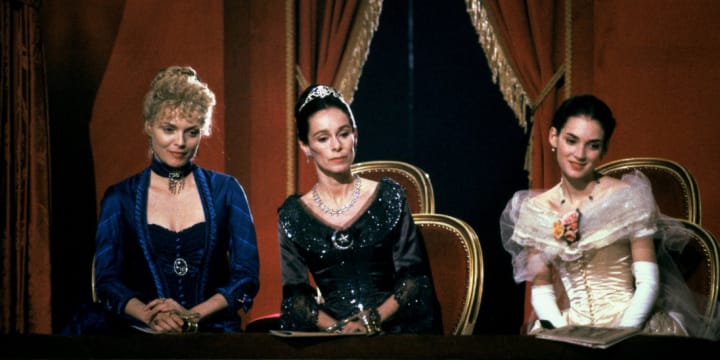 The flower as shorthand continues as Mr. Beaufort sends the countess red roses, the symbol of love. This one is relatively universal. Oh, I still looked it up to see if there were a secondary meaning but no, it is simply a confession of love. Rather than have Beaufort on camera confessing his love, Scorsese shows us his red roses and we watch as the countess dismisses them, sends them to a family down the road. Whether this was an expression of her genuine lack of feelings for Beaufort or a performance for the benefit the visiting Newland, is open for interpretation. Regardless, Scorsese's use of flowers is continuing to be enlightening and rather delightful.
The flower imagery of The Age of Innocence begins to fade midway through the movie. It gives way to more blunt and biting forms of communication. Once Newland confesses his feelings for Ellen, there is no need for symbolic flowers. All cards on the table, the two wrestle with their feelings in a heart rending scene where Ellen tells Newland that he would no longer be the man she admires if he were to give up his integrity to be with her. She loves that he's upstanding and good hearted and she knows that she wants more than just an affair. But a relationship, a marriage, these are unthinkable, neither could survive the withering societal backlash from such a scandalous relationship, especially as Ellen is already caught up in more than one scandal, thanks to Beaufort and his wife.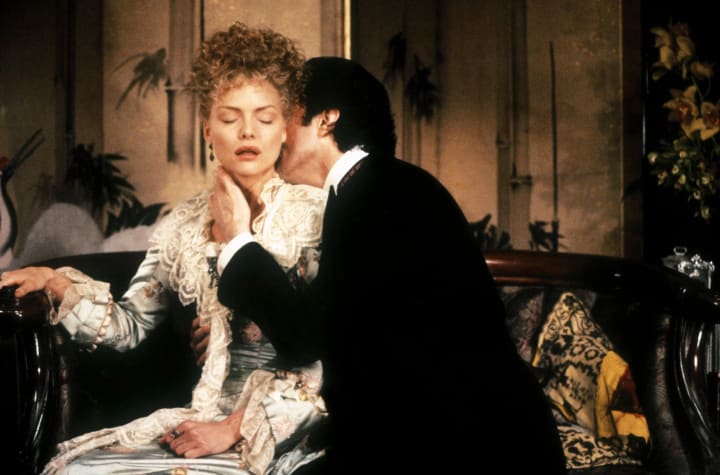 In a lot of Victorian Era stories we are invited to roll our eyes and wonder aloud about why the romantic protagonists care so much what other people think. Scorsese lays bare exactly why what other people think matters in this context and period in time. In the background of The Age of Innocence, Mr. Beaufort has ruined his life chasing after Ellen. He scandalized his poor wife, played by Mary Beth Hurt, embarrassed his and her extended families which seem to link together across the City of New York and high society, and he loses his business and wealth, all because he tried to chase down Ellen. We see none of this, we are merely told about it and it is a cautionary and urgent tale for both Ellen and Newland that such scandalous behavior can lead to more than a mere broken heart.
Praising Martin Scorsese borders on cliché in this day and age but I must give praise once more. The Age of Innocence is a film I avoided as a young person because I thought it looked like homework. Watching it with far more mature eyes and perspective, I've fallen hard for this movie. It's a rich, exciting and unique romantic drama that must be seen. Stripped of the tools of his usual tough guy characters and his love of Boomer era music, Scorsese proves as smart, exciting, and artistic as ever as he crafts a story of remarkable care and detail. Scorsese is a remarkable artist and that attention to detail, the precise way in which his direction dances with the dialogue and the performances in brilliant sync is as exciting as any of the violent imagery that has marked much of Scorsese's legendary directorial career.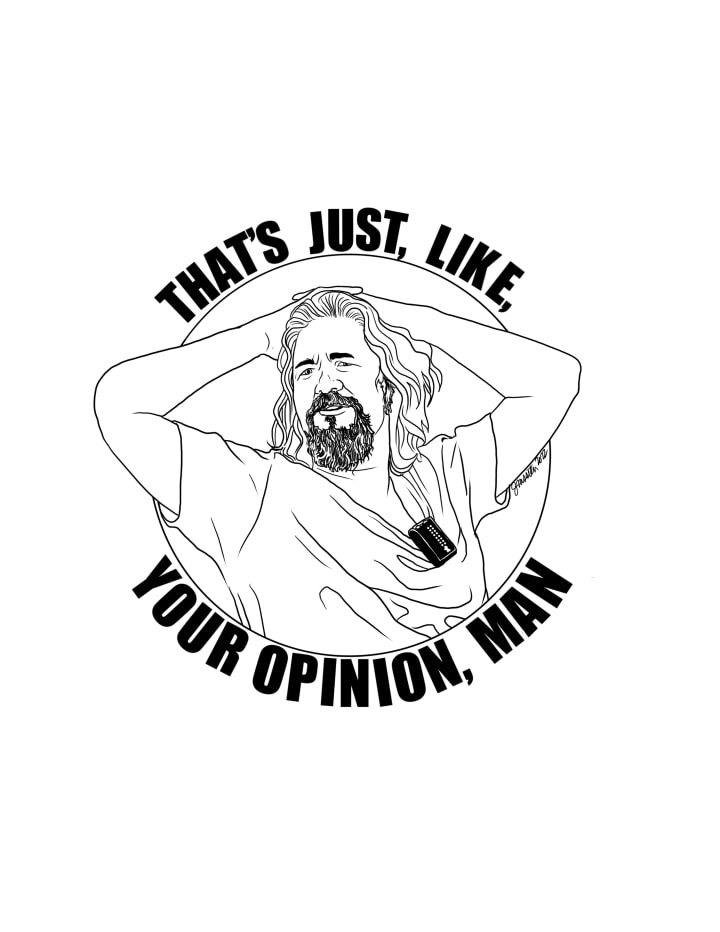 The Age of Innocence is the subject of the next episode of the Everyone is a Critic Movie Review Podcast spinoff podcast, Everyone is a Critic 1993. On this show, myself, Gen Z'er M.J and Gen X-er Amy, talk about movies that came out 30 years ago and use those movies to lead a discussion about how movies and culture have changed in just a mere three decades. I love this show, I am incredibly proud of it. I would love it if you'd give the show a listen, wherever you listen to podcasts. Everyone is a Critic 1993 is available on the Everyone is a Critic Movie Review Podcast feed.
Find my archive of more than 20 years and nearly 2000 movie reviews at SeanattheMovies.blogspot.com. Find my modern review archive on my Vocal Profile, linked here. Follow me on Twitter at PodcastSean. Follow the archive blog on Twitter at SeanattheMovies. Listen to me talk about movies on the Everyone is a Critic Movie Review Podcast. If you have enjoyed what you have read, consider subscribing to my writing on Vocal. If you'd like to support my writing, you can do so by making a monthly pledge or by leaving a one time tip. Thanks!
About the Creator
Hello, my name is Sean Patrick He/Him, and I am a film critic and podcast host for the I Hate Critics Movie Review Podcast I am a voting member of the Critics Choice Association, the group behind the annual Critics Choice Awards.
Reader insights
Outstanding
Excellent work. Looking forward to reading more!
Top insight
Easy to read and follow

Well-structured & engaging content
Add your insights