Classic Movie Review: Dennis Hopper Lost Movie 'Out of the Blue' Gets 4K Restoration
Divisive, uncompromising, and brilliant, Dennis Hopper's final directorial effort is turning 40 with a 4K restoration.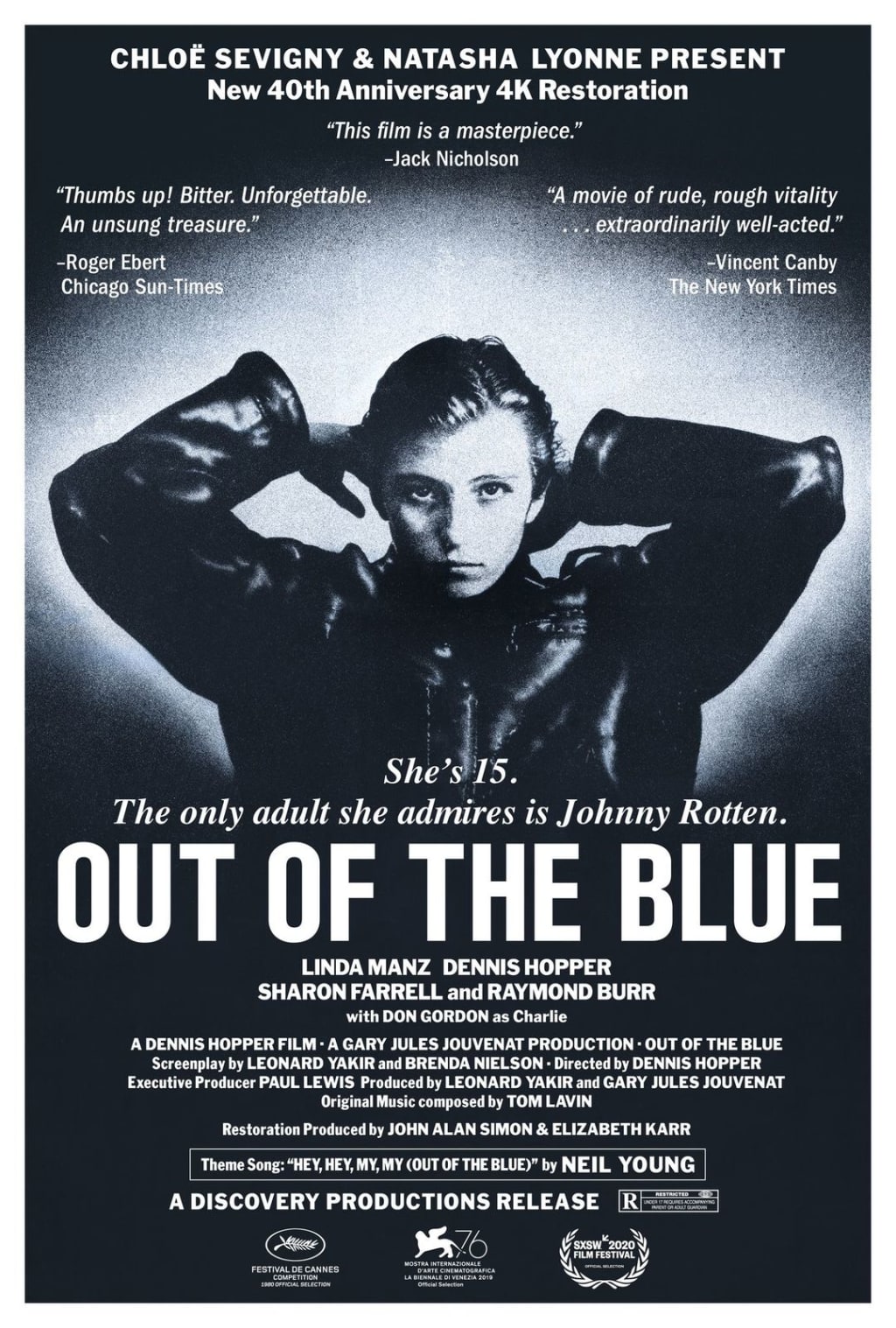 Dennis Hopper's 1980 directorial effort, the last of his lengthy and lauded career, is returning to screens in a brand new 4K Restoration. Restorers managed to rescue and restore an original 35 millimeter print of 1980's Out of the Blue with an original audio track for this incredible restoration. Given what is being restored it's kind of ironic as Out of the Blue is an ode to grunge, decay and grime. The film is about the American underbelly, people on the lowest end of the economic scale, addicts, alcoholics and the children struggling to navigate it all.
Out of the Blue stars the remarkable Linda Manz as C.B, a teenager who fancies herself a punk but who also happens to love Elvis Presley. In this way, C.B is a walking contradiction, a wannabe punk rocker who also venerates the King of Rock n Roll. And, she's only 15 years old. C.B is a fascinating character, a deeply naïve and yet incredibly forward teenager, fearless and vulnerable in a frightening package. You can't help but want to parent her, while she tries to portray confidence and toughness, it's impossible not to see a scared little girl at her core.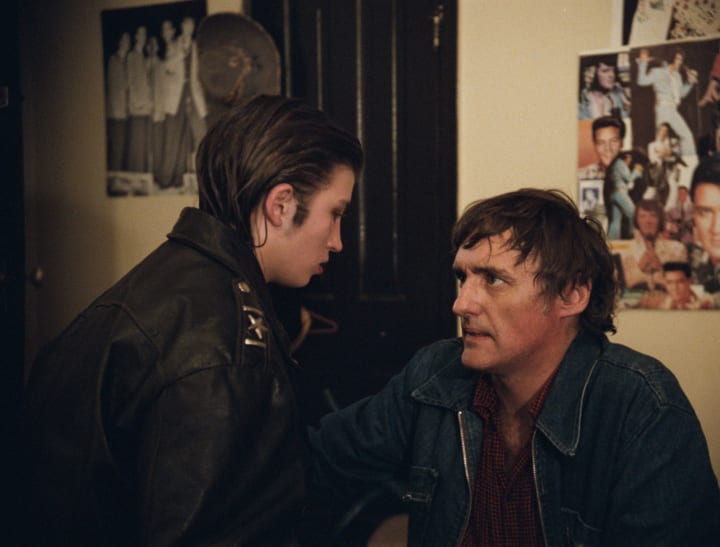 C.B's father, Don, played by writer-director Dennis Hopper, was a truck driver. I say he 'was' a truck driver because he lost his job in a horrific fashion. While driving his truck and taking C.B to school, a drunk Don plowed into the side of a school bus full of kids. It's unclear how many kids died in the accident and how many suffered life altering injuries. Somehow, Don is only serving five years in prison and as we rejoin the story, following a flashback to the accident, he's about to get out of jail, much to the dismay of many in town.
While she waits for her dad to get out of jail, C.B navigates her small town life, listening to Elvis on a handheld tape recorder, and seeking adventure. She spends some evenings dispensing her strange philosophy on her dad's CB Radio and her days skipping school, when she can, and avoiding her mother. Sharon Farrell plays C.B's mom who has taken up drugs and sleeping with random men as her coping mechanism after Don was sent to jail. Mother and daughter get along unless mom is high and her boyfriends are around.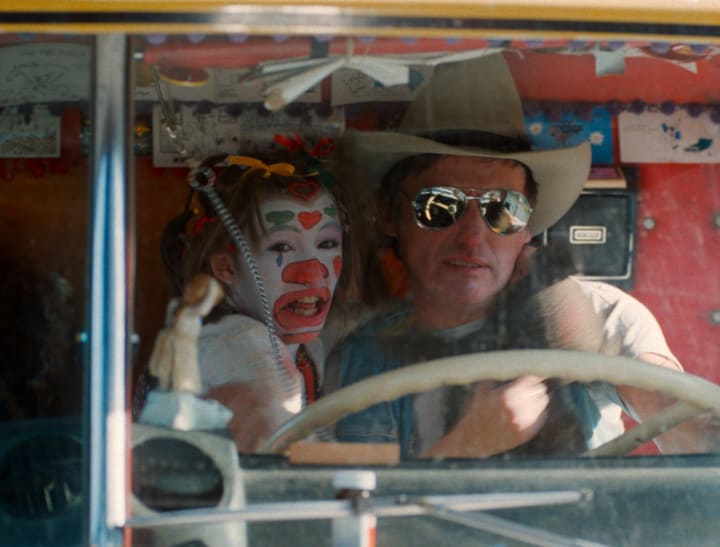 One of those boyfriends is Don's best friend, Charlie (Don Gordon), whom we meet as he sees C.B at a local bowling alley and he starts sizing up the 15 year old with plans to assault her innocence, to put it in flowery terms. Hopper never misses a moment to demonstrate the sleaze of his characters while offering no real critique of that sleaziness. That critique is left up to us and it is up to the individual audience member whether to judge the character's actions or how Hopper frames those actions.
In that way, Out of the Blue is uncompromising. As a writer and director, Hopper revels in forcing you to decide how you feel about the horrors he presents. Out of the Blue isn't graphic, per se, but it is relentlessly uncomfortable. C.B finds herself blundering into several dangerous situations due to her naivety and she seems to narrowly escape each of them. One set piece has C.B hopping into a cab she cannot afford, accepting weed from the cab driver, and agreeing to go back to his apartment to listen to music. The Cabby is, to us, clearly a creep and we're not surprised that he takes her to a flophouse where C.B narrowly escapes an assault by the cabby and what I assume is a prostitute.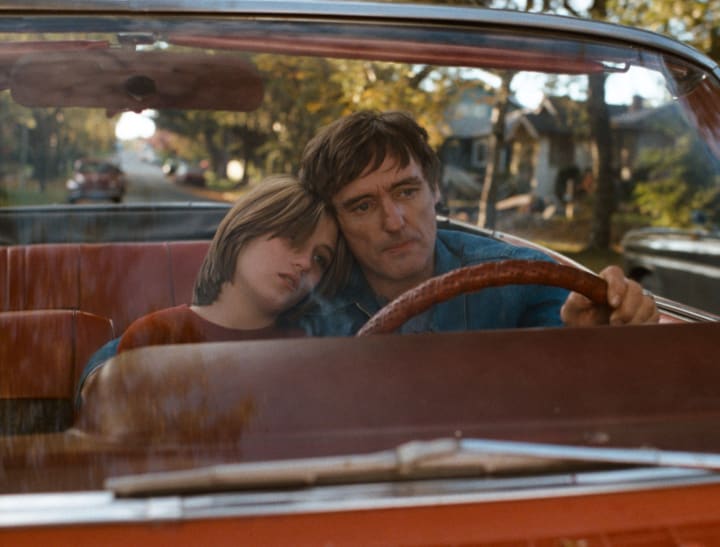 And that sequence is Out of the Blue in essence. C.B is trapped in this world of smut, sleaze, and degradation and instead of making things better, her father gets out of prison, starts drinking again, and manages to make everything even worse. How much worse, you will need to see for yourself. The ending of Out of the Blue is outlandish, violent and unexpected. C.B is a fascinating character and one that is undeniably divisive. As much as you are drawn to wanting to protect her innocence you can sense that she'd not welcome your help or actively punish you for it.
Strangely, the plot description for Out of the Blue makes the movie sound like a distaff Good Will Hunting. The plot, as described in the press release, indicates a relationship between C.B and a kindly psychiatrist played by the legendary Raymond Burr. Raymond Burr is certainly in Out of the Blue but his screen time is very limited and he never develops much of any connection to C.B. This may be explained by the fact that Out of the Blue was abandoned by its original director which led to Hopper taking the film over and rewriting the script.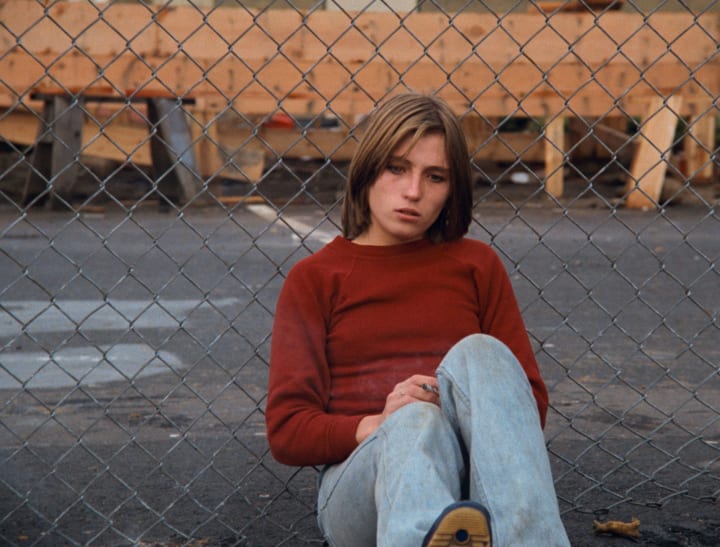 My guess is that, in its original form, Out of the Blue featured far more of Raymond Burr and his relationship with C.B in a kind of inspirational coming of age story. Then Dennis Hopper took over and the movie became something else entirely. That really is the only good explanation for why someone of the stature of Raymond Burr is featured prominently in billing but has so little to do with the actual plot of Out of the Blue. It's hard to say whether Burr is any good in the movie, as mentioned, he's barely there. Burr has two scenes and he and Manz develop zero chemistry in that limited time.
Do I like Out of the Blue? I'm of two minds. The movie is gross, sleazy, and often hard to look at. That said, there is something to be said about a movie and a filmmaker willing to plumb the depths to tell a story from the dark and seedy side of American life. Out of the Blue is a stark and disquieting reminder of the kind of lives we all want to turn away from. We'd rather not hear about drunks, drug addicts and the children of drunks and drug addicts. We want life to be easy and uncomplicated, especially at the movies. Out of the Blue places audiences in an uncomfortable space where you can't look away and there is value to that.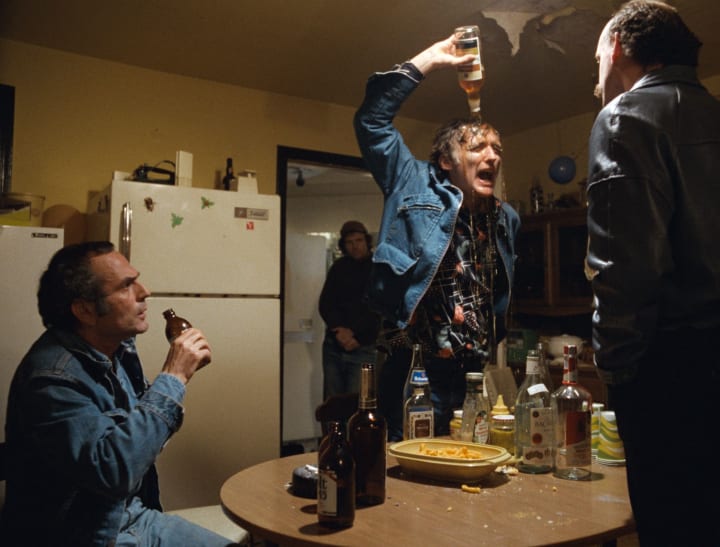 DISCOVERY PRODUCTIONS PRESENTS NEW 4K RESTORATION /
TIMED TO 40TH ANNIVERSARY OF DENNIS HOPPER'S CONTROVERSIAL MASTERPIECE OUT OF THE BLUE
Opening At New York City's Metrograph starting Wednesday, November 17, 2021
Presented by Chloë Sevigny & Natasha Lyonne
Official Selection: Cannes Film Festival, Venice Film Festival and SXSW Film Festival.
movie
Hello, my name is Sean Patrick He/Him, and I am a film critic and podcast host for Everyone's a Critic Movie Review Podcast. I am a voting member of the Broadcast Film Critics Association, the group behind the annual Critics Choice Awards.