Breaking News For Daytime Drama Shows
The current situations of your favorite soaps and the actors.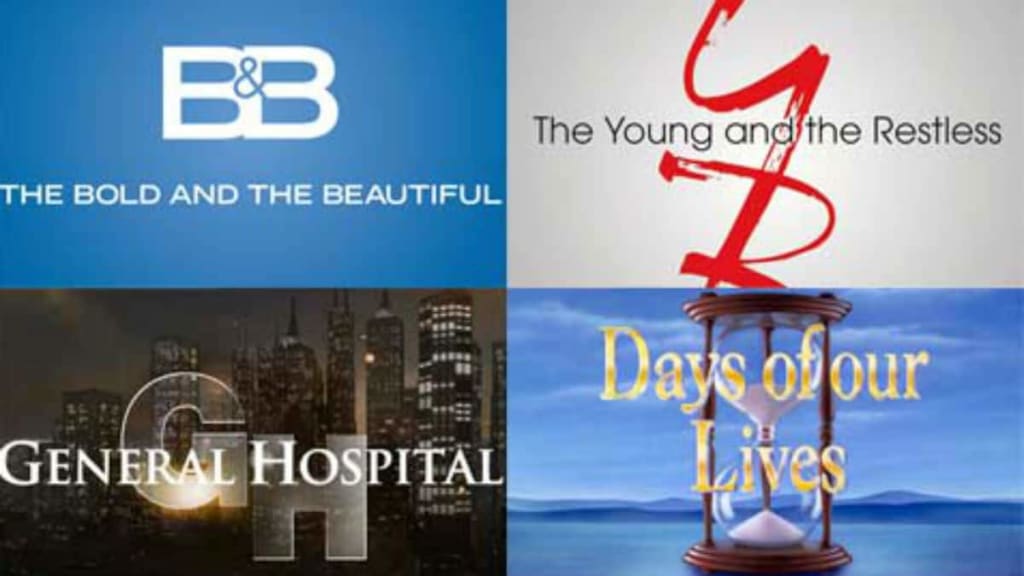 Soaps She Knows obtains their information directly from the studios and stand by their reports regarding daytime drama programs. This spoiler continues to keep viewers updated with comings and goings and other breaking news regarding your favorite soap characters. Here is what is being reported for this week as it relates to the four remaining soap opera's still on network television.
Days of Our Lives
Longtime fans of the NBC soap have some good things to look forward to this summer. Days reportedly will not run out of original episodes until August which means fans will be watching new shows each day and not reruns as with the other programs. Soaps.com is revealing that two fan favorites will return to Salem soon. The first is Bryan Dattilo, who will reprise his role as Lucas Horton in mid June after an eight month absence. Lucas was last seen in Salem in October 2019 when Dattilo exited after a 30 day stint. Lucas headed for Hong Kong but now he will be coming back to town. Bryan Dattilo has been in the role of Lucas off and on 27 years, He has been part of the show since he was a teen, in 1993. Stay tuned for for more information as to his first air date and storyline.
Another popular actor who began as a teen om days, will soon reside in Salem once more. Jay Kenneth Johnson, the original Phillip Kiriakis is going to reprise his role and be making his way back to Days of our Lives this summer but no date has been released. Johnson was last seen on DOOL in January 2012. A recent Days weekly spoiler video, showed Philip making a surprise return. He will be just in time to comfort his father Victor, who once again has manipulated family members who have now turned away from him. Stay tuned for more information on why Phillip is coming back to Salem at this time.
The Young and the Restless
It has been reported that when the CBS daytime drama returns with new episodes, the actors who are over 65 may not be seen for a while. This is in order to protect them, because they are at the highest risk for COVID-19. This would specifically affect the actors who portray Victor, Jack, and Dina. Doug Davidson who portrays Paul announced on social media that he has not been given any airtime so don't be surprised if he has a long hiatus as he did last year. Tracey Bregman who portrays Lauren, celebrated her 57th birthday on May 29 and Justin Hartley(former Adam) was seen kissing Sofia Pernas, who portrayed Marisa Sierras on Y&R. It announced a few months back that Hartley and his wife were divorcing.
The Bold and The Beautiful
Leslie Ann Down who portrayed Jackie Monroe on The Bold and the Beautiful from 2--3-2012. Jackie owned a fashion house that was a rival to Forrester Creations. The actress recently shared a traumatizing event from her childhood. According to Soaps.com, the actress shared with the UK's Mirror that she was almost kidnapped as a young girl. came When Down was 11, she in Putney, South and out with her mother one day. She decided to walk ahead and a man tried to pull her into his vehicle. She said she had one foot in the car and began to yell and when the man saw her mother he released her.
Soaps.com is also wondering if Thomas Forrester will be seen when The Bold and the Beautiful returns and suggests that plans may be the works to redeem the character. Karla Mosley has not been seen as Maya Forrester in quite a while on the CBS daytime drama but Soap Hub reports that she is sharing breathing techniques with her fans that will help with stress during the sheltering place.
General Hospital
In General Hospital News, Soaps She Knows is suggesting several possible storylines they believe should take place when taping resumes. The spoiler thinks Sam and Brando should hookup and turn their animosity to passion, and that Monica should finally address Carly regarding all the pain she caused her family, especially her treatment of AJ. Soaps.com also suggests that Lucas is more deserving to raise Wiley than either Nelle or Michael and that he should stake his claim. These are interesting points and fans will find out if the writers are leaning in this direction when the show returns to the air.
In a poll viewers were asked what they thought Nikolas should do regarding the ultimatum that Spencer gave him of choosing his wife or his son. Here are the results and they are quite surprising. 35% of those who responded said the Cassadine prince should choose Spencer no matter what. 33% suggested Nikolas should find a way to have it all, and keep Ava, his fortune, and his son. 23% said he should let Ava have everything, choose his son and start over from scratch. Only 9% said that he should keep his money to protect his heir. Some viewers have said that they believe at some point Ava and Nikolas will fall in love, so perhaps the writers are working on a plan to get them together.
Stay tuned for more updates on your favorite soaps and their characters. Be on the lookout for big changes when the soaps are back in business. Because of the COVId-19 pandemic, there will probably be some social distancing. Love scenes probably will not be as they were before. There will more than likely be more action and adventure than romance so keep that in mind.
tv
About the author
Cheryl is a poet, freelance writer, published author and former Newspaper columnist. She has degrees in Psycology and Biblical studies. She enjoys sharing natural cures, and Nostalgia related info. Tips are greatly appreciated.
Reader insights
Be the first to share your insights about this piece.
Add your insights