Book Review: For the Wolf by Hannah Whitten
A Spine-Tingling YA Dark Fantasy Debut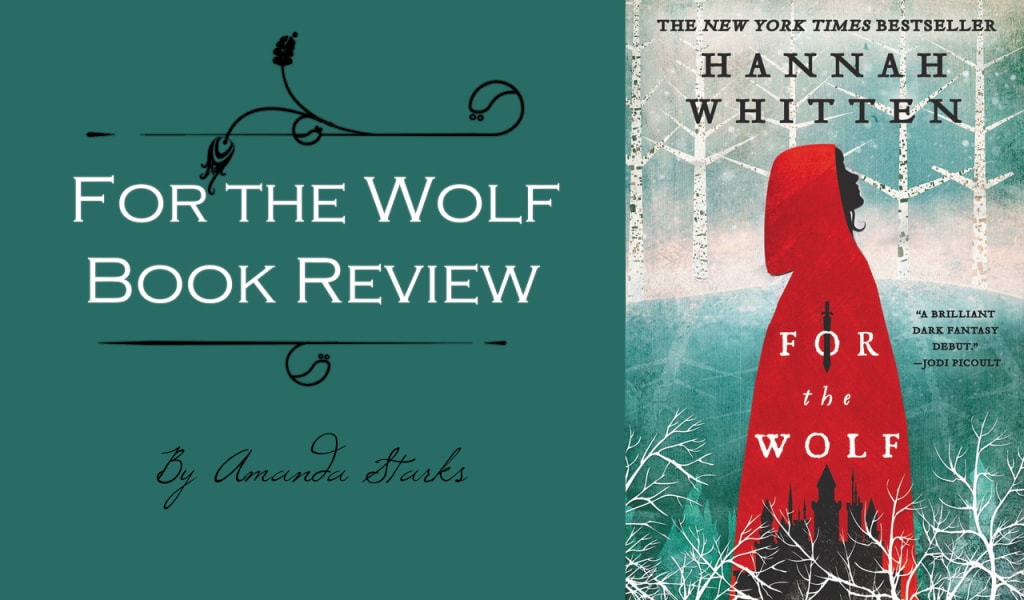 Graphic made by me; Book Cover belongs to Orbit
Recommended Age: 14+
Content Warnings: Bloodletting and morbid horror elements. One implied, non-graphic sex scene.
Rating: 4/5 stars
Don't worry! This is a non-spoiler review!
The First Daughter is for the Throne.
The Second Daughter is for the Wolf.
And the Wolf is for the Wilderwood.
The Wilderwood is worshipped and feared by the people of the continent. Stories of monsters emerging from the twisting wood have been passed down generation after generation; warnings to those who would dare deny the ritualistic sacrifice of the Second Daughter to the Wolf. The purpose of such a barbaric practice? To free the people's imprisoned Gods within the Wilderwood.
This is the grim and intriguing premise of Hannah Whitten's For the Wolf, a deliciously dark YA fantasy about a young girl willingly given to a mysterious legendary monster.
But of course, the premise is only the surface of what this novel has to offer. Powerful and destructive magic, a cold and corrupt religious order, courtly political battles and backstabbings, and a living forest that literally wants the main character's blood and bones are all elements that make this debut shine with the promise of one tangled, messy ride.
And oh how I loved this messy tale. Hannah Whitten instantly sucks you into this cruel, cold world with stunning imagery, masterful prose, and wonderful, easy to love characters whose multiple close deaths make you sit on the edge of your seat with your fingernails thoroughly chewed down.
I haven't read such an eerie, atmospheric dark fantasy like this one in quite a while. The first book I thought of that came anywhere close to this level of dark fantasy was Kendare Blake's Three Dark Crowns. The Bear and the Nightingale by Katherine Arden is also another close comparison with having some kindred ideas about men, monsters, and magic.
The relationships depicted in this novel were also very noteworthy and are probably what elevated this novel from a 3.5 star rating to a 4. The emotions, struggles, and mental and physical scars that these characters carry are so potent that at times I wondered just how much of this was inspired by Hannah Whitten's real life. It felt authentic, truthful, and downright raw. I really appreciated this approach for the characters, and I hope Hannah Whitten knows just how much this meant to me as someone who didn't have a glorious teenagehood or family dynamics.
There is only one element of this book that I'm still unsure of. While a brilliant story, toward the end, the plot feels like it lingers on when it should have just...ended. There will be a sequel - For the Throne - coming down the pipeline, but if I'm being honest...I really don't care for it? I almost wish this had been cut to be a stand-alone novel. Perfectly wrapped up and packaged and sitting stoically in its own Wilderwood of admiring fans. ( I really shouldn't compare fans to the Wilderwood...)
I felt like the main character's hero's journey had reached its end, even if there were still more antagonistic forces to deal with. I'm nowhere near as invested or interested in the main character for the second book, nor the plot that seems to be set up as a near mirror copy of this one in regards to the main relationship.
Either way, this book is still worth a read, and you might enjoy the fact that this story will continue! To anyone who enjoys dark, spooky fantasy with fairy tale vibes, this novel is one that you cannot miss out on.
About the Creator
Book hoarder, fantasy author, gaming goblin. I love all things fantasy and science fiction and love to write stories and share my thoughts on those genres. Subscribe to my free newsletter at amandastarks.com for monthly updates!
Reader insights
Be the first to share your insights about this piece.
Add your insights