Billy May Cheat on Victoria with Amanda
The Young and the Restless is destroying 'Villy' by having the couple grow apart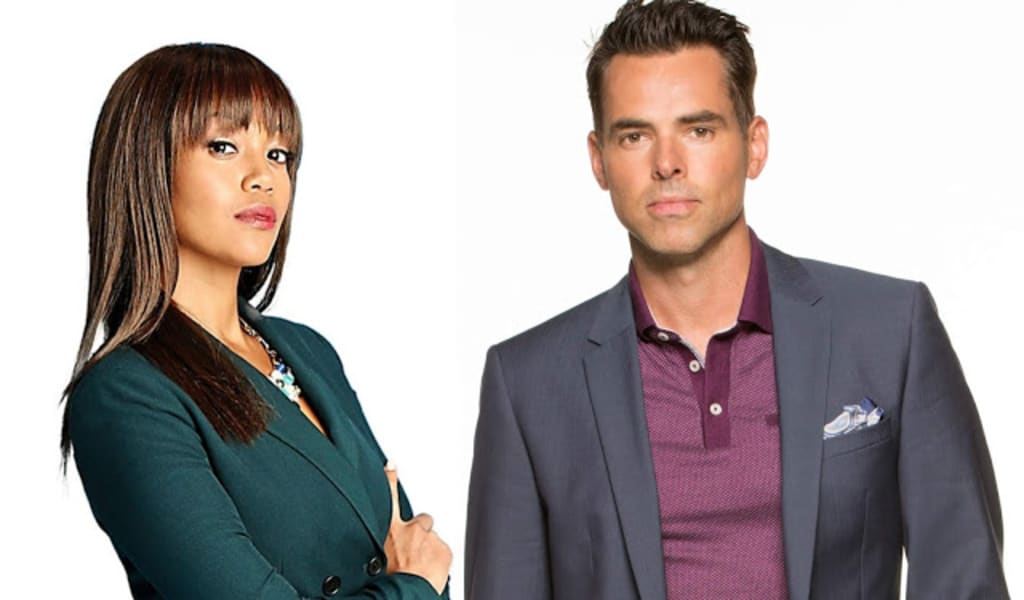 Billy and Amanda may be hooking up
When Victoria Newman refused Billy's proposal and opted instead on a commitment ceremony, many viewers wondered where this popular couple was headed. Now it appears the writers for The Young and the Restless are pulling "Villy" apart by pushing them in different directions. Vicki is consume with running her father's corporation and her non husband has no idea what he wants to do. He walked away from Jabot and on Wednesday had what looked like a bucket list. One of the items on it was for him to figure out what he wanted out of life.
On Wednesday's episode of The Young and the Restless, Victoria told Abby that she and Billy have become like two ships passing in the night. She said they cannot seem to find private time for each other and her sister told her to make time. Later Billy told her "Duty Calls" and encouraged her to put business before pleasure. On Tuesday, during the snow storm and blackout Billy spent time with Amanda and sought her out again on Wednesday. Victoria was at Newman Enterprises with Rey during the storm. It looks like the writers are going to have "Villy" tire of each other and decide their non marriage is not working.
If Billy hooks up with Amanda or Victoria gets together with Rey, it's likely neither connection will last very long. There is also the issue of whether or not Jason Thompson is on his way out of the CBS daytime drama. His character has been coming unglued for some time, first with dissociative disorder and trying to kill Adam. Next he quit his job at his father's company and now he is flirting with Amanda. The bucket list may indicate that Jack's little brother may suddenly decide to leave Genoa City behind. Viewers are on high alert with this situation, especially since Jason Thompson recently sold his California home.
It's possible that the actor himself may want to walk away from The Young and the Restless, rather than the writers pushing him out. Whatever is going on it certainly looks like Billy and Victoria will soon be history yet again. It would be irresponsible for Billy to just walk away from Johnny and Katie but if his old ways are returning as Soaps She Knows is reporting, then this would be par for the course. John Abbott's youngest son goes all in for whatever addiction he is dealing with at the moment. He and Phyllis were hot and heavy, having sex everywhere including an elevator. If Billy strays with Amanda, viewers will probably be in for more of the same.
Billy cheated on Victoria with Phyllis, while she was married to his brother so a roll in the hay with the mysterious Amanda is probably going to seem to him to be just as daring. She is new in town and looks just like Hilary. Ms. Sinclair is also misunderstood so she would be right up Billy Boy's alley. For whatever reason the powers that be at The Young and the Restless have never allowed the son of John Abbott and Jill to remain responsible for but so long. Whenever he and Victoria seem to be flowing together, something always pulls them apart. Vicky has not yet had another encounter with Rey, but viewers will be watching closely to see if anything develops between the.
The Young and the Restless may be doing to Billy what they did to Cane Ashby. They are making Billy so unlikable that by the time he and Victoria split and should he cheat with Amanda, and or leave Genoa City, no one will care. It's really disturbing to watch a popular soap character become decimated right in front of your eyes. "Villy" fans should prepare themselves because this looks like the beginning of the end for their favorite couple. Be sure to tune in each weekday afternoon on CBS at 12:30 PM to find out what happens next.