Best Comedy Shows on Netflix
Comedy Shows on Netflix
Unbreakable Kimmy Schmidt
Listen, we all miss 30 Rock. That gloriously offbeat tone and pitch-perfect cast made for one of television's all-time greatest sitcoms, and it will never be replaced. However, the Netflix original series Unbreakable Kimmy Schmidt is the next best thing. 30 Rock showrunners Tina Fey and Robert Carlock turn their attention to a "fish out of water" story as Kimmy Schmidt follows Ellie Kemper's titular character, a woman who was held captive for years in an underground bunker and is now trying to start her life anew in New York City. Not only is the show genuinely hilarious, carrying flourishes of the same snappy goofiness that made 30 Rock so much fun, but the series simultaneously works perfectly as a sexual assault survivor story, making it all the more bold and impactful. First and foremost, though, it's incredibly funny, with Tituss Burgess turning in a genuine breakout performance. And you'll have the theme song stuck in your head forever.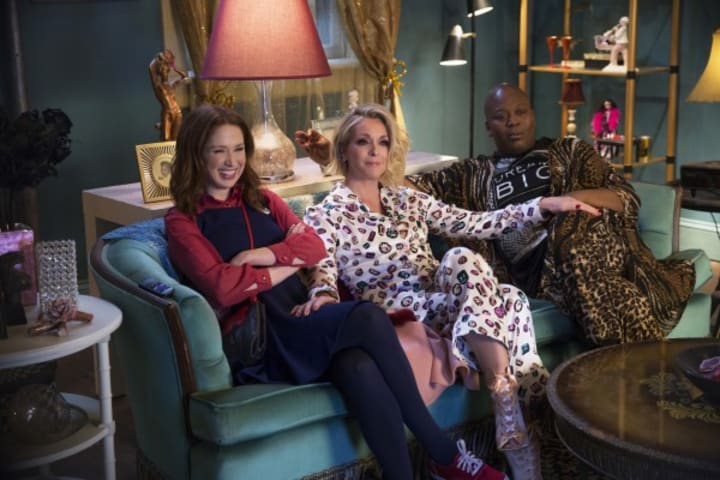 Parks and Recreation
Ah, Parks and Rec. This NBC series is a perfect example of why you shouldn't judge a sitcom by its first few episodes. The show's first season—which is only six episodes in total—began as a semi-spinoff of The Office, but struggled to find its own voice. From the Season 2 premiere onward, though, this show is gold, and it's really hits its stride in the third season, with the introduction of Adam Scott and Rob Lowe to the cast. What sets Parks and Recreation apart from other comedies is that it's absolutely sincere and free of cynicism. It's clear that even if the characters rib each other, there's genuine love between them. But yes, the show is hilarious, and Amy Poehler's Leslie Knope is one of the seminal sitcom characters of our time. If you haven't seen Parks and Recreation, get on it. If you have, treat yo' self to a rewatch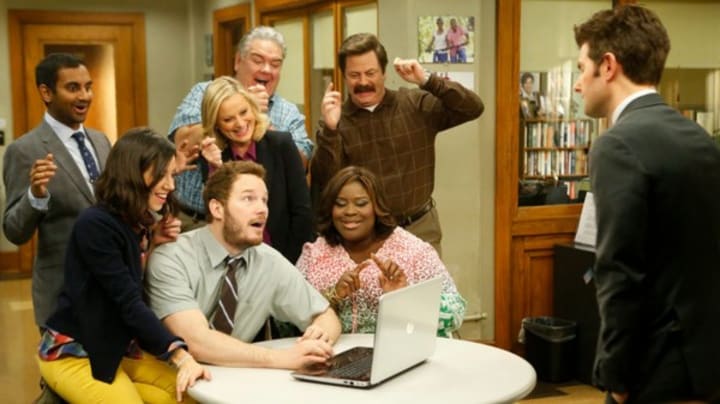 The Inbetweeners
The Inbetweeners is a British anti-Entourage. This quartet is not cool, they aren't slick, and the only fame they enjoy is for things like accidentally projectile vomiting on a schoolmate. The awkward suburban teenagers — snobby Will (Bird), cynical Simon (Thomas), goofy Neil (Harrison), and sex-obsessed Jay (Buckley) — navigate the perils and pitfalls of high school not quite belonging to any group but their own reluctant band of misfits. The series turns on that now-classically British conceit of cringe comedy, but in doing so it fairly accurately represents the more horrific moments of school life, or at least the way we often perceive them. The opposite sex isn't interested, or you mess it up immediately, and parents and teachers are indifferent at best and aggressively mistrustful at worst. Everything is boring or embarrassing, or both. The Inbetweeners' humor is also exceptionally profane, but often in wonderful ways (you'll soon feel moved to call people "bus wankers!" like Jay does). The short seasons make the show an easy binge-watch, if you can handle the cringe. Also, it has a kickass theme song.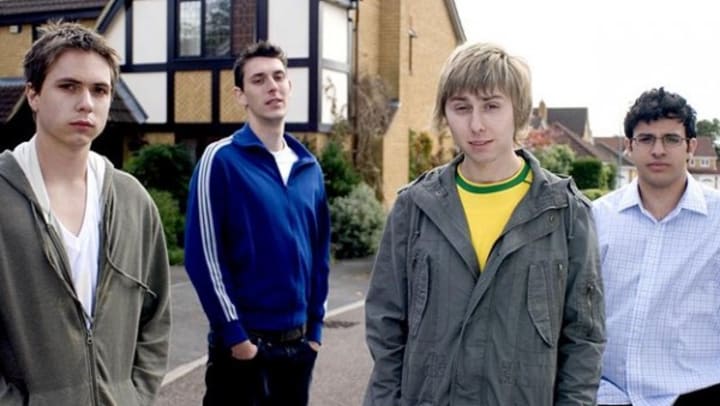 BoJack Horseman
The washed-up celebrity, as a character, has never felt quite so potently empathetic as it has in the animated personage of BoJack Horseman, the erstwhile star of 1980s sitcom Horsin' Around, voiced with stinging desperation and cynicism by Will Arnett. Horseman's attempt at a comeback is the focus of the first two seasons of Netflix's most ambitious series since Orange Is the New Black, and creator Raphael Bob-Waksberg makes the quite literal horse-man's addiction to fame, attention, and self-involvement into a melancholic vision of a depleted life. The series also doubles as a scathing indictment of Hollywood and its shallow machinations, but Bob-Waksberg, along with his writers and animators, balances these blue, painful thematic concerns with a vibrant animation style and varied sense of character design, to say nothing of the bounty of dry witticisms. Visually and tonally, Bojack Horseman toes a strange line, but even its oddest moments and creations hide an endearing undercurrent of visceral feeling, evoking a landscape of wounded egos, calcified obsessions, and a few artists trying frantically to make something worth a damn.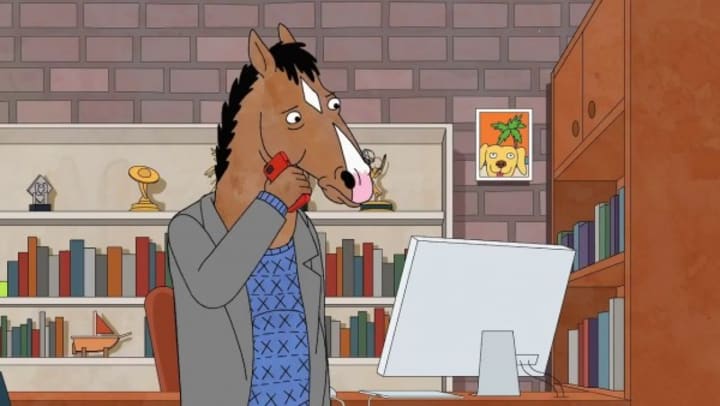 GLOW
The Netflix original series GLOW has one of the more original premises in recent TV history: It chronicles the life of a fledgling professional wrestling promotion called the Gorgeous Ladies of Wrestling, as various aspiring actresses and generally women down on their luck audition and agree to take a stab at a wholly new field. Marc Maron plays the schlock B-movie director tasked with turning GLOW into a show, Alison Brie plays a theater nerd and aspiring actress taking it all way too seriously, and Betty Gilpin plays Brie's former friend and soap opera star who becomes the centerpiece of the wrestling event. Season 1 is delightful, but Season 2 is one of the best seasons of a Netflix TV show ever made. It's purely joyous, focused, character-rich, and wildly entertaining, and did I mention the bangin' 80s soundtrack?