Anthony's Film Review - 'Raya and the Last Dragon' (2021)
Disney's dive into Southeast Asian culture is a sure winner...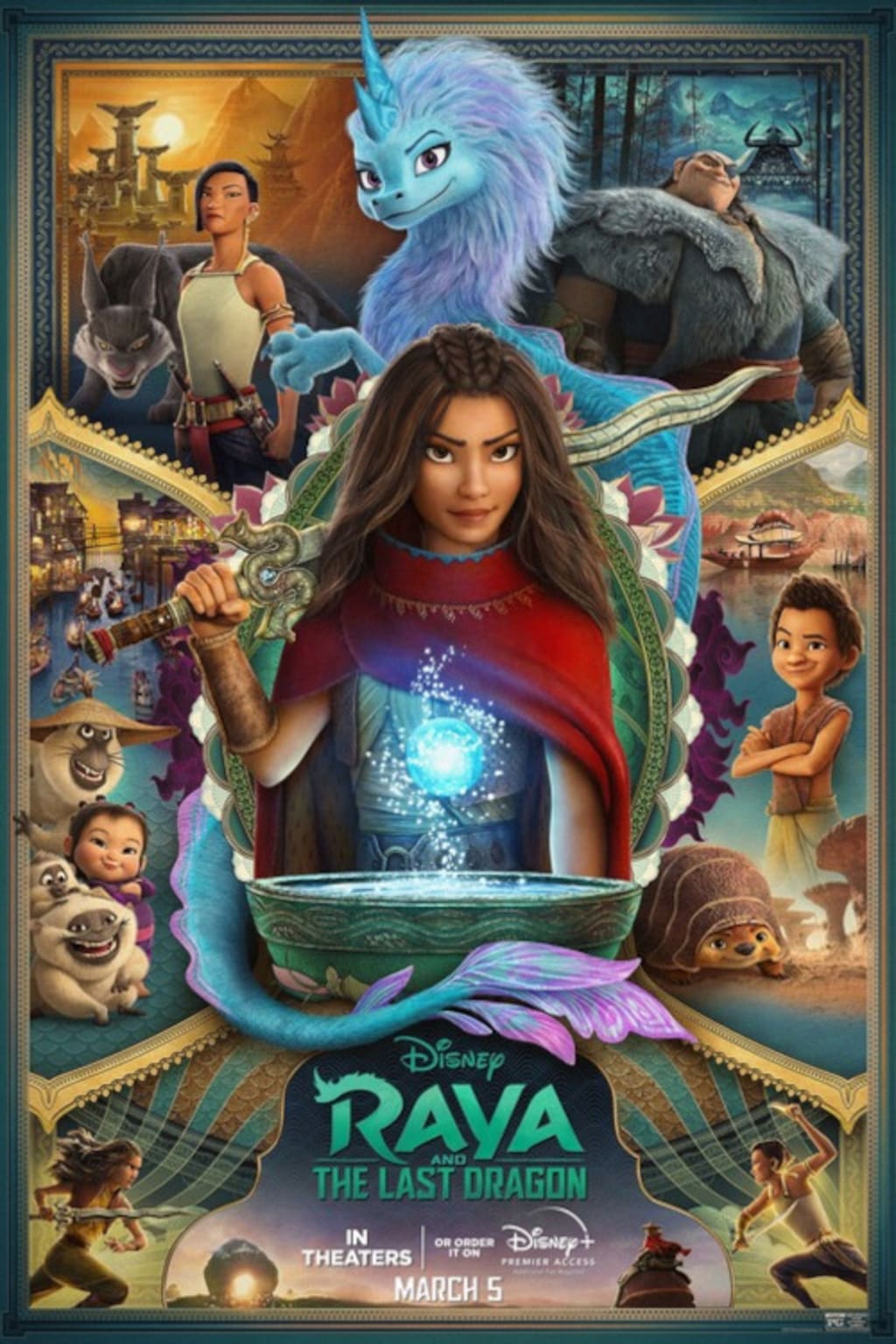 To a certain extent, Disney animated films have helped us appreciate cultures and places from around the world. Most of the time, it's been centered on Europe, considering for example Beauty and the Beast, the influence of Hans Christian Andersen for The Little Mermaid and Frozen, Victor Hugo's The Hunchback of Notre Dame, and the Brothers Grimm providing inspiration for Disney classics like Snow White and the Seven Dwarfs, Cinderella, and Sleeping Beauty and even the more recent film Tangled. Elsewhere, Aladdin is tied to the Middle East and nearby regions, The Lion King pays tribute to the African natural landscape, Mulan is connected to ancient China, The Emperor's New Groove is a humorous take on South America, Brother Bear centers on Native Americans, and The Princess and the Frog provides a nice African American taste. Now, in the year 2021, Disney once again gives us a film connected to another part of the world: Raya and the Last Dragon.
This Disney animated film may not be the first one that is Asian-centric, given that Mulan came before, but it is the first one centering on Southeast Asia, outside of China. There's a term that I think interestingly applies here: Asian fusion. Just as some fancy chefs like to combine culinary elements of more than culture into a single dish, Raya and the Last Dragon showcases and fuses cultural elements inspired by more than five Asian cultures. According to fan-submitted details on The Internet Movie Database, this movie pays tribute to the following eight Asian countries: Vietnam, Cambodia, Thailand, Laos, Myanmar, Malaysia, Indonesia, and the Philippines. Even if these cultures are blended so much together in the movie, people with connections to those places can still be proud of the representation here.
The prologue of Raya and the Last Dragon is really a two-part introduction. The first part explains to us the setting and mythology. Centuries ago, there was one land called Kumandra, surrounding a dragon-shaped river. Everyone enjoyed years of peace and prosperity thanks to a clan of dragons guarding over all. But then, bad things happened. People turned against one another, ultimately splitting Kumandra into five lands corresponding to different parts of the dragon river: Fang, Heart, Spine, Talon, and Tail. There's also a dark magical plague called the Druun sweep across Kumandra, turning living things into stone. Ultimately, some magic remained to provide protection, in the form of a single spherical crystal that is guarded by the people of Heart. Then we get to part two of the prologue, taking place six years before the present. People from all five lands come to have a feast in Heart, in hopes of forging new peace. Sadly, an act of deceit ends with the crystal being broken into five pieces, each taken into possession by a different tribe, and the curse of the Druun turns many more people into stone.
Hence, Raya from the land of Heart is on a quest to find all five pieces of the crystal, reunite them, and hopefully restore Kumandra to its former glory. Her adventure begins in the land of Tail, where legend has it that the last dragon can be found downstream. Sure enough, Raya finds the dragon, a furry light-blue creature named Sisu. From there, Raya and Sisu journey west to the other lands. While they seek the remaining crystal pieces, they make new friends from the lands they visit. However, there are enemies too, namely a woman named Namaari, from the land of Fang. Namaari and Raya had once been friends, but have now drifted far apart from each other.
Let's talk about the characters. Raya, voiced by Kelly Marie Tran (also known for two other Disney productions, Star Wars: The Last Jedi and Star Wars: The Rise of Skywalker), is an example of a young woman who is strong and brave. That may not sound like anything unique, but hey, she's still an interesting character to follow. As for Sisu, voiced by Awkwafina, this is a funny character to watch. In fact, she's very much a reminder of the Genie in Aladdin, because that character, voiced by the always funny Robin Williams, was essentially drawn as an animated version of the comic performer. The animators for Raya and the Last Dragon basically took a similar approach with Sisu. If you've seen Awkwafina's hilarious performance as a blond Asian woman in the Warner Bros. romantic comedy Crazy Rich Asians, expect a dragon version of that here. Before I forget, it's nice to have a variety of other Asian actors lending their voices for this film, including Daniel Dae Kim, Gemma Chan, and Sandra Oh.
The plot is mostly straightforward with few twists and surprises, and the characters, though not profoundly developed, are interesting enough. It's not a bad movie or average movie, nor is it 100% spectacular and one of the greatest animated movies ever. It's simply a pretty good moviewatching experience. And of course, this film is a nice gesture to the Asian American community, who not only have fought for years to have representation in Hollywood but also have been increasingly facing racism and discrimination during the COVID-19 pandemic because of its origin. With that, Disney has marked a new decade with a winner.
Anthony's Rating: 8/10
review
About the author
I am simply a regular person who enjoys watching cinema and writing down my thoughts on movies I see. (Website: https://www.anthonysfilmreview.com)