An Emotional Review of Episode 11 of THE SHIPPER Series
The curse of GMMTV continued in this series also.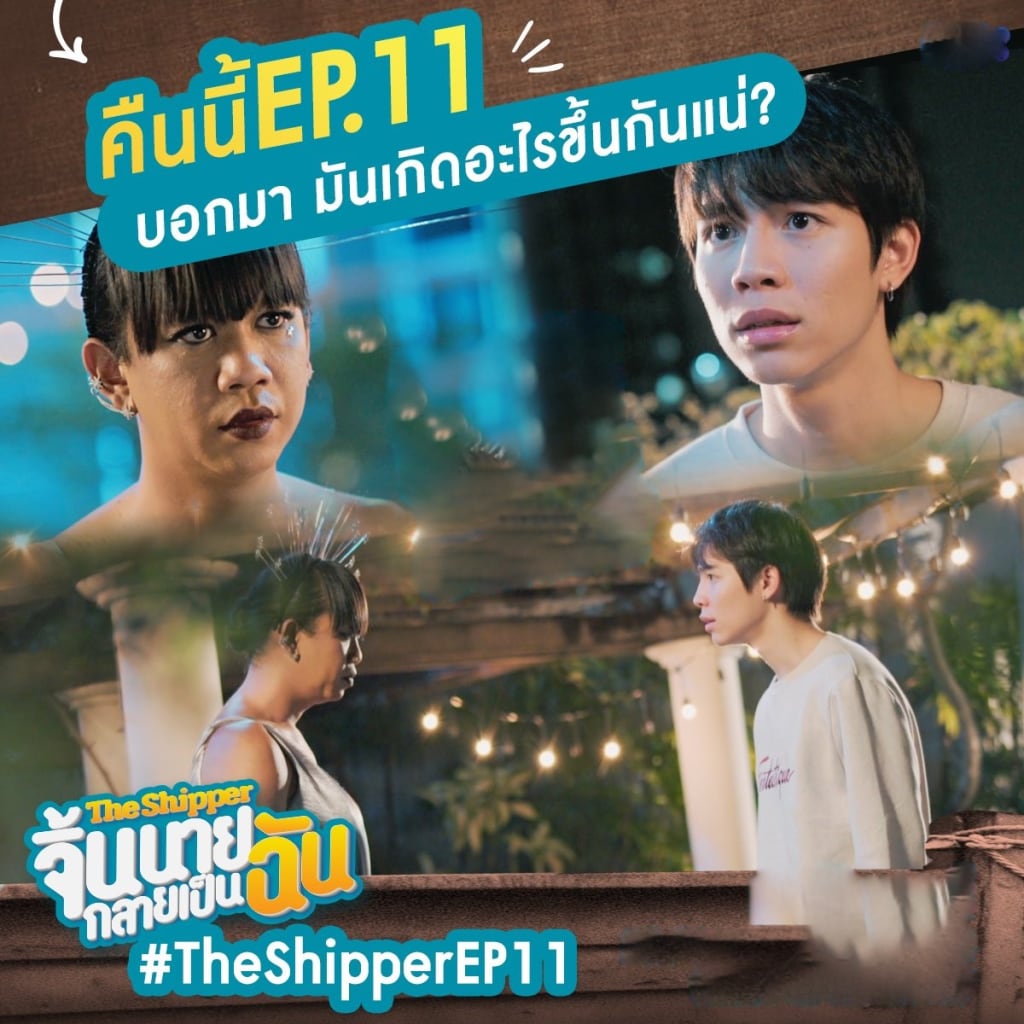 The most emotional episode of the whole series is episode 11 of the shipper series where many things happened. It has shown that is precious and we must cherish most of the time living in it. If we start talking about the scenes then the story was too much emotion to handle. At a point, I gave up watching for a few minutes because the scenes were painful to watch. From episode 1 to episode 10 were cute, funny and confusing but still, I enjoyed them all. It is not that there weren't emotional scenes there, rather the impact of scenes was not that much deeper as a comparison to episode 11. Moreover, the other scenes of those episodes covered them so we all enjoyed even if they were emotional but this time things got out of control.
The episode begins with chaos where Soda, Kim and Khet rush to the hospital as Pan's body has gone into a coma. Upon the suggestion of the doctor, her body was shifted to I.C.U. in the meanwhile; Angel of Death appears on the scene and talks to Pan in Kim's body. There she reveals the truth that "Kim is dead". Upon hearing that I got goosebumps, though from her expression it was clear that she is speaking the truth but it was unbelievable to accept. According to her when she pushed the souls of Kim and Pan back to earth then Kim's soul didn't reach earth rather it remained in heaven because in the death book, Kim name was recorded but somehow they missed to observe it. From this scene, things began getting emotional because Angel of Death suggested that though Kim's soul cannot return she can help Pan to adapt to Kim's body. At that time I was still recovering from Kim's death news, this type of suggestion blown my mind because everything began as a joke but now things were no funnier rather it was the time to face the harsh truth of life. The irony is that Kim's soul left for heaven whereas Pan's body began decomposition because her body was there without a soul for a long time. Angel of Death left by saying that she will come after three days to hear her decision.
Khet heard the whole conversation and suggested Pan return to her body and not to worry about anything else. He says at least think of her stepfather who is waiting for her so that they have dinner. He asked the last favour from Pan in Kim's body to have a family picture with his parents. This was more emotional because in their house there was no family picture because Kim was never present at that time may be due to some issues with his parents. They took a family photo after which Pan became emotional because she was thinking about Khet and his family and how will take the matter when they will know suddenly that Kim is dead. Khet goes to talk with Way about whether he has any backup plan, Khet tries his best to convince Way that he may not be able to follow Kim in the future but Way insists that whatever the place will be he will try his best to be with Kim. He asks Khet what is the problem of both brothers. Both of them care for each other both never expressed themselves. He reveals to Khet that Kim cares about him and always keeps looking at him. Way's makes Khet feel attached to his brother. This conversation was more informative than emotional. If I have to point the emotional scene then I would that the scene where repairs RC plane for Kim is emotional. The scenes and background music perfectly synced and will make you cry instantly. I cried continuously for two to three minutes during that scene because the dialogues were also too emotional. My heart ached when Khet said that 'I don't want our relation to be broken like RC plane', it meant Khet still want to repair their relationship and I couldn't control my tears where he repaired it and tested it. Even though there was no dialogue but I felt hearing like 'even though I have repaired the plane but won't be able to return' in my mind. I cried with Khet. Pan observed everything and goes to the hospital. There she found that her stepfather is in debt and his friend is trying to pursue him leave Pan and move on with his life because she is not his daughter. It was sad to hear especially for a person who is deciding whether to live or not. In previous episodes, I found that many people were judging Pan regarding her attitude towards her stepfather but Pan did what was best for others according to her nature though she didn't think that things will be dragged this far. Pan sees her body and says that no one loved her. She is just a burden to everyone and instead of Kim, she should have died. In that scene, I pitied Pan because her surroundings affected in such a manner that she fails to see that there are people who are struggling to keep her alive. She calls to Angel of Death and asks her to change the name in the death book. After changing the name Angel of Death promises Pan that she will help her to become Kim completely so that no one can doubt her in future. Pan in Kim's body meets Soda and tells that it is impossible to save her. She says goodbye and leaves her but Soda tries to convince her not go but she fails. This scene was emotional because from episode 1 we have how much both of them have bonded now it is going to break. It was nice of Angel of Death that she showed some sympathy at that moment which was the first time everyone got to see that angle in her. After that, she uses her magic and brings Pan's body to death. Soda explains Khet that Pan is planning to do something stupid and Khet rushes to talk to her. Pan almost convinces Khet that she is Kim but he says that she is doing all this without considering what Kim wanted. Later Pan found an envelope on which #WayKimforever was written. That envelope contained flight tickets of Kim and Way to Tokyo. The shipper series is full of secrets because this scene revealed that Kim loved Way that's why he also booked his and Way's flight ticket to Tokyo (though it has not been shown in this episode). The episode ends with Pan revealing that she is Pan in Kim's body. Now, we have to see how Way will take this. Whether he will believe or not? Let's find together in the series finale episode.