American Psycho
Bret Easton Ellis's most satirical novel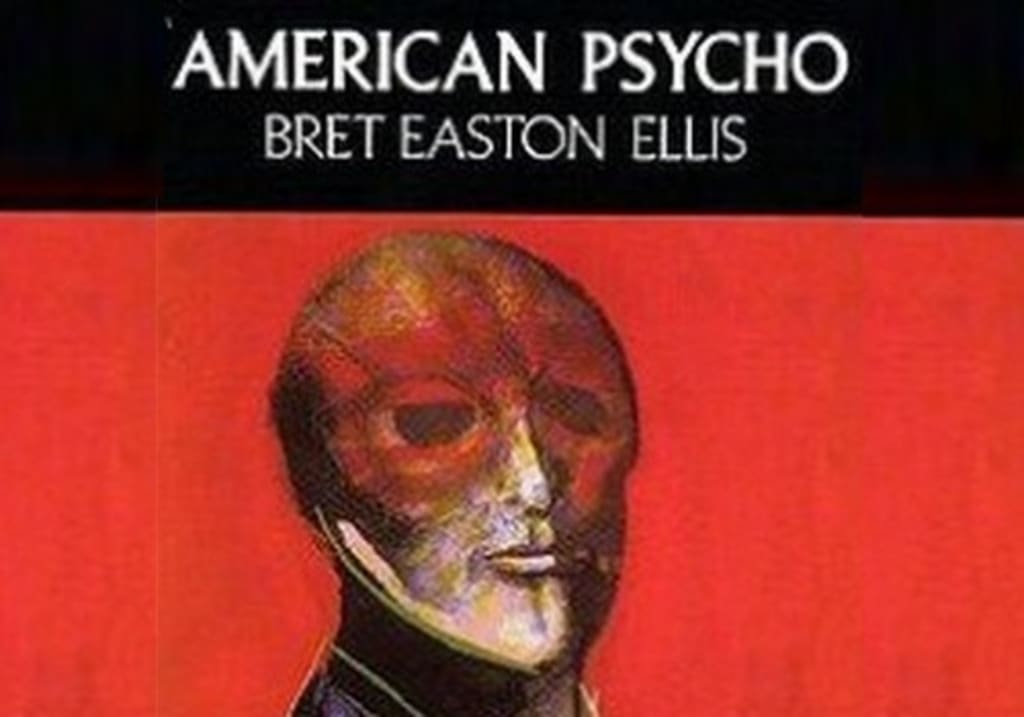 I first read American Psycho when I was fifteen or so. It took me a fair while to really understand and appreciate the social satire. It is, in truth, the essence of the book, and yet many miss this, preferring instead to focus on the brutal scenes of violence and sex that constitute only a small percentage of its overall content. They're only meant to act as a backdrop to the superficial New York society that narcissistic narrator and anti-hero Patrick Bateman occupies. Bateman is, whether you like it or not, a metaphor for his time, for late 1980s America. He's America itself, the absolute worst product of it, and this becomes readily clear by the first chapter.
A novel but an unconventional one, American Psycho, which was Bret Easton Ellis's third at its time of publication, is purposeful American-style satire: there are no real characters, no real plot, no real sense of time or place, and this is exactly what Ellis intended. It's structured like a personal journal or diary wherein Bateman unreliably tells us the events of his days. He's literally the same person as every other expensive suit-wearing yuppie in the book, hence why his identity is constantly mistaken. They practice the same capitalist-driven routines where corporate acquisition, extreme consumerism and materialism, and the overt obsession with money rule the day. Bateman's unending talk of designer clothes and accessories throughout American Psycho only reinforces how utterly vacuous his life is. As mentioned earlier, this becomes obvious by the first chapter where the reader's plunged into the mundane morning activities of Bateman and his best friend Timothy Price.
We first meet them riding a taxi in Manhattan where Bateman notices a sign on a brick wall that reads "ABANDON ALL HOPE YE WHO ENTER HERE" (a clever literary reference by Ellis to Dante's 'Divine Comedy'), an ominous warning of what's to come. For what's truly disturbing in American Psycho isn't what Bateman does----the supposed murdering of women and other objectionable things----but how he lives. The ridiculously graphic murder and sex, which doesn't appear until after page 100 anyway, are metaphorical and are designed to show how empty Bateman is, both mentally and emotionally, in the face of his conformity to society. Another thing is that the accusations of misogyny and racism levelled against Ellis are misguided: he only includes expressions of them to criticise the characters themselves. Whether Ellis is or not in real life is irrelevant in the context of the book.
It's also important to remember that Ellis was the same age as Bateman (27) and was living in New York City when he wrote the book. This, in many ways, means that he was writing about himself, his own isolation and alienation, more than anything to do with his own culture. The satire, then, naturally came after. I should also say something about the humour of American Psycho which, though hard to get used to at first, is one of its stellar qualities in how it manages to support and enhance all the underlying social comment. From having a panic attack on a hot day to giving his fiance Evelyn Williams a chocolate-coated urinal cake, Bateman never fails to find himself battling outrageous people and situations. One of my favourite chapters is where he meets his brother Sean (a key character in Ellis's earlier The Rules of Attraction) in town for dinner. They can't help but show their contempt for each other, most likely because one's successful and the other isn't.
If there's anything I've learned from reading American Psycho, something I've done a few times now and was a new experience each time, it's that American society was particularly corrupt in the late 1980s, or at least in New York. What logically leads from this is that the consumer culture we live in today, especially that of America and of Western society more broadly, is much worse than it was then. In other words, there are undoubtedly more Patrick Batemans walking around now, and this should disturb people, if it hasn't already. But Ellis himself has also changed. He's not the same writer, in the sense of being an original novelist of youthful 'Brat Pack' talent, he once was, and not necessarily for good reason. The irony is that he's arguably become more like Bateman than he ever was, as an author of unnecessary books like 'White' and as equally unaware of the extent and implications of his privilege in a world that's still run by rich white males. Even so, American Psycho should be treated on its own terms. It should be seen as a literary creation of its time.