AFI Silver Theatre & Cultural Center's Re-Opening Doesn't Look Promising
Unimpressive Films and Draconian Mask Policies Just Might Cause Moviegoers to Continue Watching Their Favorite Movies from the Comfort of Their Own Homes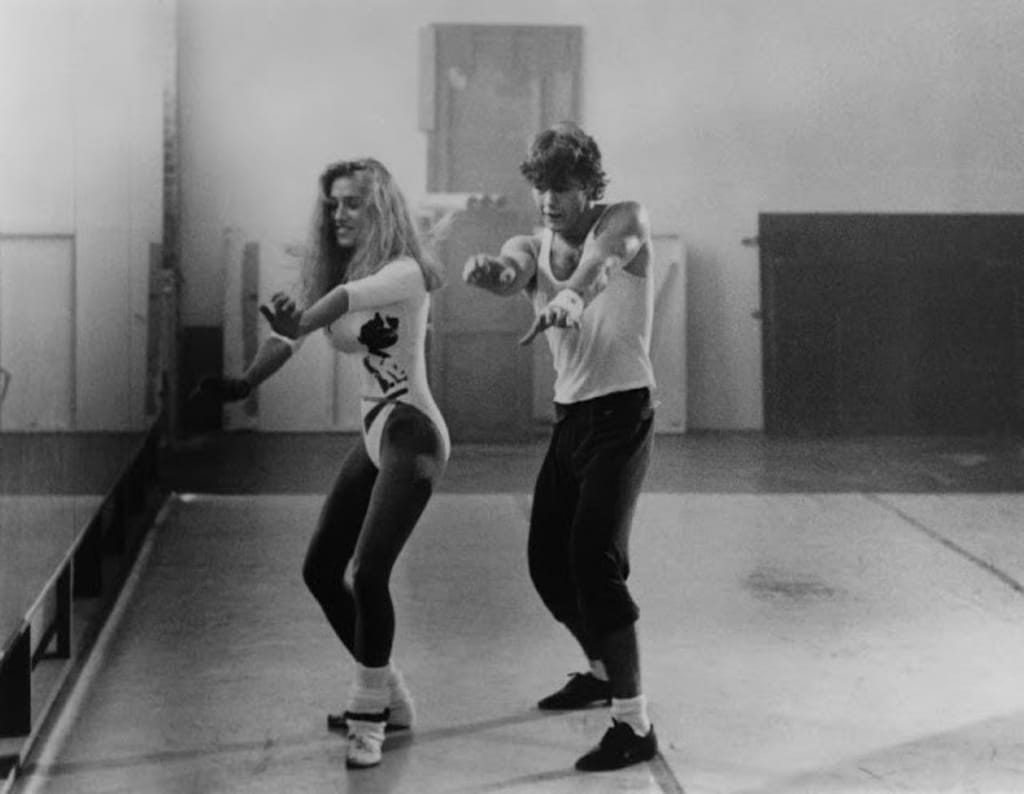 Sarah Jessica Parker and Lee Montgomery in the 1985 film, Girls Just Want to Have Fun. Attribution link: https://www.everydayfashionista.com/2015/08/my-favorite-80s-and-90s-movies.html
I'll admit it. I'm a total film nerd. And so is my longtime boyfriend. The both of us actually caught one another's eye at Adam Spector's Cinema Lounge/D.C. Film Society. The topic was whether or not you could separate Woody's Allen's professional life from his personal life. This was in the midst of he and Mia Farrow's adopted daughter, Dylan Farrow, coming out with her sexual abuse allegations against him. I took the unpopular position that, yes, it mattered — what he did in his personal life and that he shouldn't get a pass for being a creative and artistic genius. "Oh, my God! You guys are such dorks!!" our daughter exclaimed when we told her how we met. Nearly seven years later, I'm happy to report that Paul and I are still together and that we'll always be forever grateful to Adam Spector and his group for bringing the two of us together.
Let's finally cut to the chase. Adam Spector contacts members of the group every so often when he has a new event lined up. In the most recent one in late June, he discussed the re-opening of movie theaters with AFI Silver Theatre and Cultural Center's Director of Programming, Todd Hitchcock. At first, I was all excited like Bjork in the music video for her song, "It's Oh So Quiet" when she dances around and everything is in bright Technicolor. Plus, having been a former tap dancer, I was all for that. I've often vowed to any and everyone who'd listen that if AFI re-opened and actually showed a good movie again, I'd be back in a heartbeat, especially after being cooped up in my apartment for so long during COVID.
Then I went on AFI's site and the smile quickly faded from my face. Gone were the days that showed 1980's films all summer, such as Girls Just Want to Have Fun, Caddyshack, The Last American Virgin, Body Double, and Pretty in Pink. They had been replaced by all of these new and newer movies in their varying degrees of woke that told me how evil I was and demanded that I continue to confess my white privilege for the rest of my life till the day I die (even though I come from Russian and Brazilian parents) and have no troubles to speak of because I'm overpaid. Such an assumption is a funny and flawed one. In reality, I'm overqualified and underpaid because my major in college ended up being a useless one. You know that saying, "Do what you love and the money will come"? Well, I'm still waiting for the money part.
I have especially fond memories of watching Girls Just Want to Have Fun one summer at AFI. Two girls around my age — maybe a little younger — and I were roaring with laughter over the cheesy dance parts, notably when Sarah Jessica Parker and Lee Montgomery's silhouettes are on the beach as they rehearse for Dance TV's competition and a poor woman's Patti LaBelle is belting out, "I believe I can fly!"
I know. I know. I'm reminiscing way too much here. Maybe it's because I fear that AFI's best days are behind them. Whether it was watching Alfred Hitchcock's Psycho or Rebecca or David Lynch's Blue Velvet, there was something magical and rebellious about kicking back with a beer and watching these films, particularly on a weekday, during normal business hours. AFI's draconian mask-wearing policies aren't helping either. Unless you're eating and/or drinking, a mask must be worn at all times while you're watching the movie. I can't and I won't. I'm fully vaccinated and my sensitive skin prohibits me from wearing a mask for long periods of time. There have been one too many instances where I return from running errands and my rosacea acts up because my skin is allergic to certain ingredients in the mask. I have a weird, dystopian vision of men in riot gear, poking me with their billy clubs for having my mask off for far too long and the audience applauding as these mean men drag me out of the theater.
Where does this leave me and my movie-watching habits? Well, for now, the song will remain the same as I continue to watch the classics, cult classics, and overlooked gems in the comfort of my own home without the high cost of movie tickets and refreshments and having to wear a mask. As for when AFI will be showing a decent film again? Well, it looks like I'll be holding off on that singing and dancing to Bjork's "It's Oh So Quiet" after all, as it may be a while…
entertainment
About the author
Stephanie is a writer who resides in Maryland with her boyfriend, their daughter, and their two orange tabby cats, Slam and Allie. She loves the beach, boardwalk, Barn 34's pancakes, and soft-serve ice cream in Ocean City, MD.
Reader insights
Be the first to share your insights about this piece.
Add your insights