A Female Superhero Film at Last
Considering Birds of Prey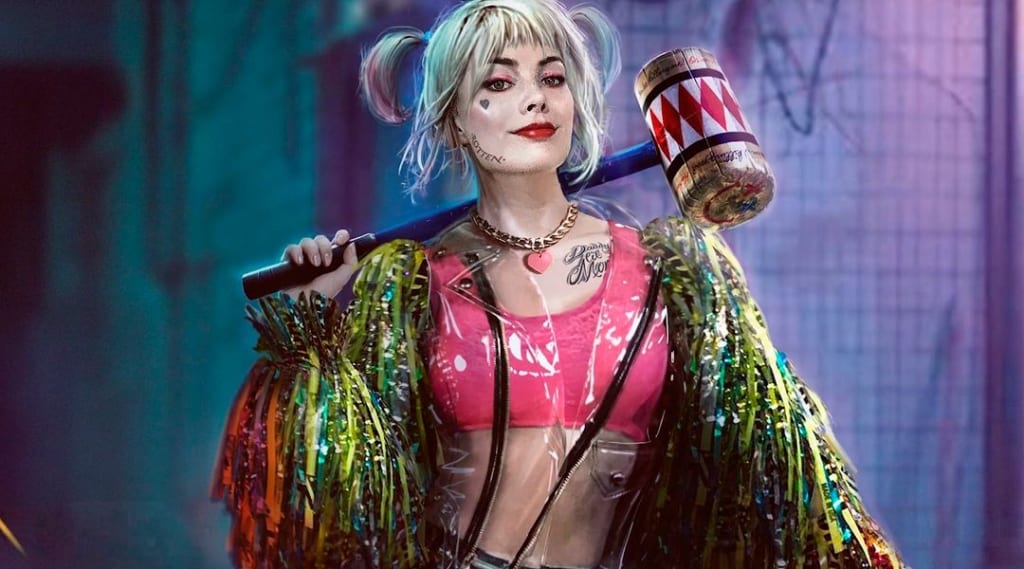 This may be the first superhero film that genuinely feels like it's written for and by real women (while I loved Wonder Woman and Captain Marvel, both women are more alien than American. And both are certainly wildly powered paragons like Superman). As many have pointed out, one woman offering another a hair tie in battle – and even acknowledging that in a fight loose hair is a disadvantage – is delightful.
The outfits showed some skin from Huntress's bare midriff to Harley's shorts, but felt strikingly nonexploitative. Perhaps this was because the film didn't spend its camerawork on butt shots and so on. Perhaps it was because the costumes had a sense of being more sloppy and tough or because they emphasized that the women were dressing the way they wanted – not presenting themselves to attract the men. Huntress wears tough leather and tons of eyeliner for a dark look, while Renee Montoya walks around in the hilariously messed up "I shaved my balls for this" t-shirt from the lost and found. Cassandra Cain looks childish and rebellious in her hoodie and baseball cap (along with the punk cast covered in swear words) but certainly not sexy. Her toilet scene is silly, not degrading. Dinah had a low-cut top for much of the film, and a slinky glamorous dress to sing onstage, but that was about the worst of it. While Harley fought in a wet t-shirt that showed her colored bra and later overalls unzipped down the front, audiences couldn't see much and no one leered or commented. Her booty shorts from the previous film, donned in her clothes-changing scene in front of all the men, had a far different vibe. Even when the villain makes Erika strip and dance on the table, her trauma is shown, not her underdressed body.
The villain of course collects treasure from around the world, casting himself as a looter and colonizer. He's like a force of total greed, who considers women part of his "things." Condescendingly, he calls Harley a "silly little girl with no one to protect her" and actually eats popcorn while preparing to watch the torture. He is the exploiter of women, the entitled male who treats women as his possessions. "Go show those little bitches you don't mess with Roman Sionis," he thunders at the film's climax. Of course, the women destroy him completely, first with fighting as a team and then with Canary's cry, powerful enough to flatten his army of brutal men. Harley takes out two cars of his final bodyguards, and finally Cassie takes him out with a grenade and a subtle "I took your ring." Having triumphed over the male dominator and his criminal empire, the women wrap up with real friendship, tacos, and margaritas. Three create the Birds of Prey hero team (a contrast with their pasts in which all three were serving the male establishment that had formed them). Harley and Cassandra, meanwhile, begin a bad girls teamup devoted to living as they choose.
Of course, the heroines are varyingly immoral and amoral, rather like Deadpool. Of course, like him, they take joy in what they're doing. So many moments humorously subvert their actions, as Harley grocery shops for cereal and dog food. Helena practices her tough "Do you know who I am" routine in front of the mirror and never gets to introduce herself as Huntress without someone interrupting. Harley adds that her routine needs work. Harley's narration whisks viewers backward and forward in the story, emphasizing how much she rules the narrative even as she also shows how wacky it must feel to go through a day as she does. She certainly has an arc, as she tells Canary, "A harlequin's role is to serve…a harlequin is nothing without a master," but then fights her way to independence. Her psychiatrist's skills are used well through the narrative, as she analyzes the clearly crewed up denizens of Gotham.
If there had been some raucously funny one liners this could have really contended with Deadpool.
Valerie Estelle Frankel is the author of Superheroines and the Epic Journey: Mythic Themes in Comics, Film and Television.