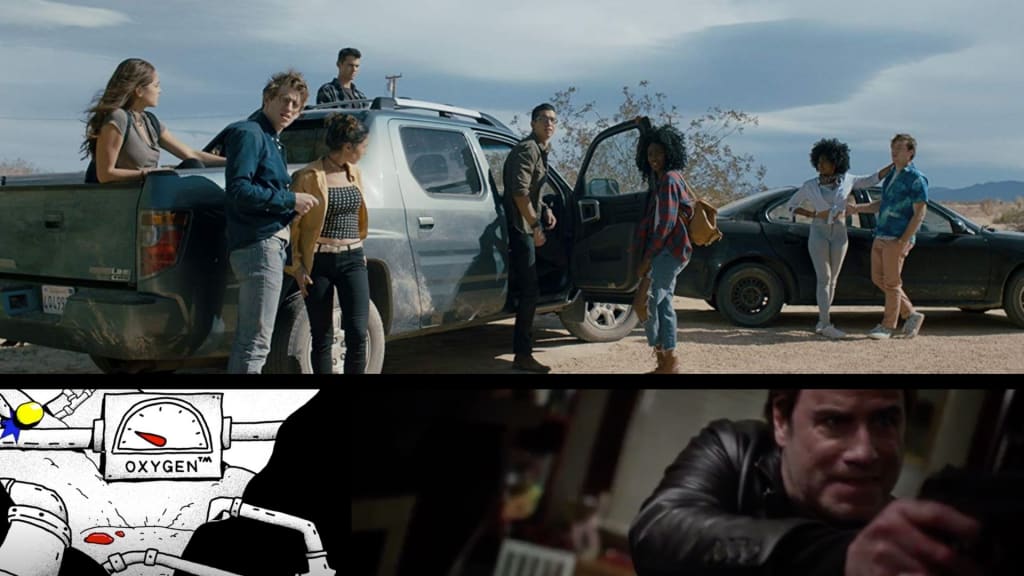 A bunch of awesome new content comes to Netflix on September 20, 2019. In the meantime, we seem to be in some sort of Netflix dry spell. I do have some good news! I made a list to help you get through these times. Hope this helps!
1. I Am Wrath (2016)

"A man is out for justice after a group of corrupt police officers are unable to catch his wife's killer."—IMDb
An action movie that is starring John Travolta, but has terrible reviews on Rotten Tomatoes.
Please note that this movie doesn't get released onto Netflix until September 16.
2. Bill Burr: Paper Tiger (2019)—Stand-up Special

"'Paper Tiger' marks Burr's sixth hour-long stand-up special, following his most recent release, 'Walk Your Way Out.'"—Megh Wright
3. Eat Pray Love (2010)

"A married woman realizes how unhappy her marriage really is, and that her life needs to go in a different direction. After a painful divorce, she takes off on a round-the-world journey to 'find herself.'"—IMDb
4. The Mind, Explained (Season 1)

"Ever wonder what's happening inside your head? From dreaming to anxiety disorders, discover how your brain works with this illuminating series."—IMDb
This is a docuseries about the brain, narrated by Emma Stone. It will be released onto Netflix on September 12.
5. Turbo (2013)

"A freak accident might just help an everyday garden snail achieve his biggest dream: winning the Indy 500."—IMDb
Turbo will be released onto Netflix on September 12.
6. Norm of the North: King Sized Adventure (2017)

"An ancient Chinese artifact has been stolen by a villainous archaeologist named Dexter. With the help of his Lemming friends, Norm must keep his word and embark on a journey across the world to help recover the artifact for the people of China."—IMDb
7. Head Count (2018)

"A group of teenagers unknowingly summon a paranormal presence during their weekend trip to the Joshua Tree desert. This monster mimics their appearances to hide among them and seeks to separate them into groups of five to complete its deadly ritual."—IMDb
8. The Outsider (2019)

"In search of a better life, a railroad worker (Foo) finds himself on the wrong side of a group of corrupt lawmen. As the Marshal (Adkins) attempts to control his town, tragedy strikes forcing him to decide between justice and family."—IMDb
The Outsider will be released onto Netflix on September 14.
Something Missing?
Some of the titles aren't released until later in the week. For example, The Mind, Explained and Turbo won't be released until September 12, and The Outsider won't be released until September 14. In fact, I Am Wrath doesn't get released until September 16. Sorry for any inconvenience.
#BestOfNetflix
Keep streaming!

Hello. Nice to meet you! How are you? Hmm... this feels like a really one-sided conversation. Why don't you follow me on social media, so I can get to know you too?
Work Cited
"Movies: TV Shows: Movie Trailers: Reviews." Rotten Tomatoes, https://www.rottentomatoes.com/.
"Ratings and Reviews for New Movies and TV Shows." IMDb, IMDb.com, https://www.imdb.com/."See What's next." Netflix, https://www.netflix.com/.
"What's Coming to Netflix in September 2019." What's on Netflix, 4 Sept. 2019, https://www.whats-on-netflix.com/coming-soon/whats-coming-to-netflix-in-september-2019-04-09/.
Wright, Megh. "Bill Burr's New Netflix Special Debuts Next Month." Vulture, Vulture, 21 Aug. 2019, https://www.vulture.com/2019/08/bill-burr-paper-tiger-netflix-special-premiere-date.html.