5 Reasons to Read 'The Gentleman's Guide to Vice and Virtue' by Mackenzi Lee
And All Spoiler Free!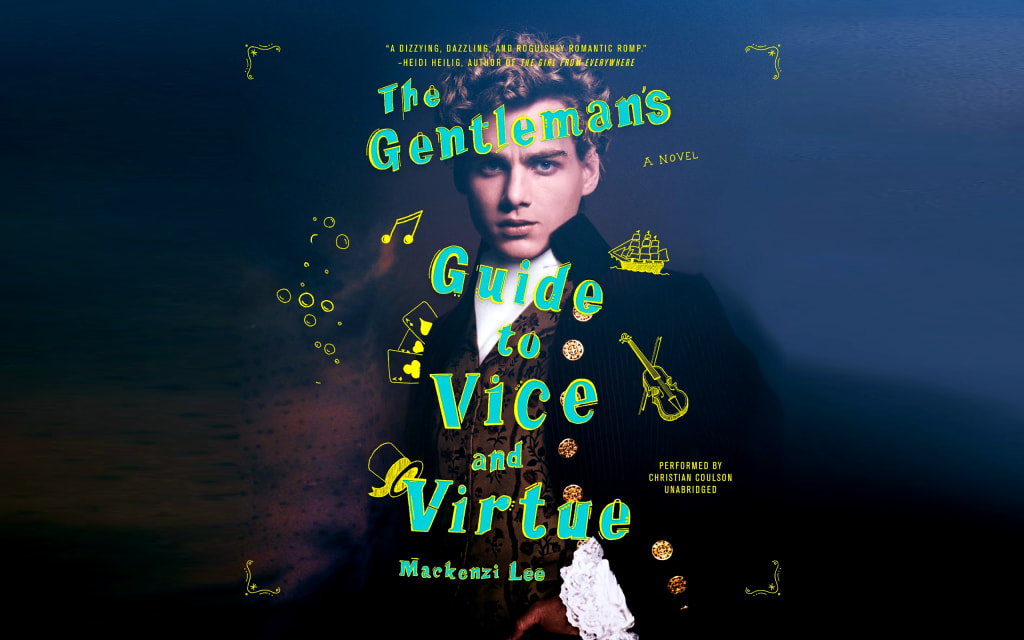 I recently had the pleasure of reading The Gentleman's Guide to Vice and Virtue by Mackenzi Leeand it is now one of my favourite books of all time. Reading this was such a pleasure that I think everyone should at least give a chance. It is a historical fiction that follows Henry "Monty" Montague who is about to embark on a trip with his friend, Percy, and little sister, Felicity. Along the way, a reckless decision turns their trip into a manhunt across Europe and presents them with a mystery to be solved. If you want to read more about the plot you can find it on the book's Goodreads page.
Below are five reasons why this book is worth your time and they are all completely spoiler free!
A Historical Fiction That Manages to Remain Well Paced Despite Having a Lot Going On
As I said, this is historical fiction. It is set in 18th century Europe and starts with a road trip that slowly brings our trio of characters to uncover a mystery and go in search of answers. They have to outrun the people who are tracking them and come face to face with pirates and many other obstacles along the way. It's a constant rollercoaster and Mackenzi Lee does a fantastic job of pacing the story so that it unravels at just the right speed making sure everything feels appropriately developed and avoids being rushed.
A Three-Dimensional Protagonist Who Learns and Grows as the Story Develops
The book is told from Monty's point of view and is an incredibly selfish and flawed human being in a lot of different ways, but as the story goes on you realise there is more to him. He's constantly called out for the things he does wrong, and he actually learns from his mistakes which allows for him to grow. He's still a little narcissistic by the end but he's more open and a lot less selfish. He is also bisexual and is actually quoted as saying he is interested in both men and women.
There's even more representation throughout.
It's not just Monty's bisexuality that we experience. We also have a POC main character/love interest, a LGBTQ+ love story, and a badass female character.
The first is Percy, Monty's best friend, and a person whom he has been in love with for as long as he can remember. Throughout the story we see him face many struggles as well as feeling uncomfortable every time his white friend (Monty) stands up for him because he is unable to do it himself. The story focuses quite heavily on the well-paced development of Percy's relationship with Monty but he is more than just a love interest. We get to know him very well and his own identity is discussed heavily throughout.
The badass female is Felicity, Monty's little sister. She is a feminist, incredibly smart, and headstrong. She is often seen leading their little group and acts far beyond her years. There is also a lot of indication that she is asexual/aromantic which is confirmed and discussed much further in her own book (The Lady's Guide to Petticoats and Piracy).
There is also a very long look into a character having the condition epilepsy. I won't say who it is to avoid any spoilers, but there is a lot of talk throughout about this and what the character wants to do about it.
It talks about some very serious things but it still has a good time.
With everything that happens in this story there is bound to be some darker moments. We constantly see Percy dealing with being judged for the colour of his skin, Monty has suffered a lot of physical abuse over the years (as well as mental and emotional), Felicity is constantly denied opportunities because she was born female, and the character with epilepsy has to deal with the fact that not many people really understand it and often think the worst of them. There are characters throughout who also deal with similar and differing struggles. However, this story isn't all doom and gloom.
There are countless times I laughed out loud and felt my heart soar. It's wholesome and adorable in so many ways, as well as being feisty and fun. There are so many layers to this story and its complexity is well managed resulting in very easy to follow writing that manages to be anything but boring.
Some of the Best Tropes
There's the friends to lovers trope as well as the "sharing a bed" trope among others. Friends to lovers is the most obvious and the one that is seen throughout the book. It happens gradually and expands almost the entire story leaving just enough to leave room toward the end to reap the benefits of it. I don't want to talk too much about tropes because they're better experienced yourself, but if you love your romances to be filled with them then this is the book for you.
And there we are, five reasons to read The Gentleman's Guide to Vice and Virtue by Mackenzi Lee. I hope if you do pick it up you fall in love with it just as I have.