10 of the Best Post Millenium TV Theme Tunes
Introductory earworms help make a TV show memorable forever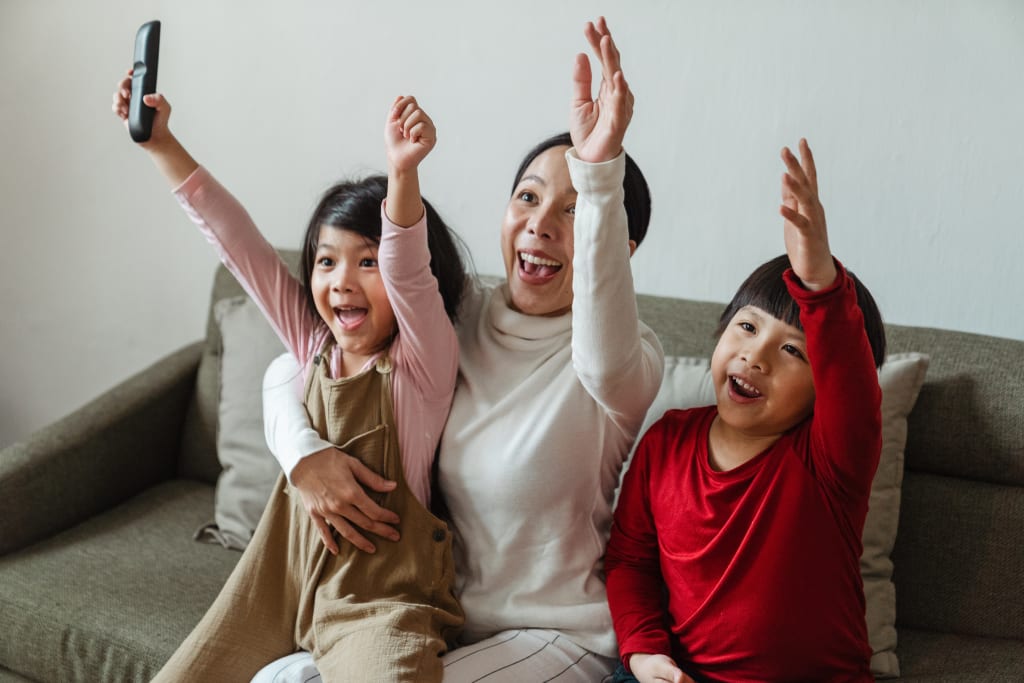 Photo by Ketut Subiyanto from Pexels: https://www.pexels.com/photo/positive-ethnic-mother-with-children-watching-football-on-tv-and-celebrating-goal-4474017/
When I was growing up in the 80s I watched, listened to, and absorbed many more tv show theme tunes than I do now, but I do think they have had a renaissance in recent times.
A good theme tune can really make a show stick in your mind and build the feeling of excitement to watch it. I think this has been revived by some streamers and channels reverting back to airing one episode a week with some of their shows. Here are a few of my post-Millenium favorites, I felt that keeping it relatively modern was a fun challenge, but obviously, I still have the childhood classics embedded in my brain permanently!
Smallville: "Save Me", Remy Zero
I think that Smallville played an underrated part in the revival of the superhero in pop culture (for better or worse, I am not a Marvel fan personally). Smallville was the earnest, low-key prequel about young Clark Kent that filled that post-80s Superman era gap nicely. 
The theme tune, "Save Me" by Remy Zero is anthemic and hopeful, it made me as a fan of the show feel amped for the new weekly episode (way back when we had to wait for one episode a week). The song charted at number 27 on the Billboard Modern Rock Charts*.
Community: "At Least it Was Here", The 88
This song intro is poppy and uplifting, with a nostalgic feel to it too. Community was a quirky, brilliant comedy. It's subversive and sometimes so out there you forget what you are watching, but most of the time it hangs together. It's like if the Breakfast Club was set in a small community college in the midwest, and was a Bermuda Triangle of fantasy, meta plot devices, friendships, and all sorts of crazy capers. Apparently, we are finally getting #sixseasonsandamovie too!
Succession: theme by Nicholas Britell
This Emmy-winning track is bold, moody and off-kilter, much like the high-stakes Shakespeare meets rich people problems HBO drama it scores. From the wobbly feeling the tinkling piano chords give you to the soaring string section, this theme tune meant business, and many fans became addicted to it instantly. 
Even before the Kermit dancing meme set to it went viral, there were those of us insisting our other halves watch the entire theme tune because it's "the law!" (it's me ok). It gets the viewer hyped for what's to come because with Succession you always know it's always going to be something jaw-droppingly good, and worth waiting for. Time Magazine** even wrote about it, saying:
The theme mixes Britell's expertise in classical composition with his background making hip-hop beats, layering the two styles. Silverstein calls out the 808s (a popular drum machine sound), detuned piano (piano intentionally made to sound out-of-tune), audio-processing filters (more technical composition tools) and "gritty" strings that all come together in a way that's "not as sweet and glossy as you might get in other soaring themes." The piano, played in a high register, adds a sense of "urgency or tension," she says. 
This main melody is in a minor key punctuated by dissonant chords; some of the piano keys are even struck out of sync, producing a "messy" sound. The use of "extreme registers" on the piano - that's the big contrast between the high and low notes - and Britell's distortion of the bass line "rock the foundation of the theme," she says, signaling drama. There are also two string layers at play: a "low ostinato" pattern (a repetitive musical phrase) gives the theme forward momentum, coupled with high strings that echo the piano motif with a "very raw, shrill, almost out-of-control tone."
They use the tune and variations of it during the show, sometimes tracking subtly underneath scenes or swelling into the dramatic moments, you know things are about to get real when you hear the violins kick in! 
Bosch (Amazon Prime): "Can't Let Go", Caught a Ghost
This jazzy track was more of a slow burn for me, but once I grew to like it I was all in. For me this song is about the drum and horns, dancing around each other. I am not even a jazz lover, but it is completely fitting for the main character/jazz lover detective Hieronymus "Harry" Bosch to have a jazz intro. Its laid back sophistication fits the L.A. backdrop of this detective mystery drama so well.
Vikings: "If I Had a Heart", Fever Ray
The low grumbling sounds of this arresting song score the underwater title sequence perfectly, then builds to something otherworldy with the driving cellos, electronica and "ah aha ha ahs". Primal and gripping, much like the show about iconic Nordic legends! Swedish act Fever Ray released this song in 2009 to much critical acclaim, even garnering a place in the NME's 150 best tracks of the last 15 years list***. It gained a second life with its use as the Vikings theme song.
True Blood: "Bad Things", Jace Everett
I rewatched True Blood during the pandemic as I had never watched the last couple of seasons (honestly, kind of terrible!). But I still remember when this show first came on, it felt so fresh and fun, and the theme tune was a bold, in-your-face Southern country rockabilly romp that got you hyped for the show along with the creepy weird credits. It also revived singer Jace Everett's career, as he told EW****:
The success of "Bad Things" still surprises Everett, since he wrote the track in about six minutes to try to seduce a woman. "There's nothing to it," he remarks. "It's a synthesis of, what, maybe 20 other songs? The thing that's unique about is the chord progression because of it being in a minor key. It's just an old swingin' blues-type thing that I put my own spin on. And that tends to be what people like: things they heard before."
Gilmore Girls: "Where You Lead", Carole King & Louise Goffin
Carole King and her daughter Louise Goffin rewrote King's original track from her classic album Tapestry to fit a mother-daughter story. It hits all the heart-fuzzy notes, gets you psyched for another episode in Stars Hollow, and the longer you watch the show the more it means. It has quite a retro feel to it that adds another layer of coziness for me. It's also worth noting that the score of this show plays a vital part in the storytelling, composed and sung by Sam Phillips, the wistful, playful "Lah lah lahs" that play underneath the scenes sometimes tell us exactly what we need to know. You have to watch it, trust me!
Detectorists: "Detectorists", Johnny Flynn
Written and performed by Johnny Flynn (who is perhaps more known as an actor now, and the younger brother of Jerome Flynn) this breezy, folk guitar tune transforms into something more meaningful and poignant the longer you watch this gentle but brilliant show about a couple of English detectorists looking for treasure in the pastoral countryside. I think it is such a gorgeous, evocative tune. Again, it is used to score the show and Flynn even performs it in a pub scene in one episode.
The Returned: "The Returned Theme", Mogwai
Mogwai soundtracked the haunting theme as well as the entire series and it's well worth a listen. It's a beautiful piece of scoring that emits spooky vibes and mystery, fitting for this show about a town whose dead citizens simply return from the dead unannounced one day. These French zombies are peculiarly unmotivated by flesh, but they have a quietly menacing quality all their own.
The Bridge/Broen: "Hollow Talk", The Choir of Young Believers
The thing with the theme tune is it doesn't necessarily grab you right away, but each time I listened to it I became increasingly more enamored. The deeply emotive tone of the singer's lyrics, icily stark piano notes and austere strings let you know you are in for one of the best police mystery dramas ever made. It fits the Malmo, Sweden/Copenhagen setting and landscape so well, and like Succession, it is used a few times in the series to underscore big events. Saga Noren, Malmo Police, an icon.
Do any tv shows' theme tunes in recent times stick out to you? Or do you just fast-forward through them all? I think since I grew up memorizing and appreciating theme songs so much that it's something I always take notice of.
**Here's Why the Theme Song on 'Succession' Stands Out So Much - Time
***Fever Ray, "If I Had a Heart" Wiki
****True Blood theme song brought singer's career back from the dead: 'It's a mitzvah'
About the Creator
Hi, I mostly write memoir, essays and pop culture things. I am a long-time American expat in Scotland.
Reader insights
Be the first to share your insights about this piece.
Add your insights