Best of Netflix
10 Netflix Documentaries to Put on Your 'Watch Later' List
#BestOfNetflix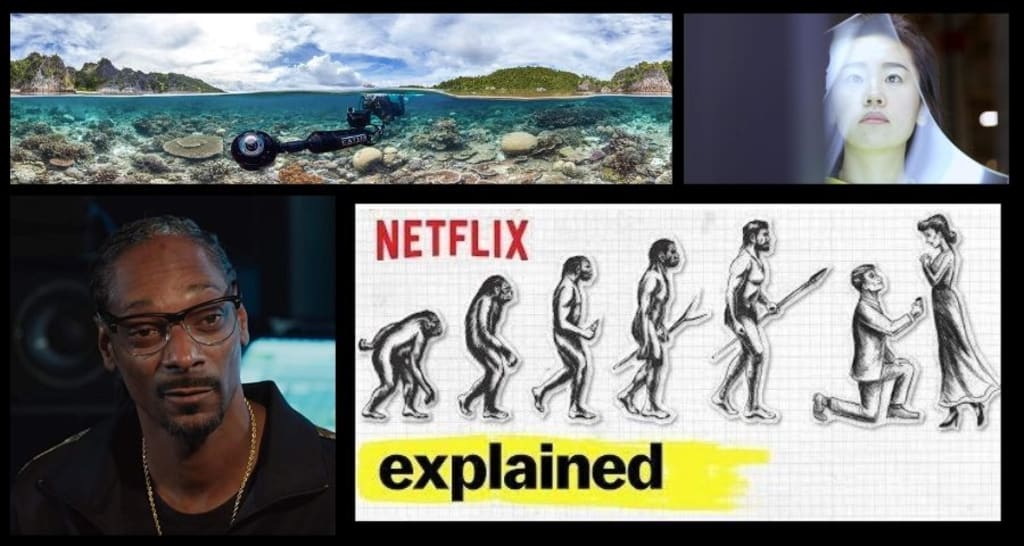 Feel like being an intellect today? Or maybe you jut want some relaxing background sound while you sleep. Either way, this list has some great documentaries with impressive reviews.
1. Explained

"A documentary series that looks to explore the big questions of today." - IMDb
Featuring: The Mind Explained
"Ever wonder what's happening inside your head? From dreaming to anxiety disorders, discover how your brain works with this illuminating series." -IMDb
The Mind Explained is not only a great way to learn about the human mind, but it is also narrated by Emma Stone' amazing voice. If you want to watch something with good reviews than the The Mind Explained is for you. It has a a perfect 100% audience score on Rotten Tomatoes and a 8.1/10 on IMDb.
2. Our Planet

"Documentary series focusing on the breadth of the diversity of habitats around the world, from the remote Arctic wilderness and mysterious deep oceans to the vast landscapes of Africa and diverse jungles of South America." -IMDb
People already love Our Planet, it has a 9.4/10 on IMDb and an impressive 91% audience score on Rotten Tomatoes.
3. The Toys That Made Us

"The minds behind history's most iconic toy franchises discuss the rise (and sometimes fall) of their billion-dollar creations." -IMDb
The Toys That Made Us has a score of 8.1/10 on IMDb and 91% of Google Users 'Like' it.
4. Abstract: The Art of Design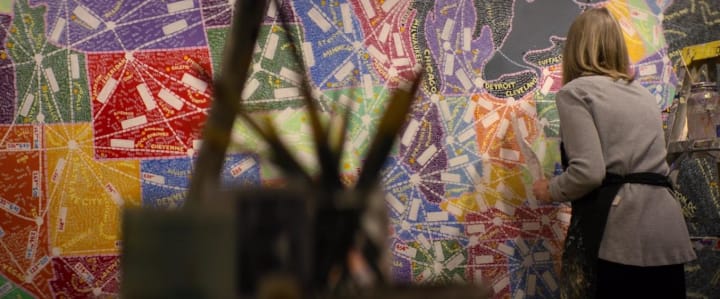 "A look beyond blueprints and computers into the art and science of design, showcasing great designers from every discipline whose work shapes our world." -IMDb
This show scored decently well with 8.4/10 on IMDb and the approval of 96% Google Users.
5. Wormwood

"In 1953, Army scientist Frank Olson takes a fatal plunge from a hotel window. In 1975, a bombshell report ties his death to a top-secret experiment." - IMDb
Wormwood's rating speak for themselves with a 90% Critic Score on Rotten Tomatoes and a 7/10 on IMDb.
6. American Factory

"End 2008, GM closes a plant in Ohio. A Chinese billionaire/Fuyao Glass buys the plant 2014 and invests in auto glass production. There are 2000 jobs there by late 2016. USA meets PRChina." - IMDb
American Factory rated higher than expected with a 97% critic score on Rotten Tomatoes and a 7.7/10 on IMDb.
7. Hot Girls Wanted

"A documentary about young women who have been drawn into the sex trade - and how easy it is for a web-savvy generation to end up making porn." - IMDb
Hot Girls Wanted has a score of 82% critic score on Rotten Tomatoes and a score of 6.1/10 on IMDb. If you like Hot Girls Wanted, don't forget to check its sequel, Hot Girls Wanted: Turned On. It is also available on Netflix.
8. Chasing Coral

"Coral reefs around the world are vanishing at an unprecedented rate. A team of divers, photographers and scientists set out on a thrilling ocean adventure to discover why and to reveal the underwater mystery to the world." - IMDb
It's hard to not be impressed by these reviews. Chasing Coral has a perfect 100% critic score on Rotten Tomatoes and a score of 8.1/10 on IMDb.
9. Fearless
"Emma Banville (Helen McCrory), a human rights lawyer known for defending lost causes, sets out to prove the innocence of Kevin Russell (Sam Swainsbury), who was convicted for the murder of a school girl fourteen years earlier." - IMDb
Fearless has an audience score of 94% on Rotten Tomatoes and a score of 7.6/10 on IMDb.
10. Grass Is Greener

"A look at America's complicated relationship with cannabis." - IMDb
It has Snoop Dog in it, enough said. Grass Is Greener has awesome ratings with a perfect 100% critic score on Rotten Tomatoes and a 7.2/10 on IMDb.
Is something on the list not on Netflix?
That's strange, since everything on the list are Netflix Originals you should be able to get them all no matter where you are in the world. What I can tell you is that this was written in November 2019. So maybe something has happened since then that could cause something to be removed from Netflix. Sorry for any inconvenience.
Please Note
These ratings were referenced December 2019. The ratings of the shows may have changed since then.
Work Cited
Griffith, Eric. "The 19 Best Original Documentaries on Netflix." MAG, 2 June 2019, www.pcmag.com/feature/359812/the-19-best-original-documentaries-on-netflix.
"See What's next." Netflix, www.netflix.com/.
"Ratings and Reviews for New Movies and TV Shows.", IMDb.com, www.imdb.com/.
Rotten Tomatoes: Movies | TV Shows | Movie Trailers ... https://www.rottentomatoes.com/.