10 Movies/Shows to Get You Ready for Pride Month
Pride Month is a time those of us within the LGBTQ+ community should be feeling good. What better way to start that than seeing some good representation.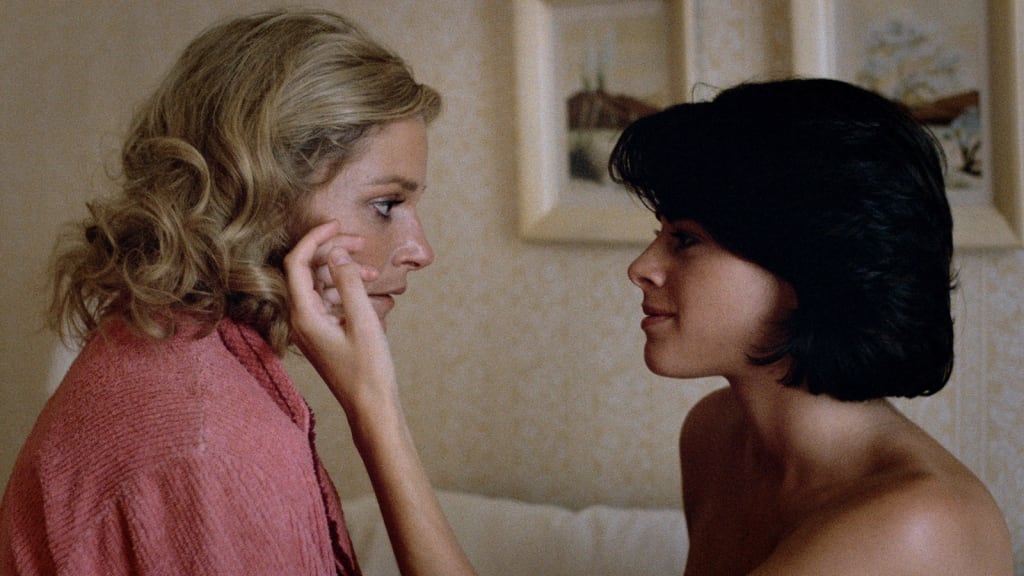 Pride month is about to start folks, and the best way to get in the right mindset is to begin watching as many LGBTQ+ movies and shows as possible. Don't worry, for this list I'll make sure to put if one of the gay characters dies, for I know some of you (and me included) can't always handle tragic gay romance.
1. 'Desert Hearts'
If Brokeback Mountain ripped your heart out, and made you feel completely empty inside I recommend you take the time to watch this masterpiece. It's not very often you can come across a lesbian movie that doesn't involve a woman cheating on her husband or boyfriend. Also, this has a happy ending, which is definitely a sweet change if you've only seen tragic lesbian or gay movies in the past.
2. 'Love, Simon'
Now, this will make you cry like crazy, but not in a bad way. Love, Simon give you all the acceptance your parents may have failed to give you, and shows you a nice happy ending. Since this movie is only PG-13 it's perfect to watch with your family; the characters aren't over-sexualized, and it simply manages to be a super cute, feel good movie that can brighten up any bad day.
3. 'Colette'
If you are like me and have been in love with Keira Knightly since the dawn of time, then this is the perfect movie for you. It's also a plus if you love period dramas! Knightly plays the beautiful Colette, and you go through her life as a writer, and are introduced to a couple of her lovers. I'm not sure how historically accurate this movie is, but I can assure you it'll leave you wishing you were living in 1900s, and having some forbidden romance with Knightly.
4. 'Moonlight'
Without fail I watch this movie every year before pride month, or at least sometime around it. Though it won Best Picture at the Oscars a few years ago, people tend to forget it even exists, which is simply tragic. I'm going to be honest and say that it is not the happiest movie out there, but the ending more than makes up for all the sadness in the beginning. If anything, this movie is worth watching for it's poetic scenes alone; if the story itself doesn't bring you to tears the beautiful lighting and cinematography will.
5. 'Black Sails' (show)
Again, if you love period dramas, this is something you'll most likely enjoy greatly. I, for one, have always thought pirates were pretty cool, but who knew they could be gay or bi?! The first season will introduce you to a couple of lesbian and bi characters, and the second only makes it all the better. It may not be possible to binge the whole thing before pride month, but I'd say this show would be worth starting as pride month begins. I, for one, am doing that for I have barely started watching it. Also, as promised in the beginning, I will say that a gay character dies at some point.
6. 'Sense 8' (show)
This show is absolutely crazy with the amount of diversity it has; like, it is almost too good to be true. There are only two seasons, and one movie as its closing, since Netflix decided to force it to end quickly, but it definitely still worth watching. Not only do you get characters from other countries (played by actors who are actually from there!), but it gives you lesbian, gay, bi, and trans characters, making it something just about anyone can relate to.
7. 'Pose' (show)
If you are desperate to see talented trans actors play trans characters then this is the show for you. There really isn't much I can say other than the fact that the acting is superb, and the plot keeps you interested in what the next episode can bring. There are mentions of gay people dying, but nothing too severe as of the first season.
8. 'Paris is Burning'
This documentary is simply a beautiful classic everyone needs to watch; especially if they are interested in learning about ballroom culture. The show Pose is based on this time period, so it may be good to slip this in if you want to truly see how life was for trans and gay POC during this time period.
9. 'Pariah'
This isn't a romance, but if you are in need of a coming of age movie about a lesbian attempting to embrace who she is, then this is perfect. Depending on how sensitive you are to certain matters (family acceptance to be exact) this movie may hit too close to home. Though I ask that you give it a shot, for it is incredibly underrated, and deserves all the recognition it can get.
10. 'But I'm a Cheerleader'
In a way you could relate this to Love, Simon just because it is a comedy, but this movie is a bit less heart warming. I don't mean to say that that makes it a worse movie; after all it made it to this list, but the humor here is a bit more odd, and it isn't as family friendly. Though despite that, it has a really cute ending, which I suppose is all that matters. Also, if you love Natasha Lyonne then this is definitely worth watching.