10 Great Books You Might Not Have Read (Poetry, Fiction, YA, and Non-fiction)
In no particular order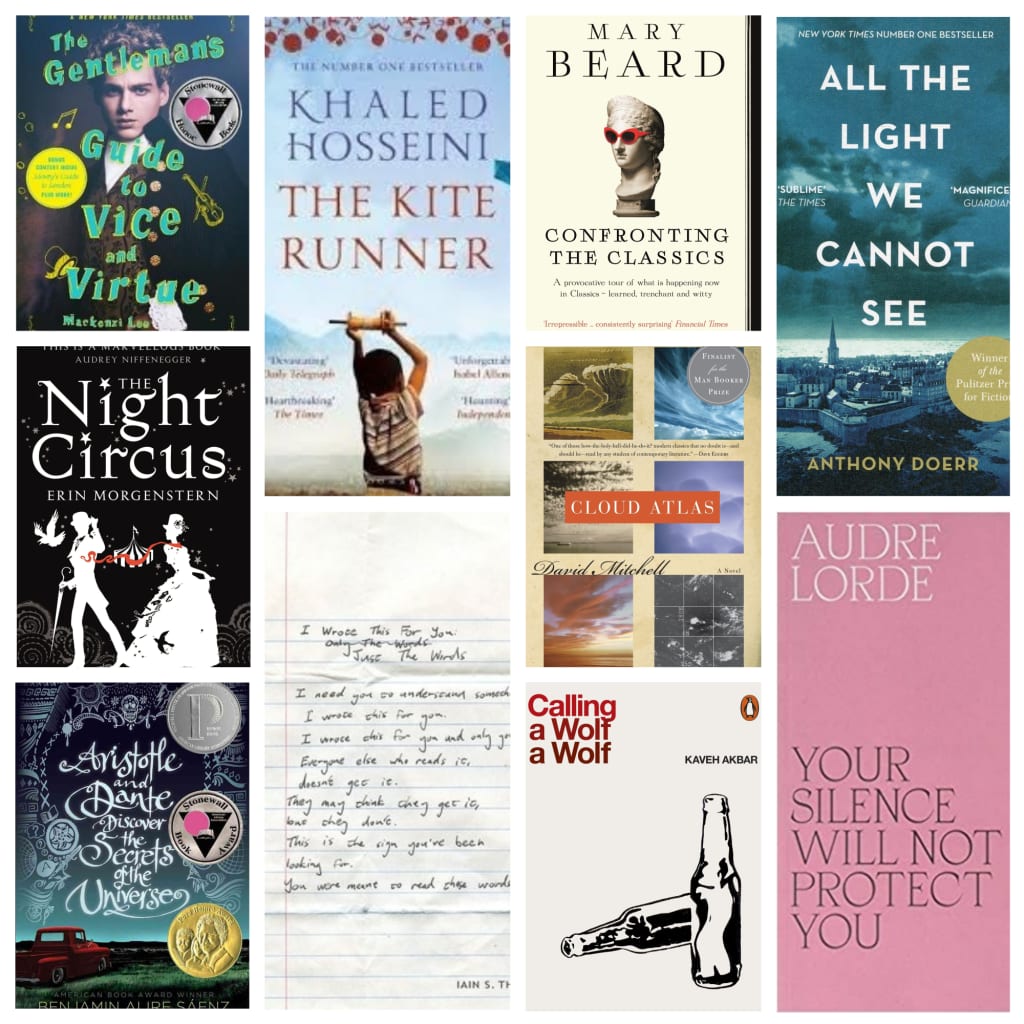 1) 'A Gentleman's Guide to Vice and Virtue' by Mackenzie Lee.
Alright, so I'm going to kick things off with a YA novel that I finished about a week ago and have not stopped thinking about since I put it down. A Gentleman's Guide is an tender but swashbuckling story about a young man named Monty an eighteenth century nobleman who struggles with his long-time crush on his best friend, Percy, who is actively persecuted for being born to a white father and black mother. However, matters are complicated further when an embarrassing encounter at Versailles and a stolen puzzle box results in Monty, Percy, and Monty's sister, Felicity, being chased across Europe.
Monty's narration flits between harrowing and comical as he struggles with the social prejudices of the time and his feelings for Percy while trying to find the key to opening the mysterious puzzle box.
2) 'Aristotle and Dante Discover the Secrets of the Universe' by Benjamin Alire Saenz.
Continuing the YA theme here with Aristotle and Dante Discover the Secrets of the Universe. I read this at the perfect time; I was seventeen, finishing sixth form, and had just come out as bisexual to my family. The novel is narrated by Ari Mendoza and follows his friendship with Dante Quintana his struggle with coming-of-age, family, his ethnic identity, and his sexuality.
Saenz's writing style is incredibly generous, compassionate and perceptive without ever being pretentious and the dynamic between Ari and Dante is so authentic and moving as we see the evolution both boys go through before the story's denouement and subsequent conclusion.
3) 'The Night Circus' by Erin Morgenstern
A very whimsical, Gothic sort of fantasy novel, The Night Circus, sees two rival magicians start a dangerous competition which sees them each train an apprentice from childhood to eventually do battle with one another in a fight where only one can be left standing.
'Le Cirque des Rêves', a circus ground that seemingly appeared out of nowhere and only opens at night, provides the setting where both apprentices meet with no knowledge of who the other is.
This is a perfect read for those who enjoy lush imagery. The perspective shifts from character to character frequently; from the two main protagonists, to the circus performers, to a mystery voice that addresses the reader directly at some points in order to curate your own experience entering the circus.
4) 'Cloud Atlas' by David Mitchell
This one is a little... complicated. It consists of six interconnected stories, which begins with a voyage through the South Pacific in the nineteenth century and ends in a primitive post-apocalyptic Hawaii. Each story is a completed story within itself, yet their true significance lies in the connections between them, forming a collective plot. My favourite part is Letters from Zedlghem, closely followed by The Orison of Somni-451.
5) 'The Kite Runner' by Kahled Hosseini
This one is a real tear-jerker. The story follows an Afghan immigrant called Amir, who is emotionally and mentally scarred by his experiences back in Afghanistan. The first half of the books is told as a sort of flash back to Amir's childhood, narrated by Amir himself. However, in the second half of the novel, he receives a call from his father's old friend and colleague, who reveals a secret that forces Amir to return to Kabul to face his past. This is really poignant and beautiful- a real page turner.
6) 'All The Light We Cannot See' by Anthony Doerr
This one follows two converging stories.
When she is six, Marie-Laure goes blind and her father builds a perfect miniature of their neighbourhood so she can memorise it by touch and navigate her way home. When she is twelve, the Nazis occupy Paris and she and her father flee to the walled citadel of Saint-Malo, where Marie-Laure's reclusive great-uncle lives by the sea- but, with them, they carry Paris's most valuable and dangerous jewel.
Meanwhile, in Germany, the orphaned Werner becomes an expert at building and fixing radios, a talent that wins him a place at an academy for Hitler Youth, then a special assignment to track the resistance. Eventually, Werner travels through the heart of the war and, finally, into Saint-Malo.
This book is full of amazing detail and stunning metaphors.
7) 'Calling a Wolf a Wolf' by Kaveh Akbar
I can't really summarise poetry anthologies so I'll just settle for a quote from each that particularly stuck with me:
"I am not a slow learner
I am a quick forgetter
such erasing makes one voracious.
If you teach me something beautiful
I will name it quickly before it floats away"
8) 'I Wrote This for You: 2007-2017 ' by Iain S. Thomas
"I love no one but you, I have discovered, but you are far away and I am here alone. Then this is my life and maybe, however unlikely, I'll find my way back there. Or maybe, one day, I'll settle for second best. And on that same day, hell will freeze over, the sun will burn out and the stars will fall from the sky."
9) 'Confronting the Classics' by Mary Beard
In a series of essays, Beard explores the rich history of classical civilisation- from Greek drama to Roman innuendo, introducing some massive players in classical history, such as Alexander the Great, Nero and Boudicca. She takes you on a tour of the places in which the Greeks and Romans lived and died, from the palace at Knossos to Cleopatra's Alexandria and doesn't shy away from even the ugliest parts of our world's history.
10) 'Your Silence Will Not Protect You' by Audre Lorde
A posthumous collection of poems, essays and speeches by African American author and poet Audre Lorde. Although not completely non-fiction, I am including it due to the inclusion of her persuasive writing, which is undoubtedly a powerful insight into how Lorde perceived the relationship between black and white women, the difficulties in their need for communication, and the need to convert language into action. A definite recommendation for anybody interested in the relationship between racial identity and the feminist movement.