10 Bad Movies That You Can Watch On Netflix... If You Are Bored Enough
#HiddenGems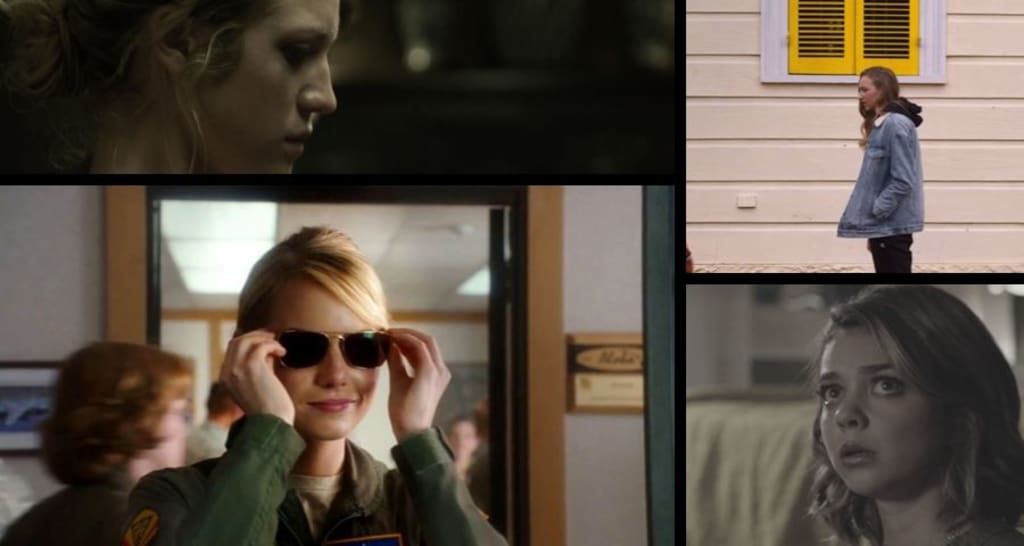 There is a time and a place for bad movies. In fact, sometimes movies are so bad that they actually become funny. Watching bad movies can make a fun date night, and better yet, it can make, for some, a great slumber party activity! This is why I wanted a chance to make a list for all those bad movies on Netflix. You know... for when you watched everything good.
1. Tall Girl
It's a cute movie and a Netflix Original. It's meant for teenagers but it is nice and refreshing version from the stereotypical 'Boy Meets Girl.' For one, it's more of a 'Tall Girl Meets Boy.' I don't want to spoil anything so I'm afraid this is all I can tell you.
"Jodi, the tallest girl in her high school, has always felt uncomfortable in her own skin. But after years of slouching, being made fun of, and avoiding attention at all costs, Jodi finally decides to find the confidence to stand tall." - IMDb
2. Would You Rather

Warning! This movie has disturbing content and isn't recommended if you are concerned about being disturbed after.
"Desperate to help her ailing brother, a young woman unknowingly agrees to compete in a deadly game of 'Would You Rather,' hosted by a sadistic aristocrat." - IMDb
Would You Rather has an audience score of 23% on Rotten Tomatoes. Its critic score is a 59%, which normally wouldn't mean much, but this is its highest score that I can find. So, needless to say it didn't do that well. With that said, a lot of people have to watch this movie anyway. I don't know how to describe it... there is something... entrancing about it.
3. Daddy Issues

I'll be honest... it has weird moments. Like, some REALLY weird moments! Even though it's such a strange movie, I still managed to watch it and well... it has its moments. It's a movie that I wish got more attention than it did, and it's quite new too. It was only made in 2018! I think this movie really make me think about what makes a relationship healthy and what makes a relationship unhealthy.
"Maya, a queer pixie artist, meets and falls madly in love with her insta-crush: the sexually fluid fashionista, Jasmine. It's all gumdrops and fairytales until Maya discovers Jasmine's passionate relationship with a secret sugar daddy." - IMDb
4. Satanic

The reviews are just terrible, I'm not going to sugarcoat it. It has 3.7 out of 10 on IMDb and it is described as "Astonishingly tedious" by Mini Reviews.
On Rotten Tomatoes, a user made to sure to comment that: "If you are looking for a good movie to watch on your 'worst movie ever' night here is an idea." Once I read that comment, I knew it was perfect for this list.
On a positive note, it has Sarah Hyland in it, the girl who plays Haley on Modern Family.
"Four friends on their way to Coachella stop off in Los Angeles to tour true-crime occult sites, only to encounter a mysterious young runaway who puts them on a terrifying path to ultimate horror." - IMDB
5. Gerald's Game

If you looking for happy movie... this is NOT the movie for you. With that said, this movie probably has the best reviews in comparison with the rest of the list. On Rotten Tomatoes it has a 91% critic score and a 72% audience score. Then again, it has a 6.6 out of 10 on IMDb.
"While trying to spice up their marriage in their remote lake house, Jessie must fight to survive when her husband dies unexpectedly, leaving her handcuffed to their bed frame." -IMDb
6. Panic Room

I didn't know this before I started writing this article... the kid in Panic Room is young Kristen Stewart.
"A divorced woman and her diabetic daughter take refuge in their newly-purchased house's safe room when three men break-in, searching for a missing fortune." - IMDb
7. The Girl On The Train

I think the main reason why I like this movie is because it has Emily Blunt in it. The truth is... it's a weird movie that doesn't even make complete sense.
"A divorcee becomes entangled in a missing persons investigation that promises to send shockwaves throughout her life." - IMDb
8. The Sea of Trees

Wow... it has a 15% Critic Score on Rotten Tomatoes. I mean it also has a 42% Audience Score... but that is pretty bad too.
"A suicidal American befriends a Japanese man lost in a forest near Mt. Fuji and the two search for a way out." - IMDb
"Dull, maudlin, and fundamentally empty, The Sea of Trees extinguishes the contributions of a talented cast and marks a depressing low point in director Gus Van Sant's career." - Rotten Tomatoes' Critic Consensus
9. Aloha

On Rotten Tomatoes this movie has a 20% Critic Score and a 28% Audience Score... but hey, it has Emma Stone in it!
"A celebrated military contractor returns to the site of his greatest career triumphs and reconnects with a long-ago love while unexpectedly falling for the hard-charging Air Force watch-dog assigned to him." -IMDb
10. 3 Turken & ein Baby
If you are looking for a happy, lighthearted movie, this is the one for you! With that said, if you have a baby of your own this movie might make you cringe since these men have np idea how to take care of a baby.
"The Yildiz brothers - Celal, Sami and Mesut - still live under one roof - despite their differences. The family bridal shop is doing really badly and they each yearn for a different life: Heartthrob Celal pines for his ex-girlfriend Anna and risks every last cent of their family inheritance for his dream of a mobile phone shop. Sami is searching for true love but ruins every blind date with his anger mis-management. And Mesut, the youngest of the three, tries to combine a cool music career with his strict adherence to the Koran. So when a sweet little baby comes careering into their lives, nothing is as it was before. The three young Turkish bachelors are given a crash course in responsibility." -IMDb
You might want to keep in mind that the movie isn't in English, it's in German... so you will have to read subtitles or try it with the English voiceover.
Is something on the list not on Netflix?
This was written September 2019, so if a lot of time has passed then maybe Netflix has removed some of these movies. Also, this list is based on Canadian Netflix... so if you don't use Canadian Netflix, then some of these titles may not be available to you. The good news is that Tall Girl and Gerald's Game are Netflix Originals, so they should be available for everyone to watch on Netflix no matter how old this list gets.

Like the story? Share it on social media!
Thank you for reading my article. Would it be okay if I ask another favour though? Would it be okay if you share this on your Facebook page or Twitter? If you can't share, there is a tiny little donate box at the bottom too. No pressure though, just thought I would mention.
Work Cited
Lang, Nico, and Chris Osterndorf. "These Are the 25 Worst Movies on Netflix." The Daily Dot, The Daily Dot, 17 May 2019, www.dailydot.com/upstream/25-worst-movies-on-netflix/.
Mini Reviews (January 2017) - Reviews by David Nusair, reelfilm.com/mini173.htm#satanic.
"Movies: TV Shows: Movie Trailers: Reviews." Rotten Tomatoes, www.rottentomatoes.com/.
"Ratings and Reviews for New Movies and TV Shows." IMDb, IMDb.com, www.imdb.com/.
"Satanic - Movie Reviews." Rotten Tomatoes, www.rottentomatoes.com/m/771444253/reviews?type=user.
"See What's next." Netflix, www.netflix.com/.