The HCK Beverage Fridge
A mini fridge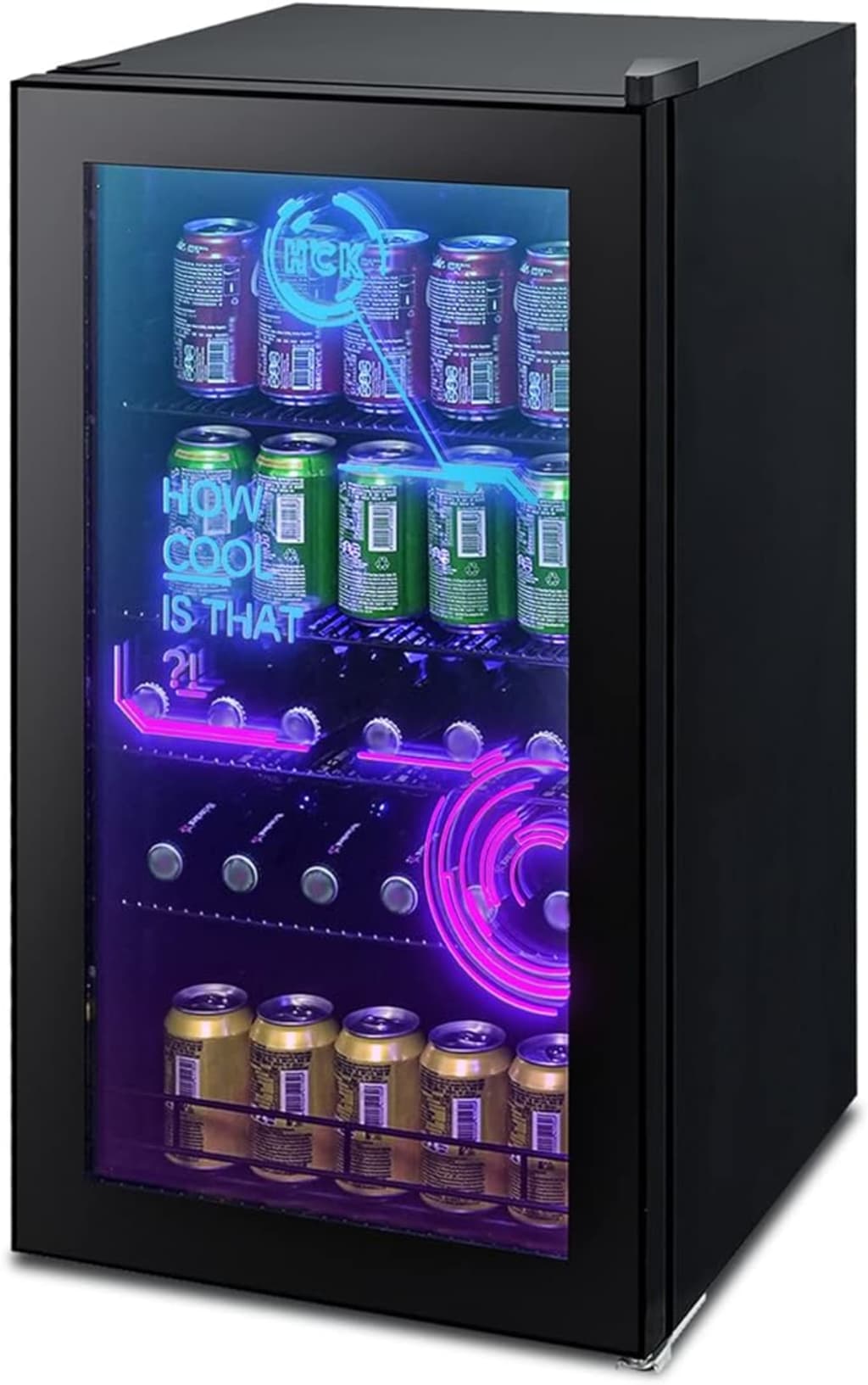 In the realm of modern home appliances, there's one gadget that has effortlessly transcended its conventional role as a cooling apparatus to become a statement piece of décor, a conversation starter, and an indispensable companion for gamers and party enthusiasts alike. Introducing the HCK Beverage Fridge – a small bottle fridge that seamlessly melds form and function with its distinctive cyberpunk modern lighting.
Designed to cater to the most discerning tastes, this mini fridge is engineered to chill your beverages to perfection, maintaining a temperature range of 0-10°C (32-50°F). With a generous capacity of 3.5 cubic feet, it's the ultimate beer fridge for those epic gaming nights or lively gatherings in your entertainment hub. Its sleek, black exterior not only complements your gaming room aesthetic but also exudes a futuristic cyberpunk vibe that adds a touch of urban chic to your space.

The HCK Beverage Fridge is more than just a cooling appliance; it's a testament to the marriage of innovation, style, and functionality. This small bottle fridge takes refrigeration to a new level, offering a unique and futuristic experience that's perfect for gaming rooms, parties, and any space where cool drinks are a must.

Key Features:

- Cyberpunk Modern Lighting: The HCK Beverage Fridge stands out with its cyberpunk modern lighting. It doesn't just keep your beverages cool; it adds an electrifying ambiance to your room. The LED lighting creates an immersive atmosphere, making it a conversation piece and setting the mood for gaming sessions or parties.

- Precise Temperature Control: With a temperature range of 0-10°C (32-50°F), this mini fridge ensures your beverages are chilled to perfection. Whether you prefer ice-cold sodas, refreshing energy drinks, or a perfectly chilled beer, this fridge can accommodate your preferences.

- Ample Storage Space: Boasting a spacious 3.5 cubic feet capacity, the HCK Beverage Fridge can hold a substantial amount of beverages. You won't have to worry about running out of drinks during your gaming marathons or gatherings.

- Sleek Black Design: The fridge's sleek black exterior adds a touch of sophistication and modernity to any room. It's designed to blend seamlessly with your gaming setup or party decor, enhancing the overall aesthetic of your space.

Versatility:

The HCK Beverage Fridge isn't limited to a single purpose. It's a versatile appliance that can serve various needs, such as:

- Gaming Room Essential: Gamers can keep their favorite energy drinks and snacks at arm's reach without interrupting the gaming flow.

- Party Companion: When you're hosting a gathering, this fridge becomes the focal point for refreshing beverages, ensuring your guests stay hydrated and entertained.

- Home Entertainment Hub: Whether you're binge-watching your favorite series or having a movie night, having a stash of chilled drinks is always a plus.

The HCK Beverage Fridge isn't just a cooling appliance; it's a statement piece that adds a futuristic edge to your space. Its blend of functionality, aesthetics, and innovative lighting makes it a must-have for those who appreciate both style and substance. Whether you're an avid gamer or a host who loves to entertain, this mini fridge promises to elevate your refreshment game to new heights. Say goodbye to boring refrigeration and hello to the future of chilling with the HCK Beverage Fridge.
Reader insights
Be the first to share your insights about this piece.
Add your insights