Roblox-A future trillion dollar company?
Roblox's revenue in 2020, increased 111 %,and it could just be the start
Roblox is setting up to be a trillion-dollar company with a goal to hit a billion monthly active users (though I believe the internal goal is closer to 2.5 billion to rival Facebook). Roblox has 3 segments. It offers Roblox Client, an application that allows users to explore 3D digital worlds; Roblox Studio, a toolset that allows developers and creators to build, publish, and operate 3D experiences and other content and Roblox Cloud, a solution that provides services and infrastructure to power the human co-experience platform.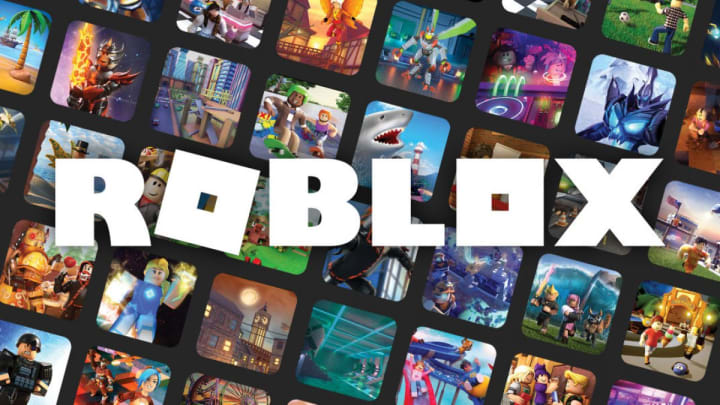 what makes Roblox unique
The community aspect of Roblox is huge, most of the content is user generated just like YouTube, Roblox enables creativity by creating backend tools and disturbing them to the developers. Similar to YouTube there will be engaging content because it's generated from the bottom up
The adaptability of the platform enables work, play, and education to thrive in an immersive environment. Roblox could become the place for virtual meetings and conferences especially in a social distanced world. Roblox is the YouTube of games already and with more photo realistic experiences coming online I see a possibility for legacy game makers like Activision (creators of Call of Duty) and Ubisoft (creators of Assassin's Creed) to have an exclusive deal with Roblox to launch future games on its platform. This is similarity to how Netflix functions and could be an opportunity for Roblox to pursue in the future (I doubt the Roblox team would go for the idea of a wall garden but it's something to watch as Roblox enables more realistic games). Roblox has talked about the opportunity in education many times. In the investor day conference Roblox CEO David Baszucki talked about visiting Greece to study the Parthenon and Spartan culture instead of using textbooks to learn. Or doing labs to see how chemicals react and simulations to understand natural selection; the possibilities are endless.
Growth focus
International expansion -international expansion continues to accelerate, in FY 2020 Latin American users double and European users grew 93%. With the new machine learning translation code being added to Roblox, it is going to enabling popular English games to be played in non English speaking countries like Japan and china(vice verse to). Roblox has also partnered with Tencent gaming to enter the Chinese market the second largest gaming economy.
Aging up -in the calendar year ending December 31st, 2020 13-year-old and up was growing at a faster pace than any other demographic, over doubling in 2020. This is encouraging sign for Roblox because of the spending capability's of this demographic

Platform expansion- Roblox is constantly giving developers new tools to create better worlds, going back to the last point photo realistic advancement will attract more users from the 13+ demographic creating a flywheel for user accusation
Monetary expansion - at the core of the Roblox is the empowerment of developers. Roblox wants as many developers making a living on the platform as possible. And will continue to drive enhanced monetization features for developers, enrichening the platform's content catalog.
The business
Last year Roblox did 924M in revenue with 32M daily active users
Total bookings were 1.9 billion and operating income was 524M
Roblox has strong unit economics, high cash flow, strong network effects and a maturing audience, these aspects paired together will grow revenue. Because of Roblox high network effects and bottom-up game development Roblox is built to last.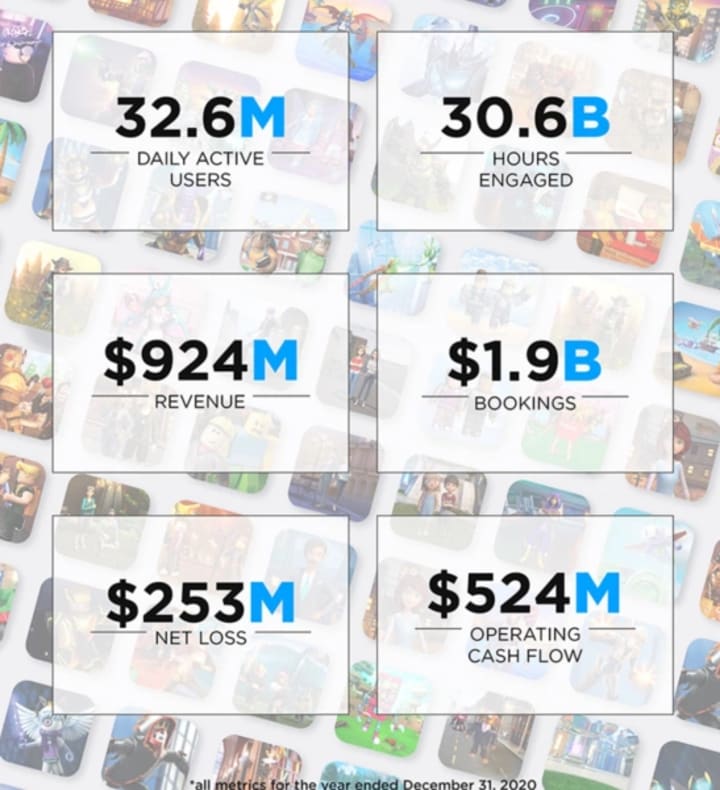 For the full year 2021, the Company currently expects:
Daily Active Users, or DAUs: 34.6 million to 36.4 million, representing year-over-year growth of 6% to 12%.
Hours engaged: 29,800 million to 31,400 million, representing year-over-year growth of -3% to 3%.
Revenue: $1,440 million to $1,515 million, representing year-over-year growth of 56% to 64%.
Non-GAAP Bookings: $2,000 million to $2,125 million, representing year-over-year growth of 6% to 13%.
Commentary- 67% of users are outside the USA and Canada but only 32% of the bookings come from outside the US, as the markets mature this will balance out. During the investor presentation Roblox talked about countries with higher GDP tend to spend more. so expect Europe and Asia to be the drivers in revenue growth in the coming years.
The marketing opportunity is extremely interesting on Roblox . Roblox has already done branded worlds with DC Comics. Imagine for the next Batman movie, a world centered around Gotham where you can visit Arkham asylum, Wayne manners and the GCPD. Roblox also premiered album debuts and concerts including lil Nas X. Disney, and the NFL have also had branded events. We have seen movies premiered on Roblox too for example Aquaman. Roblox shopping is pretty interesting to. Imagine you buy a hat for your character in game and a week later that hat appears at your doorstep.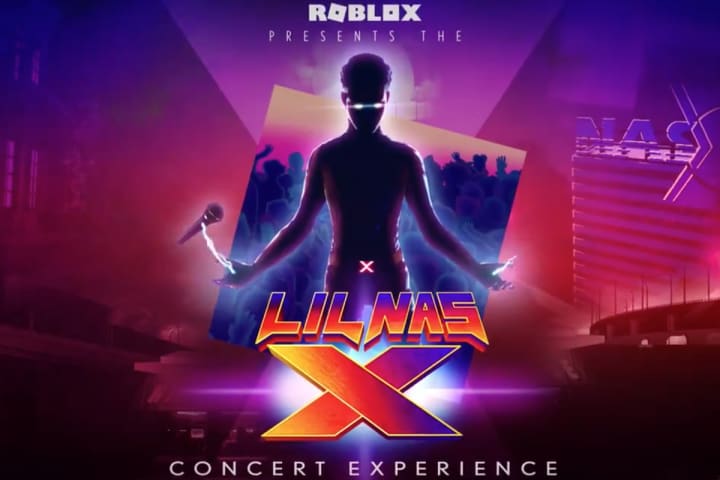 Later this decade when VR headsets go mainstream imagine how fun it would be to do a baking tutorial inside Roblox or be apart of a concert, this is what Roblox is building the human Co experience platform. If I were to describe Roblox using known companies, I would say it is Minecraft because of the customization, YouTube because of the platform and discovery aspect, Facebook because of the social networking and a media distribution channel because of the marketing opportunities and content premieres.
Competitors- The main competitor to Roblox is epic games the creator of Fornite but I think Roblox has a distinct advantage because of the amount of young people on its platform and their relation with developers. The metaverse opportunity is huge, so it will be fun to see how the space plays out.
Thank you for your time
If you want to get in touch with me @Cashnoob1 on Twitter
May we meet again- Kene Ezeaputa
list
About the author
Reader insights
Be the first to share your insights about this piece.
Add your insights