Review of the Asus ROG Phone 5: A new gaming phone with a new benchmark
We got our hands on this gaming smartphone, which costs $599, to see how it meets the needs of gamers while charging a reasonable amount.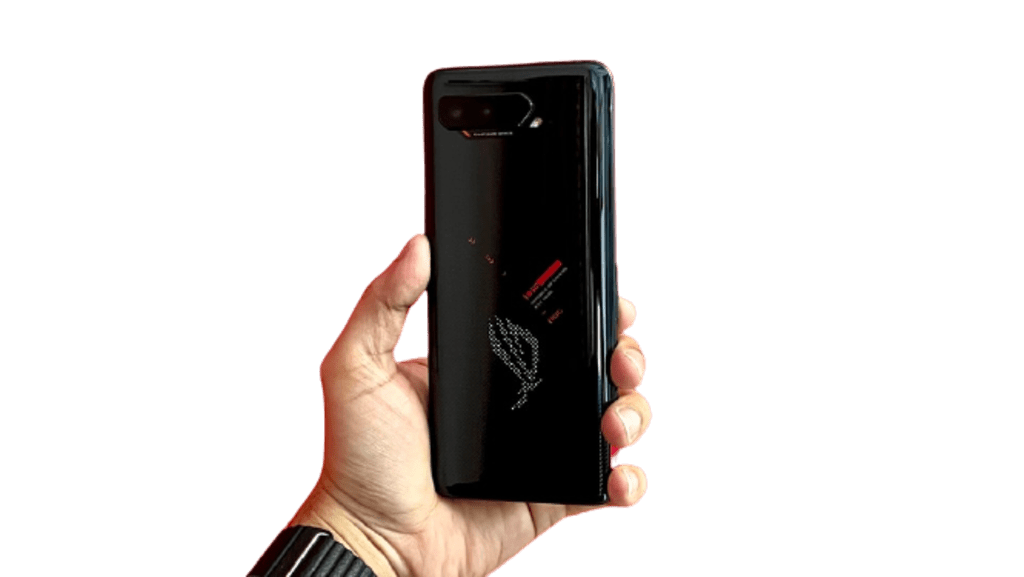 ASUS ROG 5
Brand - Asus
Product - ROG Phone 5
Key specifications - a 6.7-inch AMOLED display with 144Hz, 8 GB of RAM, 128GB of UFS 3.1 storage, a Snapdragon 888 chipset, and a 6000 mAh battery.
Price Range - $612.99 - $822.15
Varient - 8GB of RAM, 128GB of UFS 3.1 storage; 12GB of RAM, 256GB of UFS 3.1 storage
Rating - 4.5/5
Asus is no outsider to the PC gaming market, both globally and in India. And, due to the ROG Phone lineup, it has been acquainted with smartphone games in recent years. This year, as predicted, we get the torchbearer for the franchise - ROG Phone 5 - and if you're acquainted with the range, you'll realize we're talking about a no-compromise smartphone with top-of-the-line hardware, the functionality you won't find in any other flagship luxury, and all while boasting a look that appeals to gamers. Asus has accomplished all of this and more with the ROG Phone 5.
Design and display
The term that better describes the architecture and appearance of the ROG Phone 5 gaming smartphone is refined. As has been the case since the first ROG mobile, Asus has tweaked the look yearly while maintaining the ROG feel. It's precisely the same situation this time. If you saw the ROG Phone 3 last year, you'll recognize the ROG Phone 5 as being from the same family, but more refined. The corners are rounded, and the entire back is a single smooth slab of glass (except for the camera bump). The accents, such as the ROG logo and some graphic art, are also there.
While it seems to be more premium and less violent, it is possible that serious mobile gamers would not like it. Instead of a luxury and seamless feel, they may want to go with a more gamer-centric angular cut look. The red accents on the power button, the rear, and the SIM card tray, on the other hand, give it a distinct appearance.
The AnimeMatrix LEDs at the back, on the other hand, are brand new. The 'cool' aspect here is that you can change the LED colors and animation patterns of the logo. This not only adds to the appeal of the ROG Phone 5 but also puts it in line with the new ROG gaming laptops that feature AnimeMatrix animations. Higher-end versions have an OLED screen that displays valuable information and smartphone warnings. We think this is a useful option to provide when the phone is face down and you don't want the whole device to light up to search a single message.
Nonetheless, you have the same edge-cut camera bump with three sensors, a 3.5mm headphone socket with a USB-C port at the bottom and another on the left, as well as a pogo pin connector for accessories.
Nonetheless, this is a 'big boy' smartphone, with measurements of 173.00 x 77.00 x 9.90 mm and a weight of 239 grams. Fortunately, in general usage, it looks balanced and nothing can fall out of your side. And, since the ROG Phone 5 is a gaming phone, the weight distribution balance when playing games in landscape mode is flawless.
Since gaming is at the heart of the Asus ROG series, you should expect a system with no compromises, especially when it comes to the screen. Gamers require a large area to play games, which is just what they get with a 6.7-inch Samsung AMOLED screen, which offers very fine, punchy, and saturated colors, making games more visually appealing. It is 6.7-inch wide (20.5:5 aspect ratio), which results in a very limited portion of the screen being usable with one hand when searching in general or using the keyboard. However, for games and watching films, this works flawlessly.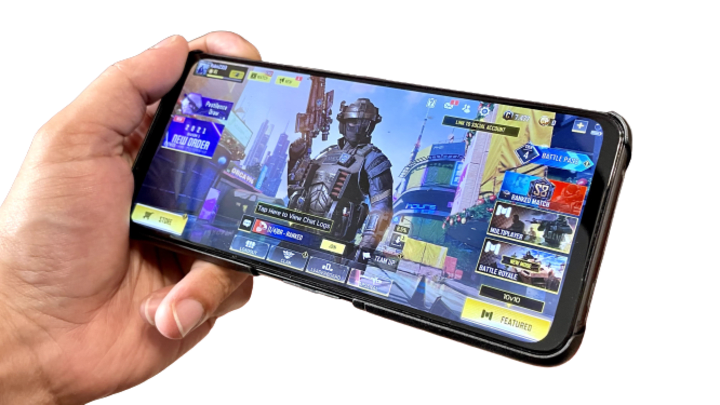 The majority of the specifications are also high-end, such as the QHD+ resolution and 144hz refresh rate. The 1ms reaction rate and 300Hz touch sampling rate are likely to appeal to gamers. When combined with a 144hz refresh rate, the sponsored games run extremely smoothly. Although the touch sampling rate is not as high as that of BlackShark mobile, it does the job and is adequate in most cases/games. The addition of HDR10+ support is merely icing on the cake.
However, if you choose to adjust the color temperature or saturation level of the screen, there is always the Asus Splendid choice under Settings to change the tone or choose presets such as Natural, Cinematic, Standard, or Customised. You may also adjust the refresh rate from Auto to 144Hz, 120Hz, or 60Hz. Other flagships don't usually have that many options.
Performance
The ROG Phone 5 can be expected to deliver the highest result because it is a smartphone for gamers who won't settle for something less than pure strength. As predicted, the system is powered by Qualcomm's high-end Snapdragon 888 chip, which can provide better performance while being more powerful than its predecessor. The Snapdragon 888, as Qualcomm's first with a 5nm manufacturing process, performed admirably in our research, which included extensive multitasking, video uploading, and hours of continuous gaming.
The processor works in tandem with the Adreno 660 GPU, which was capable of rendering graphics on most titles such as Call of Duty Mobile, Genshin Effect, Asphalt, and others fairly well. In particular, we saw a slight delay in the loading of landscape information in the Genshin Effect. However, this was insignificant. You still get plenty of LPDDR5 RAM and built-in USF 3.1 capacity, which results in fast loading of saved game data and app launches. There was a noticeable difference in the loading time of the Genshin Effect.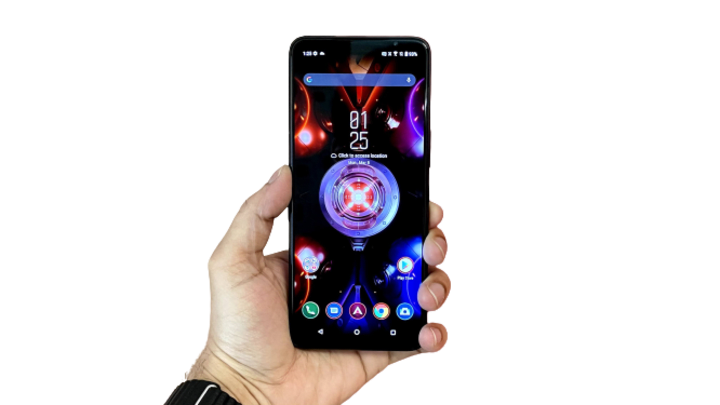 To keep the heat signatures in place, you can also adjust the mode with the Armoury Crate app. When it comes to the Asus Armoury Crate app, it has been upgraded with more modes and customizations, making it the most gamer-centric apps included in a smartphone. Each game's touch, view, and output can be customized. Not only that, but it is also possible to tweak key mapping and air buttons, as well as choose various console settings, to alter the overall handling of sports, audio, network, and overall performance. It's also where you can adjust the colors and animations on the secondary panel at the back and the ROG logo.
The Air Triggers have also been changed for the ROG Phone 5, as they are now closer to the ground, which is useful if you have little hands. Not only can you customize it for each title, but you can also use it to install specific applications outside of the games. However, in FPS games, we often found ourselves using air triggers for fast firing. However, this is only applicable to the standard edition. ROG Phone 5 Pro and Phone 5 Ultimate come with two extra Air Triggers on the back cover, which may be overwhelming for novice gamers but may be useful for professionals.
This time, audio has received special attention because it is one of the most important aspects of gaming. We find the balanced front-firing stereo speakers very strong and those with a 3.5mm headphone jack would get DAC help and Class G ESS Sabre Headphone amplifiers as well. This time, the music is a little louder, thanks to the addition of 7-magnet microphones.
Not only that, but Game Genie is available as an add-on to the Armoury Crate, including some additional functionality when gaming. Over time, it has proven to be one of the most useful easy access features, allowing you to access Bypass charging, Brightness Lock, Scout Mode, Haptic Audio, and other features. Haptic Audio, which the company describes as a "2-zone adjustable immersive haptic feedback" for every game, deserves special mention. This essentially creates sensations depending on the audio signals it picks up from the place you've named.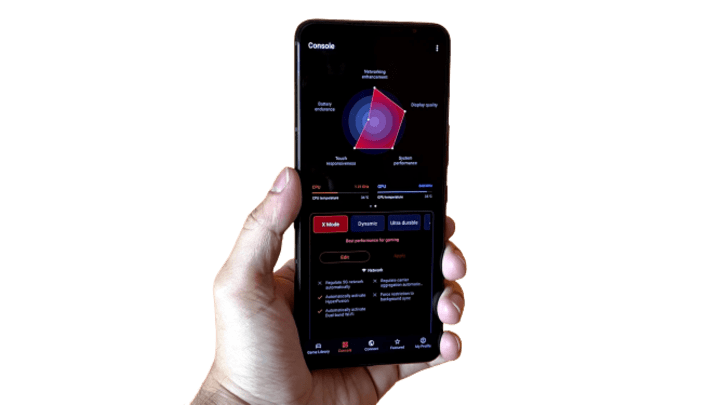 Camera
When it comes to cameras, Asus ROG Phones do not have a flawless track record. Anyone may argue that smartphones aren't particularly designed for photographers. However, for the price, you do get some decent camera phones, so you can have some hopes. The smartphone performed admirably in our tests. We won't name it the best camera smartphone, but the boost over previous versions is undeniable.
The primary camera has a Sony IMX686 sensor with 0.8um pixel size and Quad-Bayer technology, which stitches the image into a smaller and more detailed 16-megapixel shot with 1.6um effective pixel size. When shooting at night, a significant advantage becomes apparent. The resulting photos perform well and are well-lit, both in Night mode and standard auto mode. The shutter is fast, and the daylight shots are sharp thanks to the f/1.8 aperture and PDAF.
The secondary 13-megapixel ultra-wide rear camera has a 125-degree field of view and an f/2.4 aperture. What's noteworthy is that the blur at the corners, which is common in wide-angle camera shots, was done well this time. It won't be as obvious, but it will improve the overall efficiency. And, if you want to shoot a single macro shot, which is less likely from a gaming user, that option is included. In case something goes wrong.
There are few improvements in the video shooting segment as well. Because of the processor and image sensor features, you can now take 8K resolution videos at 30fps in addition to 4K videos at 30fps and 60fps, as well as 3-axis image stabilization for smoother shots and less jittery footage.
Battery
Understandably, both of the above features necessitate a significant amount of power to function. And gamers, being gamers, need a battery that will keep them going for hours on end. And the ROG Phone 5 does not fail in this regard. In terms of battery life and efficiency, the ROG Phone 5, like previous versions, will run longer than any other flagship on the market with too many features running at the same time. It has a 6,000mAh MMT battery on the inside, which is divided into two 3,000mAh batteries.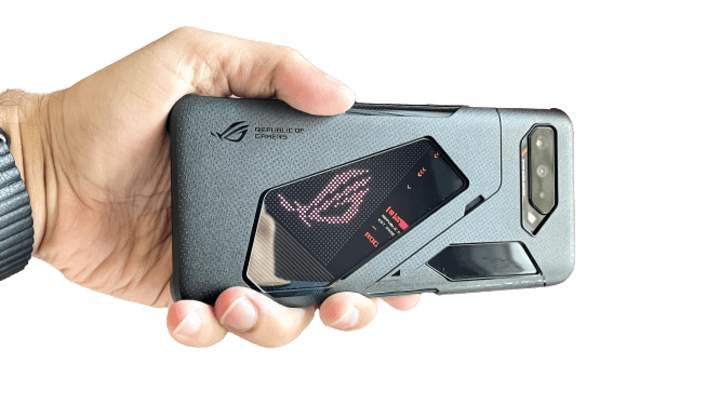 Because of the two separate batteries, Asus claims that the ROG Phone 5 will keep thermals under control when charging. Another advantage is that the charging power can be increased to 65W. Furthermore, the positioning of the dual batteries at the top and bottom frees up the central region for the CPU, keeping heat out of control of fingers when retaining it in landscape mode.
The ROG Phone 5 is said to charge up to 4200mAh (70%) in 30 minutes and 100% in 52 minutes. With normal usage and X-Mode available at all times, we were able to comfortably operate the handset for nearly a day. However, after four hours of continuous gaming (Genshin Impact), the battery dropped below 50%. So, if you just play for 30 minutes or an hour a day, you would be able to get the device's battery to last the whole day. Two hours of play is also achievable in a day if you are not using other time-consuming software. However, much of this is situational, and battery efficiency can vary depending on how you use it. Anything from X-Mode to audio, screen refresh rate, and so on is customizable. 
What we enjoyed most about this app are the features like custom charging limits, steady charging for temperature control, planned charging and app hibernation, battery-draining app detection, and more, all of which can be changed to adjust how long your computer can work.
Accessories
Asus is selling accessories for the latest ROG Phone 5 series, as we have seen for previous models. The AeroActive Cooler 5, which comes with the ROG Phone 5 Ultimate and Pro, is the most popular. It connects to the side connector and has a built-in fan to keep the central area cold. The AeroActive Cooler 5 now has two additional buttons on the side, making your gaming more effective and the accessory more useful than ever.
Regrettably, this is not consistent with the ROG Phone 3. You will also have the ROG Kunai 3 gamepad, which connects to the top and bottom of the handset and comes with controllers. So, when the ROG Phone 5 is in landscape mode, the entire screen is available for gaming visuals since the buttons are on the gamepad on either side.
If you're all about the looks, the ROG Lighting Armour case may be the one for you because it not only covers the phone but also embraces Aura Lighting for a more immersive visual experience.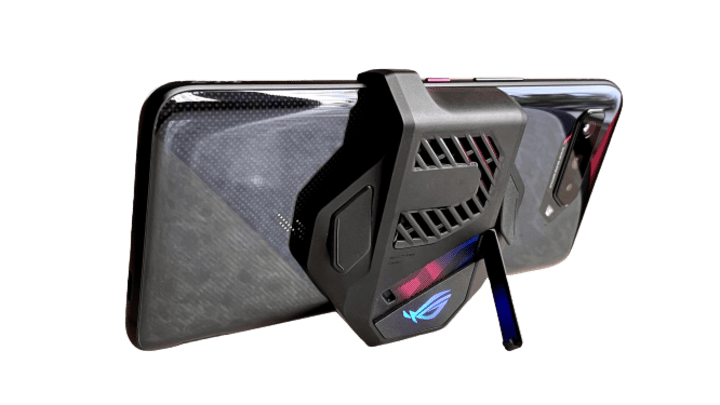 Conclusion
Asus has once again shown the ability to provide a gamer-centric smartphone with all of the capabilities of a premium smartphone and a slew of extras. We would comfortably recommend this for anyone who is looking for a bulky handset that has some unusual looks and excels in almost every department from battery performance to 144Hz AMOLED screen, high-end CPU, and a slew of applications, rather than just a hardcore gaming smartphone. Since we have used all of the ROG Phones released to date, we find the camera output of the Asus ROG Phone 5 to be better. But, it is not the best out there and some improvement is still needed.
If you are a novice gamer looking for an all-arounder platform with simple high-end functionality and style, this might not be the device for you. However, if you enjoy gaming and want to take your results to the next stage, you would need more than just a premium, high-end smartphone, which is where the Asus ROG Phone 5 shines. The $599 price tag, which is cheaper than the flagships from Samsung and on par with other OEMs, makes it a worthwhile purchase.