Pros and Cons of Indie Game Development
Indie Game Development - Pros and Cons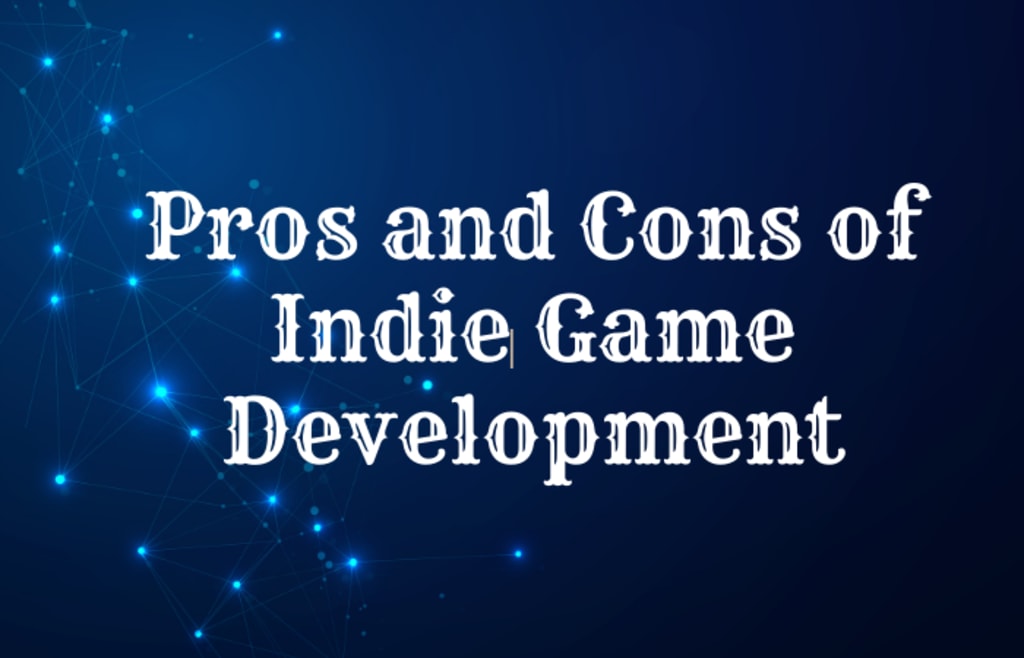 Indie game development is one of the most popular areas of game development. The indie game development community is constantly expanding and houses developers with immense potential and creativity. Contrary to popular belief, "indie" doesn't mean Indian; "indie" is short for independent, and an indie game means a game developed by an individual or a small team without the help of a big publishing company. Indie game developers work with limited resources and enjoy total creative freedom. Indie game development can provide a tonne of experience for an amateur developer and has innumerable possibilities.
Indie games are often the trendsetters of the gaming industry. Many popular indie games like Minecraft, Among Us, and Fall Guys have topped the charts in the gaming industry. Most indie game projects acquire crowd-funding from sources like Kickstarter and Indiegogo, but oftentimes, due to limited resources, many indie projects face a lot of obstacles in the development phase.
In this article, we will highlight the various pros and cons of indie game development.
Pros
Creative Freedom
Indie game developers enjoy total creative freedom. This is one of the main reasons why many developers are going towards indie game development. Nobody wants to be tied down and work on someone else's idea when they can pursue their original idea. Indie game developers aren't tied down by any deadline and can work freely without any pressure. This allows them to focus all their energies on innovation and creativity, which helps in bringing out the full potential of the product.
Experience & Skill Enhancement
Indie game development usually consists of a small team, which forces the developers to undertake various roles. Indie game developers polish their skill sets as they move ahead with their projects while undertaking different roles. The absence of a deadline allows them to experiment with various concepts and ideas, which hone their skills and provide invaluable experience. Undertaking different roles in game development, like game art, sound design, graphics, and story, helps them augment their skillset substantially.
Credits
One of the main reasons why many developers go indie is to have their own game. Nothing gives developers more of an adrenaline rush than proudly saying, "I'm the creator. Who doesn't want to be credited after years of hard work? It is an indescribable feeling for a developer when people appreciate your original idea and your indie game becomes successful.
Accommodating Environment
One of the best perks of indie game development is an accommodating environment that suits your needs. If you're working alone, you can choose every aspect of your workplace. Even if you're working with a small team, there are high chances they are your close friends. You can pick the workplace that is most comfortable for you. Being in a secure environment is a proven way to boost your productivity and deliver outstanding results.
Be a Trendsetter
Most people who aspire to be indie game developers have innovative ideas and choose to pursue original ideas. Indie games are infamous for setting new industry trends. Indie game development is a very promising area where thousands of new developers enter the industry with innovative and original ideas of their own. The absence of a deadline and work pressure makes for a promising environment to explore new concepts and experiment with ideas never used before. The creative freedom allows indie game developers to shatter industry norms and come up with something ingenious.
Read Also - Tips To Develop A Successful Indie Game
Cons
Limited Resources
Game development is a time-consuming and expensive endeavour. One of the main obstacles faced by indie game developers is financial constraints. Indie game development is a lucrative field, but game developers have to procure funding to complete the games. The main source of income for indie game development is crowdfunding, which is not always reliable. Developers have to figure out how to pay for the development costs as well as cover their own expenses, like food, shelter, and necessities. One of the main reasons people quit indie game development is the lack of resources. It can be demotivating to put your heart and soul into a project and be forced to halt it due to financial hurdles. Even after completing the development phase of the game, some games never hit the shelves because of improper marketing. Marketing is very necessary for the success of any product, and it is a herculean task without an appropriate budget.
Oversaturated Market
Indie games have seen a lot of success in the gaming industry, and after the success of games like Minecraft in 2011, the number of indie releases grew substantially. The industry was flooded with low-quality projects and replicas of famous games. Currently, there are about 20–40 games released on Steam every day. With the abundance of indie games released every day, most good games never see the limelight and end up unnoticed.
Lack of Experience
Most indie game developers are students or amateur developers. They lack the skills and experience to develop a high-quality game. Indie game developers work independently, which holds them back from learning important skills they could have learned while working with a big publisher. It takes a lot of time for an indie game developer to learn the necessary skill set required to properly manage an indie game project. Most of the time, the game is riddled with bugs and glitches or is not engaging.
Marketing and Management Problems
A game development company spends tens of millions of dollars just to market its games, and even then, there is a chance that the title could fail. Lack of resources, funding, and time is an obstacle to effective marketing. A project from a small-time indie game development company has no chance to be in the limelight without a proper marketing campaign. Indie game developers are well-versed in programming and other technical aspects but lack the necessary management skills required for the smooth functioning of a project. It is quite difficult for an indie team to work with coordination. Lack of coordination and improper management destroy the motivation and productivity of a developer.
Read Also - Top 5 Most Interesting Indie Games?
Final Thoughts
There are a lot of pros and cons to indie game development. While indie game developers enjoy a favorable environment and creative freedom, they are bound by financial constraints. Market saturation often makes it problematic for indie games to showcase their potential. But don't get demotivated by the cons; if you want to be an indie game developer, go for it. Who knows? Maybe you'll be the new trendsetter in the gaming industry.
adventure games
About the author
Lakshay Pareek has experience in Game Development Company and worked with projects at different stages of development and with different areas of responsibility. He can bring your ideas to life.
Reader insights
Be the first to share your insights about this piece.
Add your insights