Older gamers. Do we feature in the game developers plan?
A new customer base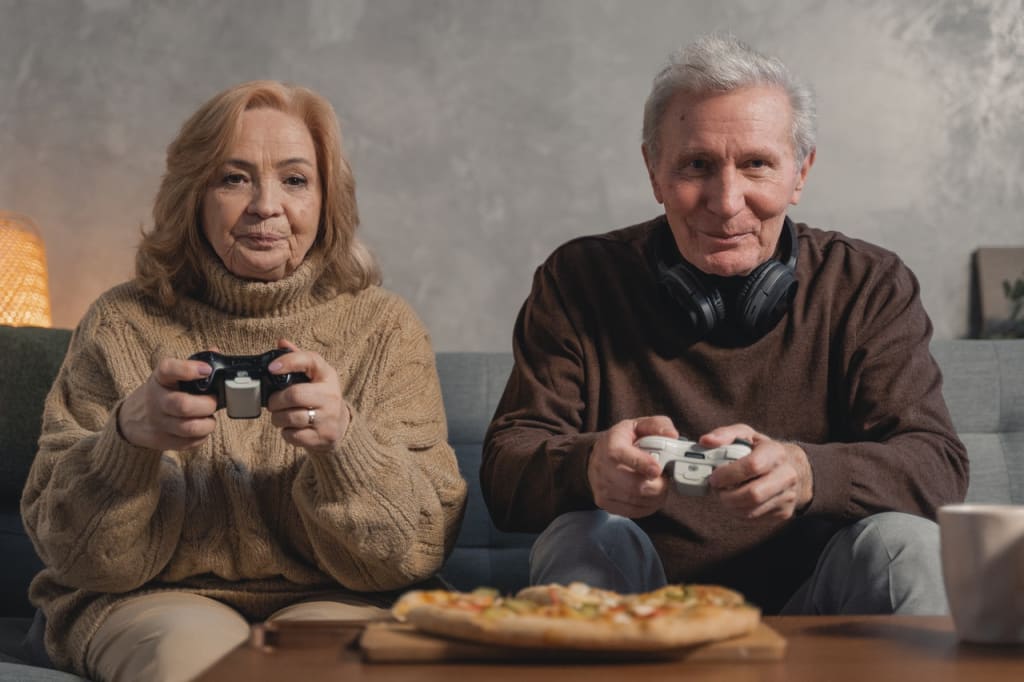 Tina Miroshnichenko from Pexels
I confess that I like to play World of Warcraft and some other MMO's. I was undoubtedly the oldest player in my guild, and probably the oldest player on the server. One of my children understands. The other two are slightly embarrassed.
Most of us did not learn computer studies in school, but we embraced new technology in the workplace as it was developed, and those skills should not be let to go to waste. Once forgotten, never to be picked up again. So why not practice keyboard skills in later life with computer games?
If I were to spend every evening watching television or trying to read without dozing off, how would that be preferable? But that is generally how society expects the oldest members of the population to behave.
Instead, I can travel to dungeons with a team of 24 other assorted players from all over the world and work together with them to defeat dragons and other monsters, explore unknown regions in magical kingdoms, fly spaceships into distant galaxies and generally wallow in fantasy.
We tend to be very committed and play end game content with reliability and hard- earned skill. We probably put more effort into learning and keeping up with game changes in order to appear on the ball. Keeping up appearances is easier when you can hide behind a good -looking avatar!
A loose-knit supportive network exists in many games, certainly in the well-established guilds. Older players are generally tolerant people, prepared to give advice to inexperienced players, and willing to listen when someone needs to talk. This is a resource which could be utilised more. There are huge benefits for informal mental health support through gaming.
We older people do not want to simply play Candy Crush or on-line Bingo, but nor do we want to be age shamed when trying to learn new games. With more leisure time, this age group is fast becoming a high growth area as this article suggests, written in 2016, by G Oscar Anderson .
'Key Findings:
• Almost four out of ten adults aged 50-plus are gamers (38%) while 62% are non-gamers.
• Gamers aged 50-plus usually use computers or laptops (59%) and phone/other mobile devices (57%) to play video games.
• 59% of gamers play games online.
• 75% of gamers play video games weekly, with four out of ten playing video games every day.
• Older women lead men in gaming and are more likely to play daily than male gamers.
There have been some studies on older gamers, but I would say the subject is very much under represented. The occasional newspaper article about an 80 plus year old who plays Mario Kart or COD is published as a filler rather than serious observation.
A game called Neuroracer was designed by researchers from the University of California specifically to test adults aged 60 to 85 on mental agility. It is classed as a multitasking game, single player in character. A study published in Nature ,'Video game training enhances cognitive control in older adults ' showed that this game could be used to assess cognitive function and also was proven to enhance memory and multitasking ability.
Comments have been made to suggest that the competitive instincts of older people wane with age. There is more emphasis on strategic play rather than beating their peers. Not enough research has been done on base line competitive behaviour across all age groups to state categorically that this is the case. But it gives game designers a window into what form of game is likely to be acceptable to older players. Certainly single player adventure and exploration games are popular.
It might take us a bit longer to become proficient, but does that really matter? Give us a chance to make our mark. We are likely to prefer the slower build games rather than the super-fast paced shoot outs, the puzzle based games and lore rich adventures.
Game developers, I would just like to say to you - older players exist, not in vast numbers yet when compared to the teenagers and students, but we are becoming a significant force. We have life experience, people management and leadership skills, along with available time. Maybe we could be useful to you? Don't forget about us, especially that army of older women who are turning to technology to spend their leisure time.
Do we feature in your new game plans?
How much research have you undertaken on our preferences?
Are you missing out on a whole new market?
Previously published in Medium July 202o