'Last One In': A Zombie Card Game
Interview with Aaron Howdle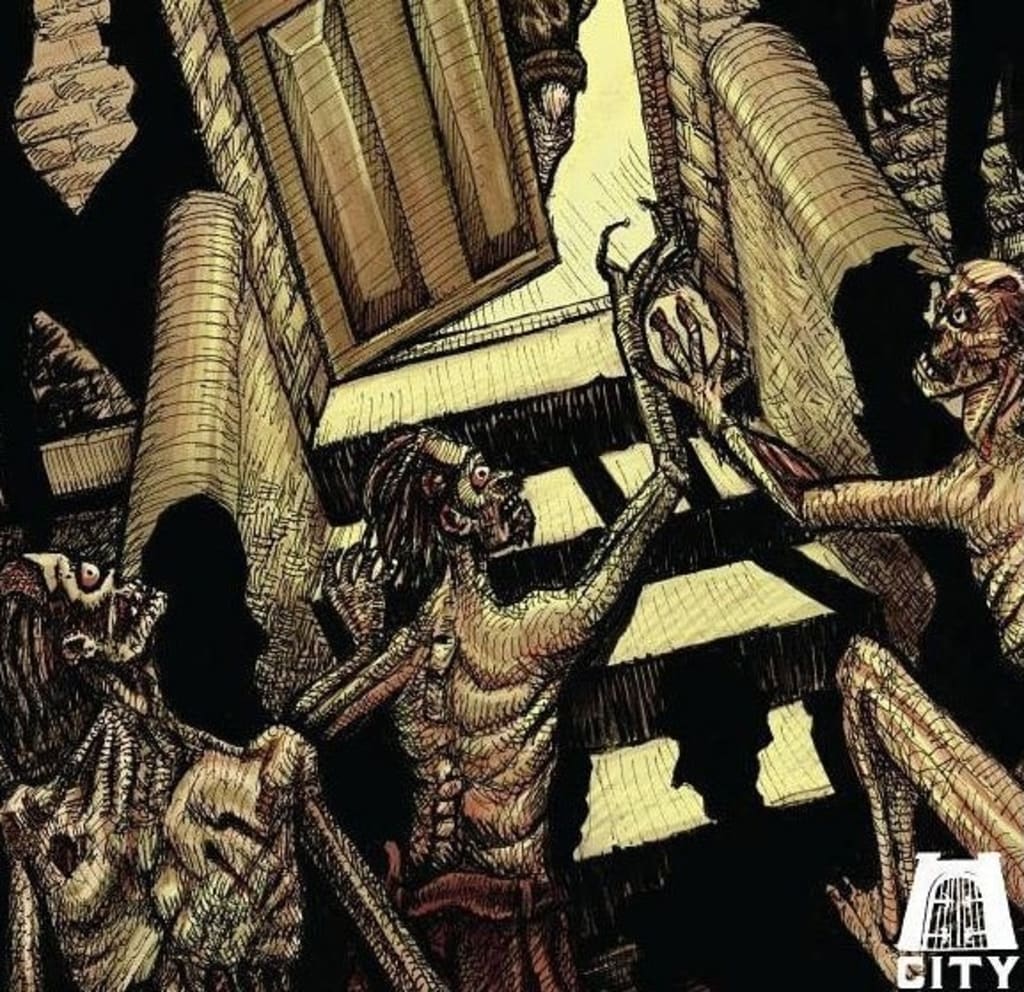 Game artwork by Aaron Howdle
Last One In is a zombie-themed card game that allows players to compete against each other to rescue civilians and flood their opponents with zombies. The game was designed by Mark Taylor about two years ago, after he had an extraordinary dream. Mark continued to work on the game with his partner Janine for the next six months. Mark then met the artist Aaron Howdle at Brighton's one and only Steampunk bar, the Yellow Book. The artist describes his work as an alternative 19th century view of Science Fiction. His visionary drawings of zombies add another dimension to the nail-biting card game. Zombie apocalypse beckons…
I have a chat with Aaron Howdle.
Christine Alford: Who are your favourite artists?
Aaron Howdle: My favourite artists are Ian Miller, Harry Clarke, Edward Gorey, Piranesi, Doré, Willy Pogany.
Have you ever done any exhibitions of your work?
Yes! I had an exhibition of my Cloudtop Archipelago work in 2015 at the Corridor Gallery in Brighton, which attracted a lot of people and was an amazing experience. I have also exhibited in other places in Brighton and in St Ives.
What's your favourite zombie movie?
It would have to be Day of The Dead by George Ramero. Though it is funny, I am not obsessed with zombies. I think they can be cool and I like them in fantasy settings, but I don't usually draw that kind of thing. I really started drawing them because Last One In was such a fun game to play and I wanted to be its artist!
Can you tell me a bit more about Last One In, and how the game developed?
Mark heard about me in a local Steam Punk bar called The Yellow Book, and approached me about producing art for his game. I played a few rounds of the game on text only cards that he had created in word and thought it was great!. From there I started trying out some ideas for the various cards until we struck on the final art style. It's somewhere between comic and dead serious.
You have done a lot of user testing all around the country. What was the response from gamers?
The response has been amazing from people who have played the game. We have been really encouraged by how much people seem to like it. The Kickstarter finishes on January the 6th, 2018. Unfortunately, it is looking like we won't hit the target this time. But it's not all bad news. We learned so much running the campaign, so we need to get out there and apply those lessons. We need to build up a larger following and then relaunch, probably in May 2018. It's too early to say yet, but I suspect we will find ourselves redesigning the game a little to get the costs down and have a lower target. We have a really respectable number of backers for the Kickstarter, so I think we can do this! Of course, I hope to eat these words when the current campaign romps home and hits the target! :)
What changes have you made to the game, as part of the development process?
There have been tons of tweaks to the various cards in order to balance the game and create a really great playing experience. The main changes have been in the numbers of Zombies or Civilians cards represent. Also getting the wording on the cards right has taken a few iterations, but Mark's core idea was so solid that nothing major has changed. Oh! We added tokens to the game! That's one big change!
What age range would you recommend for players of this game?
The game is good for people aged around 10 and over. There is nothing truly horrific or gory in the game.
What is the maximum number of players that can be involved in the game?
Four players. There are five modes of play involving two or four players.
What other design projects are you working on at the moment?
I am working on a very different project: a children's book about a man who builds a boat!
If you had control of your own personal army of zombies, what would you do with them?
Hmm. I don't know. Open a theme park? Probably unethical? I guess get rid of them all somehow before the military got hold of them. Kill them with fire!
Last One In is available to buy on Kickstarter until the 6th of January. The Ultimate Survivor pack includes a custom playmat, a "zombie skin" bag, and an original signed concept drawing by Aaron Howdle.