I'm the only world champion without club recognition'
champion without club recognition'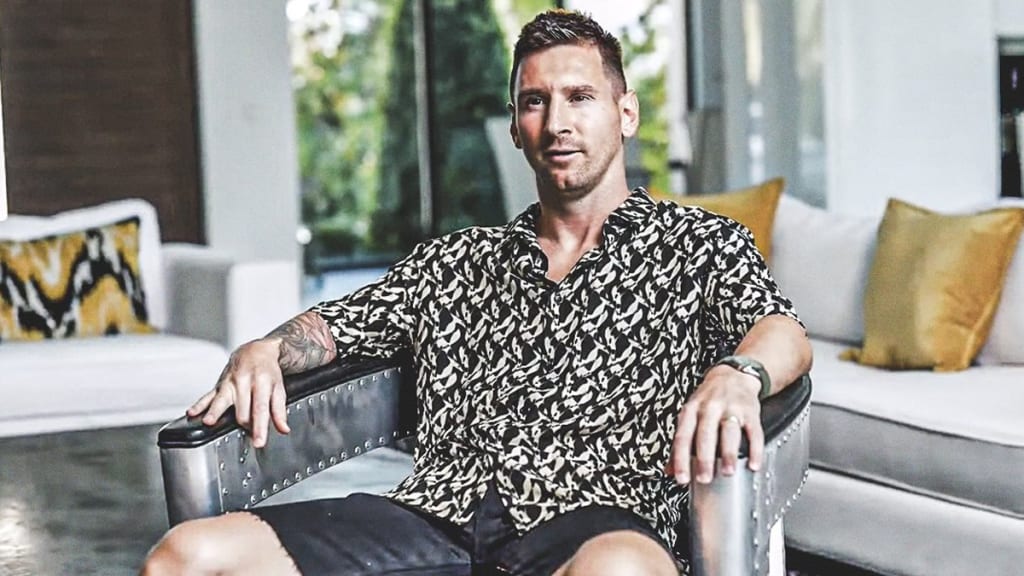 Leonel Messi inter Miami CF
Leonel Messi has spoken many times about his bitter two seasons at Parisien Saint Germain (PSG) . No one knows how sad his time was. This world-conquering megastar told about another pain that is pressing in his mind. In his words, 'I am the only world champion footballer, who has not received any recognition from the club (PSG).
Leaving Europe, Messi has now made the American club Inter Miami a new address. Sitting at home there, he gave an interview to an Argentinian YouTuber named 'Migue Granades' on 'Olga' channel. Where he spent the various times of happiness and sorrow as 'everything happens for a certain reason', LMten mentioned.
Besides, Messi thinks that even if everything is not expected, it has to be accepted. This is mainly about his time at PSG, he explains, 'It just happened, the truth was not what I expected. But I always say that things happen for a reason and even though I wasn't good there (at PSG). I became a world champion while there.
The truth is I was happy with everyone, including him (Kylian Mbappe)," he said after defeating France in the final. But it's understandable that he was in the place where we won the final and it's our fault that they didn't become world champions. Because of that I was the only player who didn't get any recognition from the club. While 25 other players of the team (Argentina) got recognition, it was not like that in my case.
Finally, Messi described the moment after winning the World Cup, 'What happens after becoming the world champion? A series of enjoyable moments and I love that situation. I enjoy playing, but of course in a different way. That's why I wanted to come here (Inter Miami) and create a different experience outside of Europe.
Before this, Messi had to fall in the face of the fans repeatedly. After leaving the club, he said, 'It was difficult to adapt here. Harder than I thought. It was difficult to adapt to new challenges without familiar faces in the dressing room. Joined the club late, didn't get the pre-season, adapting to the new city, which was difficult for me and my family. After that people started looking at me differently. The way I was received in Paris in the beginning, except for the PSG fans, was how most people saw
Leonel Messi Career
Certainly, here are some key details about Lionel Messi's career up to September 2021:

1. **Early Career**: Messi was born on June 24, 1987, in Rosario, Argentina. He began his football career with the youth team of Newell's Old Boys before moving to Barcelona's youth academy, La Masia, at the age of 13.

2. **FC Barcelona**: Messi made his senior debut for FC Barcelona in 2004. He went on to become the club's all-time top scorer, winning numerous titles, including multiple UEFA Champions League titles, La Liga titles, and Ballon d'Or awards.

3. **Individual Awards**: Messi is widely regarded as one of the greatest footballers of all time. He has won multiple Ballon d'Or awards, which recognize the world's best player.

4. **Record-Breaking**: Throughout his career at Barcelona, Messi set numerous records, including the most goals in a calendar year and the most goals in a single season of La Liga.

5. **Paris Saint-Germain (PSG)**: In August 2021, Messi transferred to Paris Saint-Germain (PSG) after leaving Barcelona due to financial constraints at the club. He signed a two-year contract with an option for a third year.

6. **International Career**: Messi has represented the Argentine national team in multiple FIFA World Cup and Copa America tournaments. In July 2021,
About the Creator
Hi I'm Angel Sanam I'm a professional blogger I blog about lifestyle What is lifestyle in detail... Lifestyle is a personal and social set of actions, behaviors
Reader insights
Be the first to share your insights about this piece.
Add your insights