How To Get Discord GIF Profile Pic Without Nitro
Step By Step Explanation of How To Put Animated GIF On Discord Profile Pic Without Nitro
If you are a discord user then you definitely know discord nitro and how useful it is. There are a lot of amazing features on Discord Nitro that make the profile so attractive and unique. One of the cool features of discord nitro is that you can put animated GIFs on your profile picture. But there are some users that ask "How I can get Discord GIF Profile Pic Without Nitro". In this article, I'll show step by step that how to put animated GIFs on discord profiles avatar without nitro.
It means when someone opens your profile they will see your profile avatar is animated. You can download free cool GIFs from many online websites to put on your discord profile.
If you own a discord server also you can get a discord GIF profile pic without nitro. Animated GIF on your profile will surely attract more members to your discord server.
When you upload a GIF to your Discord profile without Nitro, it will show you only one frame from the GIF.
Actually, GIF (Graphic Interchange Format) contains multiple frames or images that are displayed in specific order to represent animation. When you download GIFs from online websites you will see the .gif extension on the animated GIF files, and that extension is not accepted on discord without Nitro.
Now follow the steps below to put animated GIF on discord profile without Nitro.
Download or create an animated GIF you want to put on your discord profile. The top websites that provide free animated GIFs are
Find a website that converts the .gif to an APNG (Animated PNG) file. There are various websites, however, ezgif is the best one for creating high outcomes.
As you open the ezgif website, at the top make sure to select the APNG maker menu.
Click on "Choose Files" and once you select the GIF which you want to put on the discord profile, then click on upload. After it is uploaded scroll down you will see all frames images of that specific GIF as you can see in the screenshot below.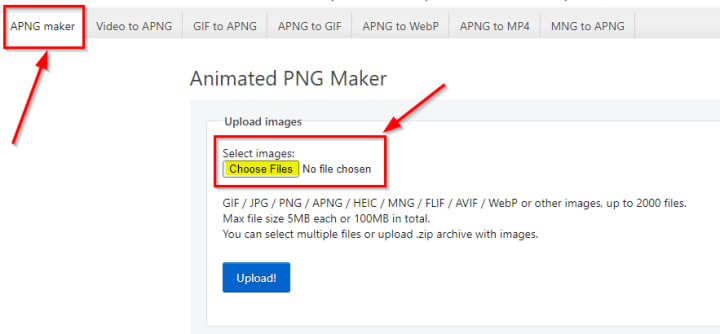 You may also use JPG, PNG, MNG, AVIF, FLIF, and HEIC files to create an APNG. However, the total number of files must not exceed 2000, and each file must be 5MB or 100MB in total size.
Fortunately, this site also accepts.zip archives containing images. So, it's easy to upload. ZIP archive file containing images from which you want to make APNG.
Before clicking on the Make APNG button, make sure to check the Crossfade Frames and don't stack frames. Also, this site fader option is allowed only for images up to 30 frames. So toggle a range of frames from 1 to 30 and click on skip. Now click on Make APNG blue button.
To make high-quality APNG on this site, a short GIF of up to 30 frames would be preferable.
After you've created an APNG, you'll be able to crop, rotate, apply effects, resize, and optimize it to make it more attractive. You can rotate APNG on 90°, 180°, or a custom angle in clock and counter-clock directions using the rotate option.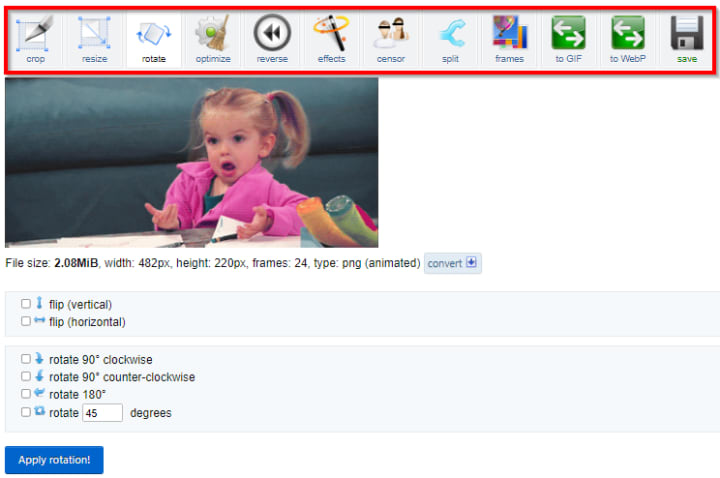 To download the APNG file click on the Save icon and it will automatically start downloading on your PC. Also, you can download it just by right click on it, and on the pop-up window, click save image as.
The APNG file must be under 10MB because discord does not accept profile picture which is greater than 10MB.
If APNG is greater than 10MB you can use an online APNG compressor site to compress it to your custom size.
Now you can upload that GIF on a discord profile without Nitro. The animation on this would be a little slower than Nitro but would be a lot better than a simple image.