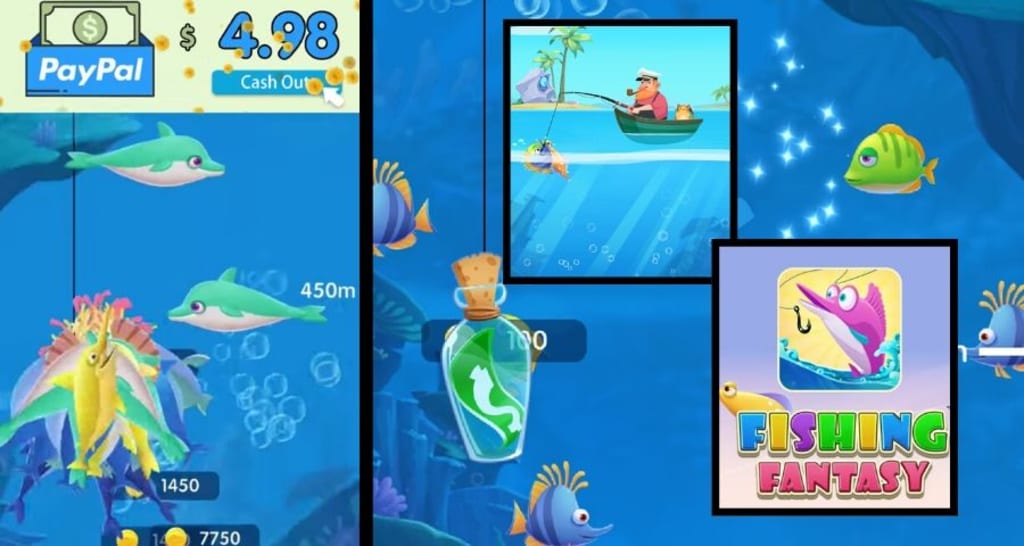 You may have seen an ad for this app, Fishing Fantasy, claiming to pay you for simply just playing a game. Maybe you have already started to play the game just to realize exactly how many ads interrupt the game. Worse yet, you have been playing the game for a while now and can't help but notice that your 'cash outs' are getting smaller and smaller. If any of these sound like you, don't worry you are not alone and you have certainly come to the right place to find answers about this app.
The full name if this app is Fishing Fantasy: Catch Big Fish, Win Reward and it is created by the mysteriously new Happy Drill Studio. In fact, both the app and the studio have only existed since October 7th, 2019. I also couldn't help but notice that this studio doesn't have any other games. You have to admit... it's a bit suspicious to say the least.
Here is the description for Fishing Fantasy as found on 'google play':
"Fishing Fantasy is an amazing fishing game. Explore deep sea and try catching as many fish as you can. Simply swipe left/right to adjust your hook, aim and catch premium fish for better reward. Remember to upgrade your boat and fishing equipment. These will help you go further and find more mystery fish." - Happy Drill Studio
You may notice that no where in this 'official description does it mention that the user will actually ever get paid to play. I also couldn't help but notice that Google Play had verified it as an official game... which only makes me trust Google Play way less than I did before!
As I mentioned before, the ads for this game claim to send you real money simply for just playing the game. It sounds too good to be true and that is because it is too good to be true. For starters, you don't actually get credit for playing the game... you get credit for finding 'cash bottles'. Even then, when you find a cash bottle you still have to watch an ad to get your credit put into your 'wallet'. Most importantly, you can't get your money transferred to PayPal until you reach $10. Which no one has ever reached because the game will never let you reach it.
You probably already guessed it. This app is a SCAM!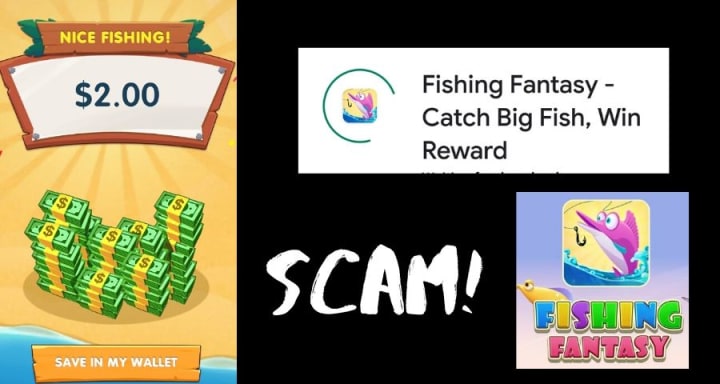 This game is a re-make of another well known scam app called Happy Fishing by Fishing King Studio. There is a new fisherman, new fish, and new ads... but it's still the same scam! The promise of money being sent to your PayPal was always a lie... it is false advertising!!!
Let's take a look at some of the apps' reviews:
"Like everyone else the money jars got less and less and fewer, and the game opens randomly on its own. I was watching a movie and it just opened... That's not the only time. The game it's self is fun but the winning actual money I believe it's like a lot of other apps, you make close to the cash out amount and then they stop giving you anything." - Keira W.
"This game is falsely advertised and doesn't represent actual game play or winnings. After 3 weeks I still haven't reached the $10 minimum payout to redeem. In fact in the last 24 hours there has been absolutely 0 payout. The leader boards are cumulative and don't represent actual pay outs." - Angel R.
"This game will not give you bottles when you get closer to the $10.00. it states on the bottle that the deep you go the more you make that is not true. I have been playing this game for weeks now and only up to $9.81 and not bottles in two day now." - Janet M.
"Very disappointing, adds become more frequent and longer, cash bottles also become less frequently available and hold as little as 1 cent the closer you get to the $10, even though surpassing the 780 m mark the last island Iceland did not unlock, and the mystery fish in Thailand nowhere to be seen, Mostly disappointed in myself for being so gullible." - Karl C.
Want to do something about this Scam?
You have two options. The first is to report the app to google play. The other is to send a complaint to the only contact to Happy Drill Studio that I know about - [email protected]
Work Cited
"Fishing Fantasy - Catch Big Fish, Win Reward – Apps on Google Play." Google, Google, play.google.com/store/apps/details?id=com.fishteam.fishingfantasy.gift.gp&hl=en_CA.
"Fishing Fantasy - Catch Big Fish Win Reward." Softonic, fishing-fantasy-catch-big-fish-win-reward.en.softonic.com/android.