Edit: More Gothic Punk CC pt 3
attempt 4 technically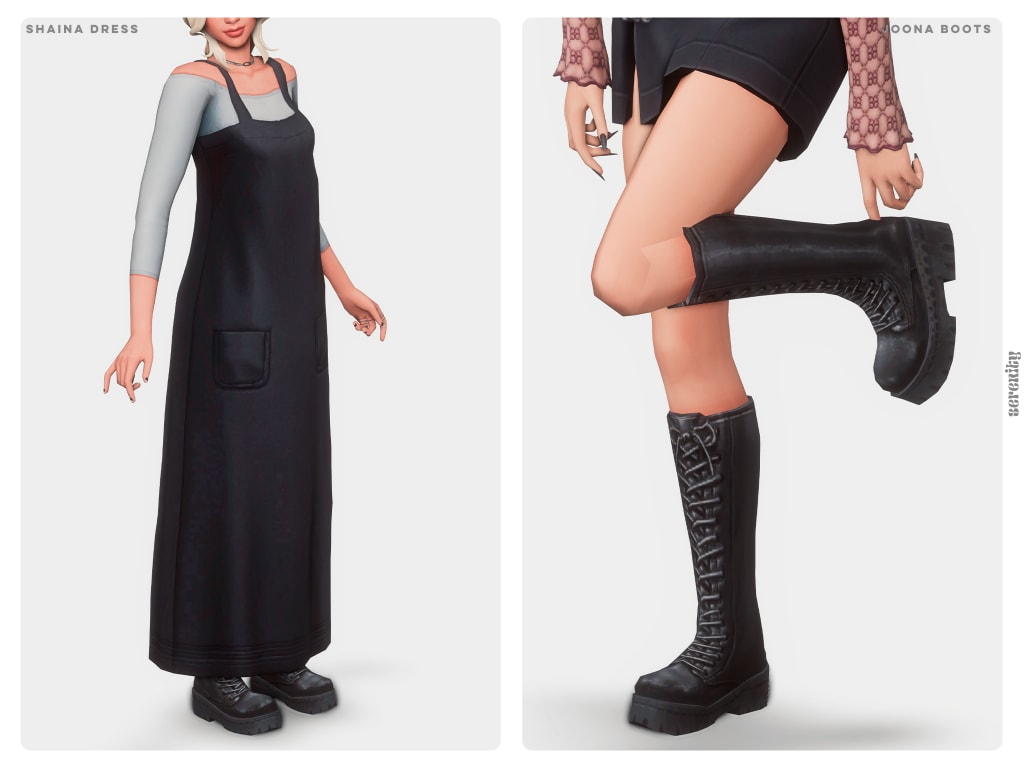 picture directly from Serenity's Luna set
Rejoice simmers for I have finally arrived with some maxis match gothic clothing... for MEN! and women.... course.
Ladies and Gentle simmers behold Helsoseira!
Helsoseira
A sims resource creator.
Upon inspection of their cc, I noticed they do make alpha clothing and that SOME of the male gothic clothing, in particular, came out this year. Just saying make sure to check the date if you're looking for quality clothes, you can kind of tell the older ones are more flat looking. I'm not sure whether or not they intended to change their style to maxis match here but... I think they did an awesome job and these pieces can be used to make gothic male sims.
I thought I didn't know them.
Until I saw this and remembered I downloaded it in my game (so yes it works). Sims resource needs to be more browsing friendly. .. that's part of the reason I prefer shopping on patreon.
Madlen
This creator is my personal bread and butter, I have most of their shoes, furniture, and clothing in my game. They specialize in maxis match shoes and they also used to be on the sims resources. You can expect fully polished neat quality shoes on their patreon, also most, if not all of their content is free don't worry.
Are you screaming yet? I was the second I laid eyes on them, but what kind of clothing could go with this hmm? That's the question. What kind of fit could do these shoes justice? If you downloaded these leave me a comment and share your photos with me if you use em.
Platform shoes and black always make me think of goths, aaaaand, the Teen Titans. These sneakers could really be used for a casual look. (Some of you are probably thinking "Nah, duh!" Stop it, I'm trying to develop my fashion...intelligence... I don't even know what to call it.)
These boots are great for adventuring, hiking, or fitness. Can't see this as casual wear but I've noticed a couple cc creators making shoes like this, I wonder if it's inspired by Black Pink's Kill this Love? Even though it wasn't made around the same time... they probably were late to the kpop paaaaar-teeeh ey?
These boots are giving ... classic goth girl to be honest (why do I feel like I've shared these boots before already?) And Raven from Vampire Kisses- I'd really like it if someone who read the manga Vampire Kisses- (quick reference image drop)
made the outfits cause her fashion was *chef's kiss* Probably what inspired me to go through the slightly gothic emo phase that I did as a preteen, though I think I was also into the slightly darker characters even in kids' cartoons.
Asian goth vibes...
The standard black boot but maybe it's because I brought up Teen Titans but I'm beginning to think these are Starfire's boots too. Pity there isn't a shade of purple.
Serenity
Serenity is a cc creator who specialized in making clothes, their clothes have a very neat and casual look that reminds me of hippies/boho, teenage girl sitcoms and television show- ooh also winx club! How would one describe winx club fashion? Minus the fairy outfits. Their outfits were my childhood, they are actually what got me into fashion.
The Luna set is a neat and less obvious gothic clothing set but I think a lot of the clothing here can still be used for them. I like to believe that not all goths wear black you know.
It's mostly the gloves, they're the only two that could be used for a gothic set. In my honest opinion.
Caio
Bring your attention to the sims on the bottom haha.
The nerdy sweater is a personal favorite of mine(click on the link to find)... but moving on.
jellymoo
They make super casual clothes, so I guess retro and casual wear.
I'm getting goth skater girl, or chill goth from this. I could see a Shego-like character rocking these pants.
This hoodie could be used.
A couple of pieces in here could be used to pull off a look, the shoes two of these girls are wearing, the shin-high high tops, and the dirty converse that's been doodled on it really gives grungy vibes and realistic teen! I was kind of disappointed to see they weren't part of the set, or that there was no link because those shoes give so much character, I think I've seen those shin-high high tops somewhere though and it's bothering me that I can't remember where...
A-HA! It's by sondescent.
And oh my gawd! I just saw their patreon and so I'd like to say that if you're looking for gothic content check them out! I'll definitely be using some of their outfits and stockings! You can kind of tell that they're kind of new to making certain things like shoes but it still looks good... ah, actually I just remembered I already have one of their blouses in my downloads! That's why it seems familiar... I think it's probably because of this that I held off downloading some things.
Rusty's
Rusty's is a cc creator that specializes in formal fashion like royalty attire, but they also occasionally do casual wear there's just so much of their formal dresses that you kinda have to sift through to find the casual clothes.
Multicolored hair for females and males.
This looks so sexy! You don't see long hair for male sims that often so I fell in love with this!
This not as much but someone will like it and I can probably use this for mob sims- I don't like normal townie sims in my background they just look so blah to me. (Yes, I'm that type of person to delete all the townie sims and repopulate my world even though I know the world will generate more basic looking sims to take their place...)
AdrienPastel
Their clothes aren't typical maxis match but it's not quite alpha either, I think there are still some pieces that can be used here.
Cooper322
A creator I'm not familiar with even though I have used some of their cc in the past, they seem to dedicate themselves to make casual and gothic attire. The only thing I'm not a fan of if they're lack of color swatches for some of their old dresses.
It's a cute dress.
Cute boots. Classic goth.
Trillyke
This isn't the first time I've mentioned them but it's only because they keep releasing gothic/punk content and that I keep finding it that I mention it. You can never go wrong with Trillyke folks, their clothing is so versatile for different styles! Another pair of boots that will remind you of Teen Titans again.
Johnny Sims
A cc creator that specializes in making high-quality men's hair. I think this hair gives goth or possible goth you know?
This hair... just gives bad boy, sarcastic boy, pain in the butt kind of boy.
The hair on the left.
It's an interesting hair that I think could get pulled off with some big lashes or eyeliner and makeup to tie the look in together, take the focus off the hugeness of the hair you know?
Anyway that's it for today, thanks so much fore reading and watching! Tell me if you like these links or if you're looking for a certain thing! Like always have fun fishing and bye!
Reader insights
Be the first to share your insights about this piece.
Add your insights