'Destiny 2: Shadowkeep'
How Far can "Free" Take You?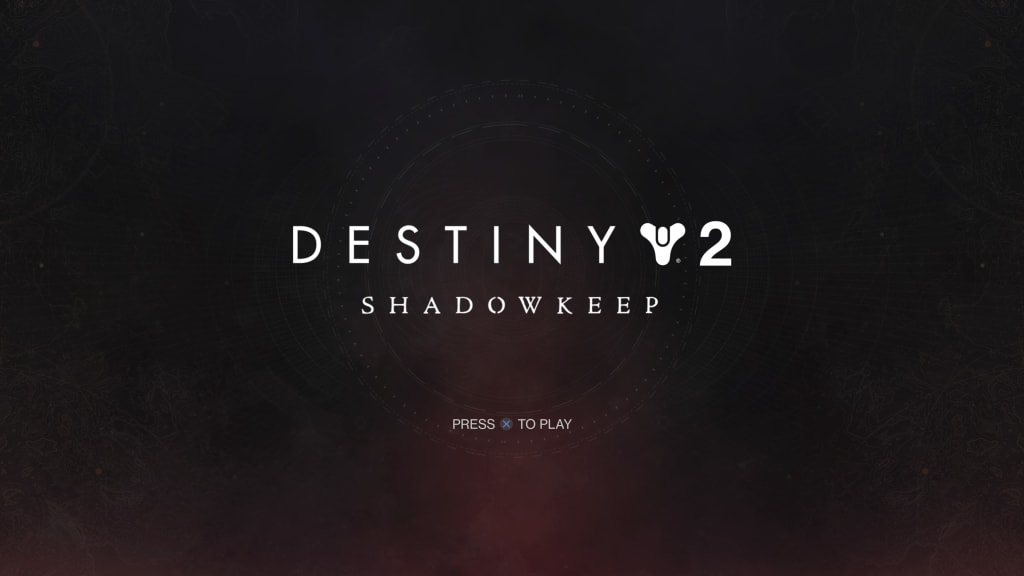 New Title Screen
In this Article, I will explain what you have access to if you do not Own Destiny 2: Shadowkeep or have the Monthly Subscription of PlayStation Plus. At the moment, you see what I'm working with. :) I should be able to catch up soon. For now, let's start at the beginning: What can you do?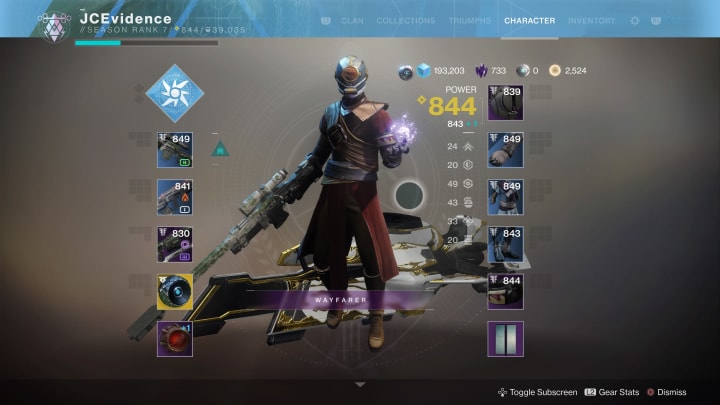 As a Refresher, my PSN Name is JCEvidence. Before the end of last Season, I earned the Solstice of Heroes Full Gear Sets for all my Characters: Warlock, Titan, and Hunter. This gave me a Light Level of 750. With the Release of Shadowkeep on Tuesday, October 1st, Guardians now have the ability to level up to, at least, the Soft Cap of 900 Light.
As you can see from the image above, my Warlock is already at 844 after about six hours of simply completing Bounties from Banshee-44 and Planetary Bounties. Yep, that's it... and that's all I have access to.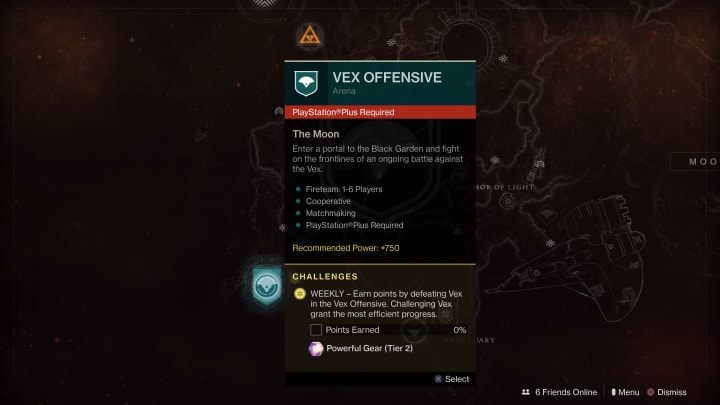 Without the PlayStation Plus Monthly Subscription, Strikes, Gambit, Crucible, Black Armory, etc. are off limits. Including the Moon, as shown below, although the Open World is available. The Moon's Bounties, Missions, etc. are not available, of course.
By the way, there is a new Arena called the Vex Offensive on the Moon. PlayStation Plus is required. Join a Fireteam of up to Six Guardians with matchmaking. The Weekly Challenge Reward is a Powerful Gear (Tier 2). Not sure what Tier 2 means, yet, but I'll find out soon enough.
There are quite a few changes in this game; it's difficult to figure out where to start. The major News is Guardians are slowly moving to Armor 2.0. At the moment, I do not have an informed opinion about how well the new system works. I've constantly changed my armor pieces as practically each Blue Engram drop increases my Light Level. It's a waste of time and resources to Customize anything at this point.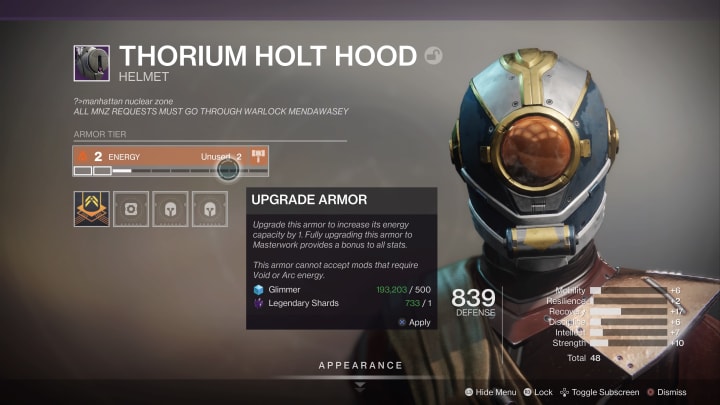 Once you reach the Soft Cap of 900 Light Level, you'll be able to focus more on customizing each armor piece. There are 10 Slots available per piece. Use various materials to upgrade each piece, which I've heard gets pretty expensive as you approach Masterwork Level... And do you notice how much Glimmer I have? Over 190,000 Glimmer and it's still climbing. Yikes.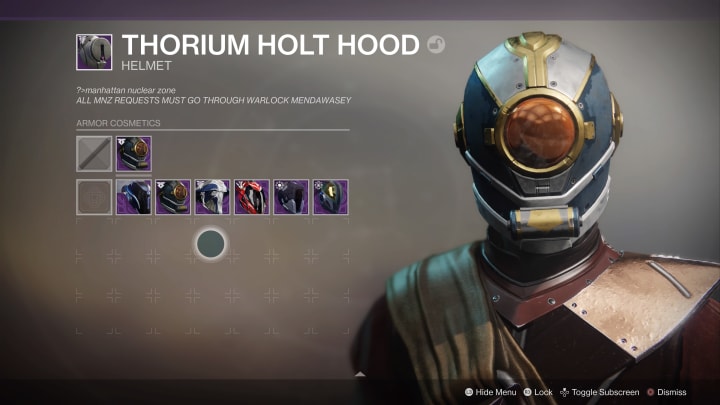 This is a very cool new Feature. Legendary Gear pieces for Armor 2.0 can be customized with Gear Ornaments. If you've collected a Full Gear Set of Ornaments from a previous Season, you can change your entire look Legendary 2.0 Gear to one set. It's more presentable opposed to wearing random pieces of gear, looking like a mess. I believe most of my Armor Ornaments came from Eververse Engrams... which no longer exist.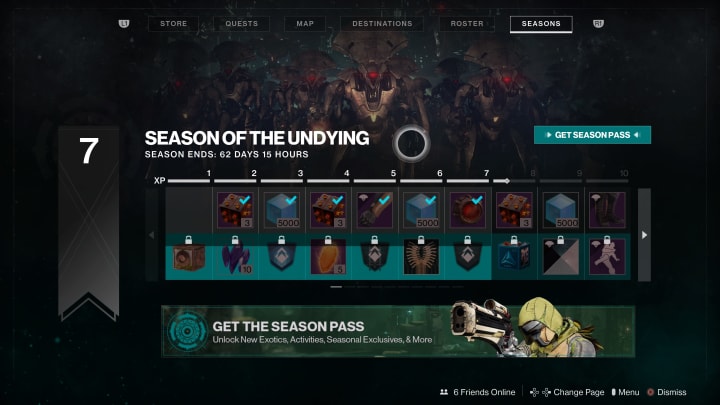 This Season, Bright Engrams do not drop when you level up with XP. Instead, you unlock Season Ranks, which go up to 50. Start at zero and keep climbing for the rest of the Season. It also lists the days, hours 'til Season's End. Oftentimes, you get a Reward of some kind for unlocked a Season Rank.
Now, if you do NOT purchase the Season Pass, you'll unlock the Top Bar of Rewards, which are not as good as what Season Pass Owners receive. So, there's the incentive to buy the Season Pass, especially with receiving an EXOTIC Hand Cannon by simply unlocking Rank One. Yep. One.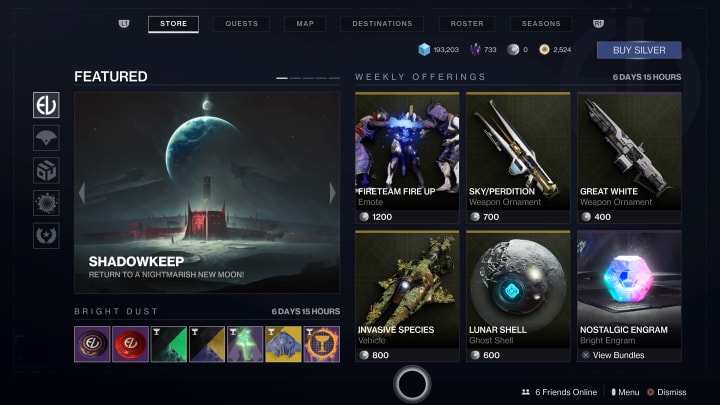 Eververse is simply a growing Online Store where you purchase most Items with Silver aka hard-earned cash. Sparrows. Ghosts. Finishers, newly introduced to the game. Ornaments. Most of the cool stuff...
Some of the Items in Eververse costs 200 to 300 Silver. However, as you probably know, you can only purchase a minimum of 500 Silver for $5. Personally, I have never bought Silver over the years of playing Destiny and do not plan on doing so. If the game was Free-to-Play, sure, I would... but it's not. I'm not paying for the game and for Ornaments, etc. in the game.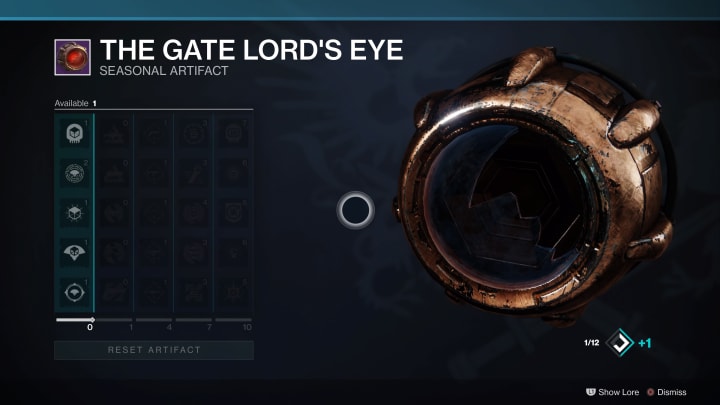 Once you reach Season Rank 7 of 50 in Shadowkeep, you unlock this Artifact. Yes, we've had Artifacts in the game before, but this works differently. I imagine you pick which Perks you unlock from each column. As you level up to Rank 8 and beyond, the Artifact will unlock more Perks to choose from. Do these Perks make a big difference in gameplay? That remains to be seen.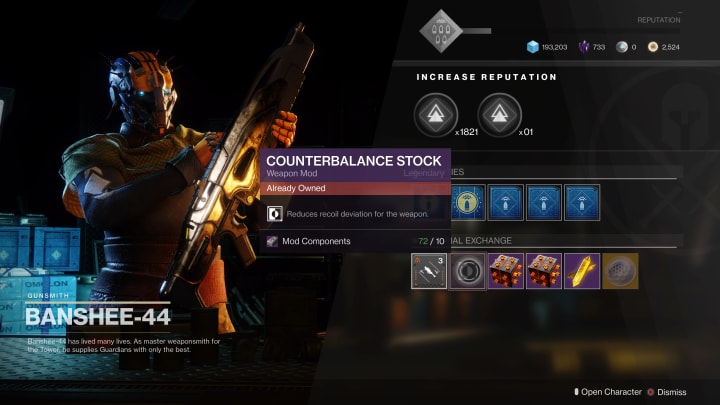 Another much needed improvement in D2 was altering the MOD System. Prior to Shadowkeep, we had to purchase MODs like Counterbalance Stock multiple times because you could run out of them. In Shadowkeep (THANK GOD!) once you unlock a particular MOD, you do not have to buy it, again. It simply stays unlocked.
This likely gives Bungie the freedom to create a bucket load of new MODs because Guardians will unlock them all in no time.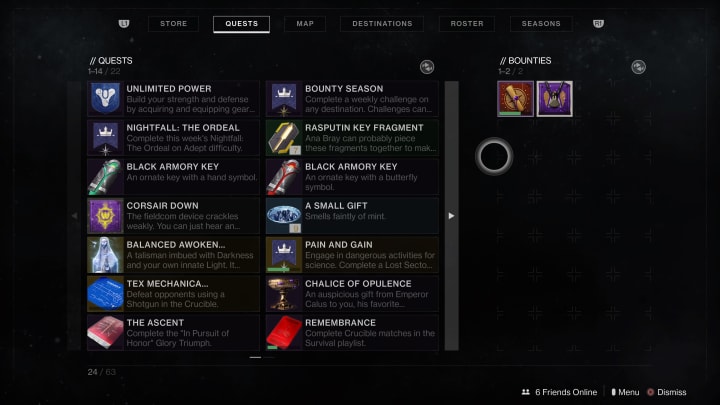 The UI (User Interface) has slight improvements. Once again, Bounties are separate from quests... Um. Thank God, again? Last Season, this space was a mess. Difficult to keep track of what quest or Bounty you were doing.
You may also notice there's a new tab that takes you directly to the Eververse Store. No need to visit Tess Everis at the Tower anymore. Also, a SEASON tab has been added to check your Progress on where you Rank.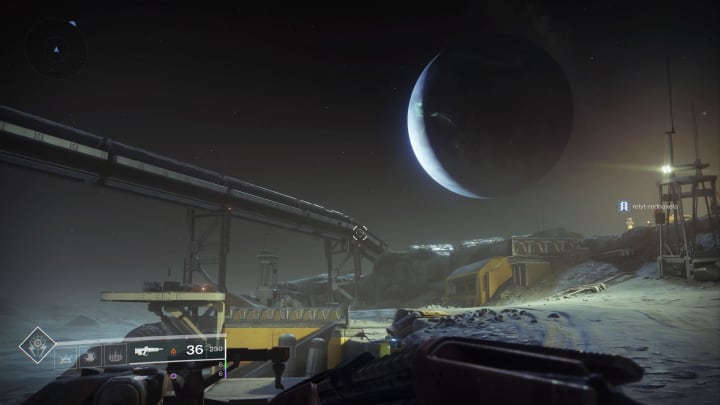 Some people may hate me for saying this, but.. we are back on the Moon. I thought I was going to be more excited about this. I really did. Of course, new sections are added and I haven't begun the Shadowkeep Campaign. Still, after the initial wave of happiness to be back at this location, it felt like the old Location from The Dark Below.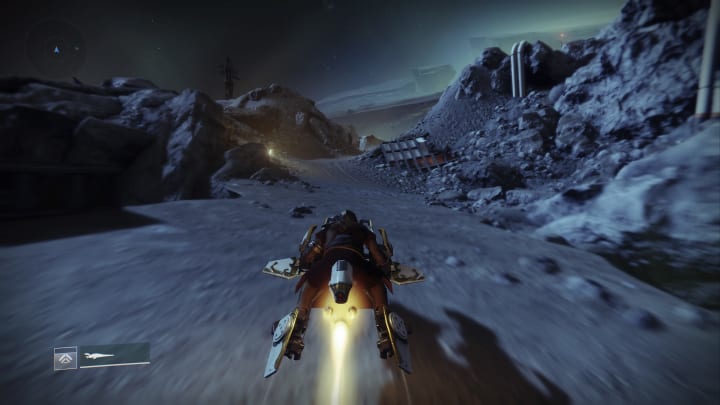 As I began to ride my Sparrow around in glee, I started looking around asking: Wait... I know where I am? Really? It's this familiar to me..?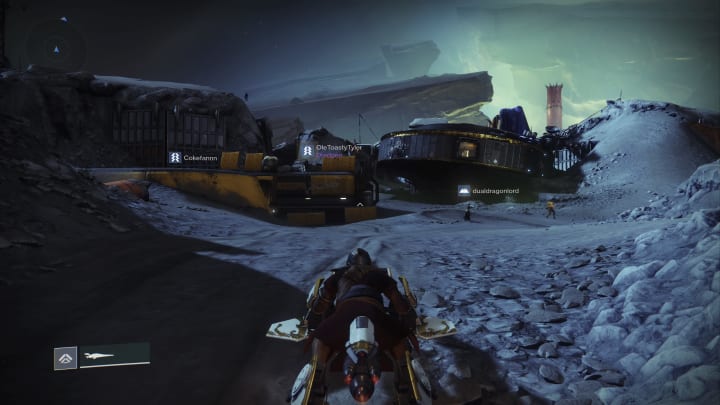 Yeah. I knew exactly where I was. All the memories flooded back into my mind before I remembered how tired I was of visiting the Moon as we progressed through expansions of Destiny 1.
In contrast, we returned to Mars in Warmind during Destiny 2. However, the Mars location opened in D2 did not feel like D1. I got lost on Mars in D2, at first. I had to learn the new landscape, though I thought it was funny (...and weird) when Ana Bray asked if I had gotten used to being on Mars, yet... uhh. Been here before, technically. Still, the different environment made it feel more fresh. We had never gone to the Bray Facility or any parts of the ice caps that I can remember.
The Moon feels like the Moon I just left! Even with the added areas, I really didn't want to navigate through so much of the old landscape. The only difference is the Vex decided to show up on the Moon, as well. In the past, the Hive had taken over the Moon while the Vex were on Venus. Now... I go to the exact same place on the Moon as before, but the Vex are here. That doesn't make it new. That just makes the Vex creepy and annoying.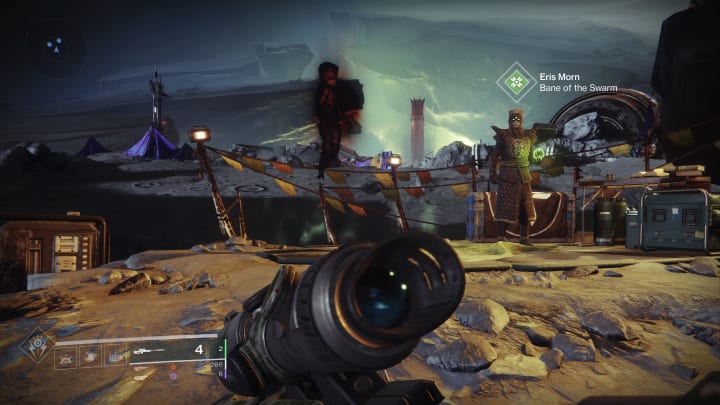 Eris Morn is back. Her new space is on the Moon. As far as I know, she tore something up, which released these Nightmares aka enemies we've already defeated in the Past. ..Reborn? Kinda?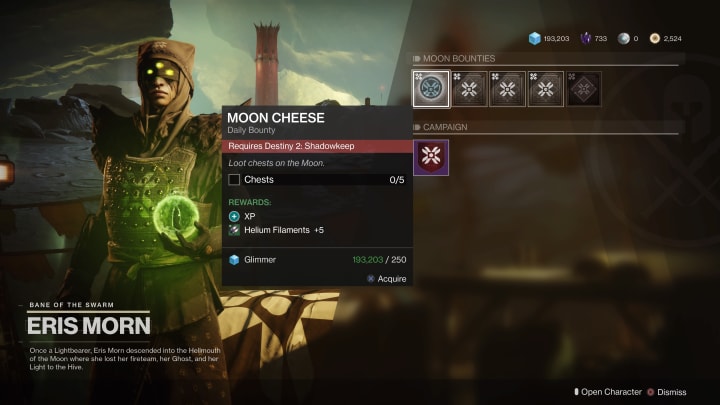 Again, of course, you need to purchase Shadowkeep to access the Moon's Bounties and Story Campaign, which I hear is... brief. However, you can run around the Moon as much as you want participating in Public Events and reacquainting yourself with fond memories without purchasing Shadowkeep.
I'm going to wander around this evening to see if I can complete Lost Sectors on the Moon since it is a part of the Open Area. Should be 900 Light in no time.
Until next time, Guardians,
Eric
first person shooter
About the author
Limited & Open Edition Fine Art Photography. Creative Writing: Poetry, Fiction, & Screenplays. He enjoys the Storytelling aspect of gameplay and Cinematics, which inspire new Visual & Written Projects.
Reader insights
Be the first to share your insights about this piece.
Add your insights