Destiny 2: Dead Man's Tale vs. MIDA Multi-Tool
Kinetic | Exotic Scout Rifles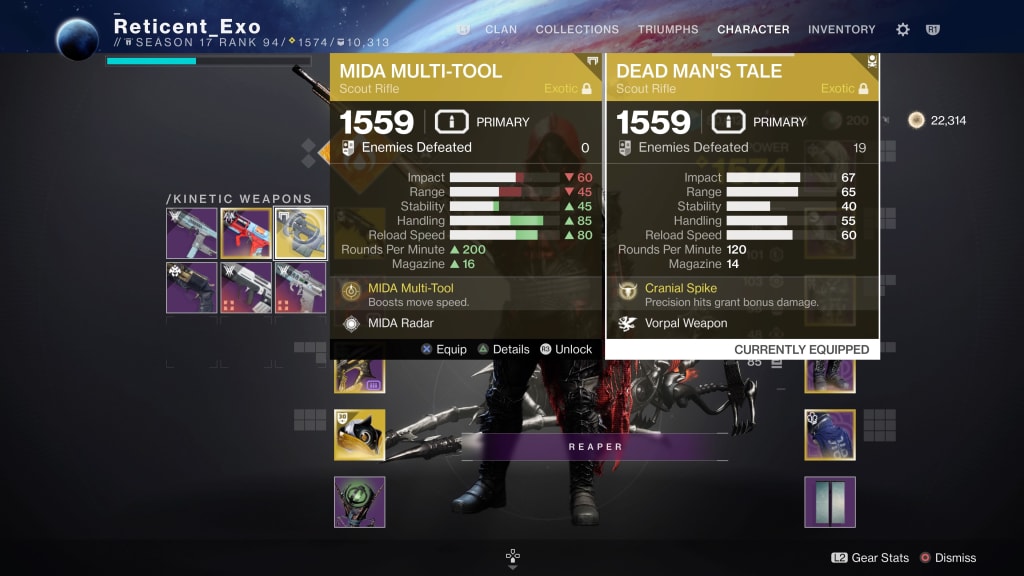 We have all been there, Guardians. Multiple Scout Rifle Bounties and Challenges to sludge through. Several options to choose from. We decide on an Exotic over Legendary because we want to have more fun during the grind. Yet, what options do you have? Perhaps, like me, you don't have every Exotic Scout Rifle in the game. Meaning you pick from the ones you do have.
DMT: Dead Man's Tale. MIDA Multi-Tool. No Catalyst available in either case. While I do have the Catalyst primed for completion with DMT, the Catalyst has not dropped for MIDA. Not yet. Not ever?
Which weapon would you choose? Here's a closer look at each.
Dead Man's Tale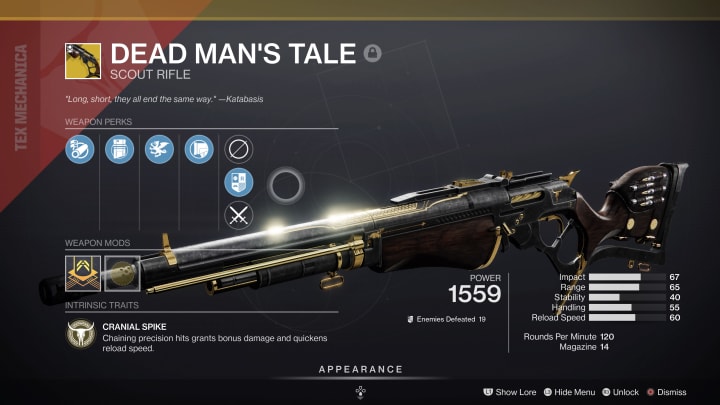 Dead Man's Tale can be acquired every Friday-Tuesday morning (before Reset) at Xur with various static weapon rolls. A few weeks ago, Xur offered this version of DMT that I had to snag before it disappeared:
NODES -- Barrel: Arrowhead Brake | Magazine: Light Mag | Trait: Vorpal Weapon | Stock: Fitted Stock
As you can see, the nodes of the weapon cannot be changed. Each Friday, find Xur, and see if he rolled the dice to your liking.
DMT is a 120rpm with 14 in the Magazine. While the rest of the Stats look solid, the Stability is a bit low to me. However, when you acquire the Catalyst it removes hip fire accuracy penalties along with increased hip fire rate of fire. Yes, the RPM goes up while shooting from the hip. No aiming allowed. :) Who shoots a scout rifle without aiming down sights? Honestly.
Plus, the Catalyst perk is added to the weapon's already impressive intrinsic trait, Cranial Spike. Chaining precision hits gives bonus damage and boosts reload speed up to x5.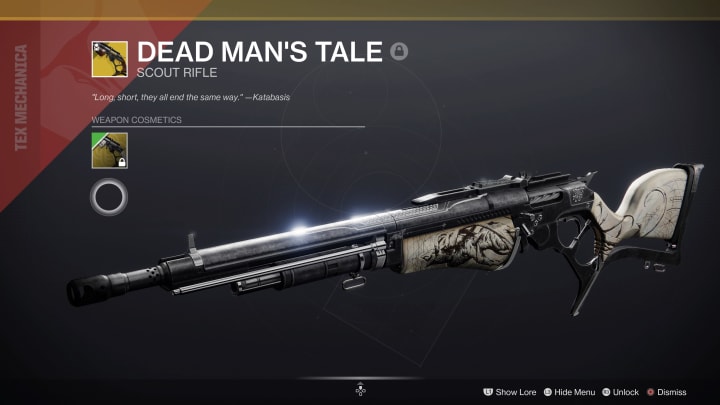 The Exotic weapon ornament adds a contemporary flare to the Western Style usually created by Tex Mechanica. There is only one Ornament available for DMT. The quickest way (perhaps, the only way) to acquire it right now is through the EverVerse Store for 700 Silver ($7 USD).
MIDA Multi-Tool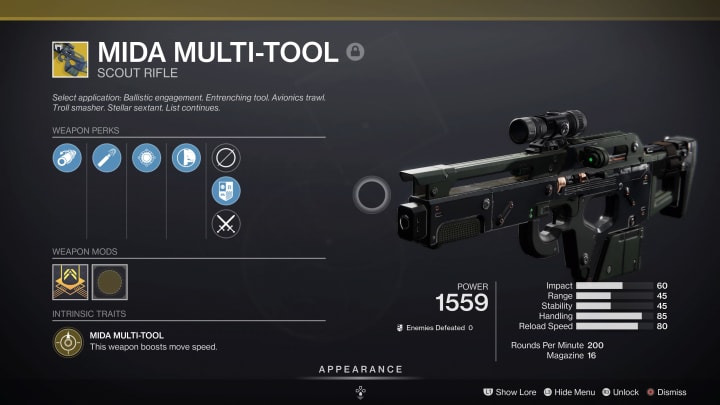 One of the Destiny 1 favorites made it to D2 several months ago. It's famous for its hair-trigger, active Radar while ADS (Aim Down Sights), and boosts to movement speed while equipped. Although Scout Rifles felt better in D1, bringing this Exotic to D2 could not hurt.
NODES -- Barrel: Corkscrew Rifling | Magazine: High-Caliber Rounds | Trait: MIDA Radar | Stock: Hand-Laid Stock
At 200RPM with excellent Handling and Reload Speed, MIDA feels lightweight with snappy ADS. A generous 16 in the Magazine helps string enemy defeats together. While I do not have the Catalyst, a bit of research led to find out the Catalyst's Trait: Outlaw. This Trait triggers faster Reload Speed with precision kills. Eric, isn't the Reload Speed awesome on MIDA already? In a word, yes, which means you really don't need the Catalyst, but that's not the best part.
The best part is how you acquire the Catalyst. You have to grind through the Glory Ranks of Crucible and depend on a completely random drop. I believe if you Reset your Glory Rank, the Catalyst drop is guaranteed, but don't quote me on that. Yep, this is the best part. Am I being sarcastic? Absolutely.
If you are a PvE Main, like myself, there is no way you are going to suffer through Glory Ranks just to add Outlaw to an Exotic weapon that really doesn't need it. Besides, DMT is hands-down better than MIDA in PvP. My comparison is focused on PvE Content. Let's move on...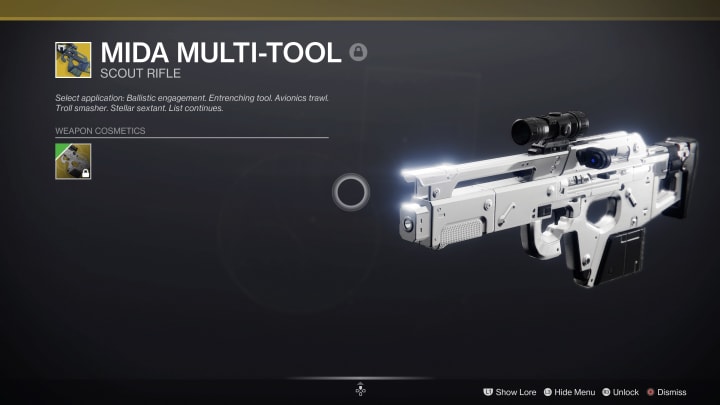 While there are four Exotic weapon Ornaments to choose from for Multi-Tool, this is my absolute favorite. Doesn't it lean towards Call of Duty: Modern Warfare in Style? Again, it is available in the EverVerse Store for 700 Silver ($7 USD).
And yes, an entire 3-month Season Pass costs $10, which includes a new Gear Set with Universal Ornaments, a new Exotic Weapon along with its Exotic Ornament, a huge chunk of Bright Dust with Infusion Materials, a new Legendary Emote, and a new Exotic Emote. Plus, a new Exotic Sparrow and Legendary Transmat Effect are included.
Is the Season Pass underpriced? Based on the Value System, of course. Otherwise, it makes no sense to charge $7-$8 for some of these items individually, but they do. I digress.
Versus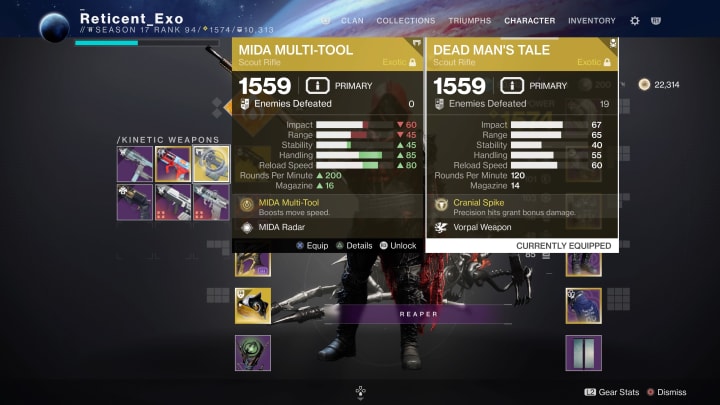 Both of these Exotic Scout Rifles are available in the Kinetic Slot. I will say it surprised me that the stark increase in MIDA's RPM doesn't lower its Impact Stat more than 7 points below DMT. Meaning you can fire more shots without losing too much Damage.
However, the 20-point drop in Range will definitely be noticed because the Damage falloff triggers much sooner. At 65 Range, DMT's 67 Impact will be felt in full from a further distance away. Furthermore, MIDA does not have Vorpal Weapon, which means no buffs to Damage against Bosses.
I think MIDA will do fine in lower to mid-Tier activities, yet Dead Man's Tale will continue to dominate PvP and higher Tier Content because of the buff to hip-firing Accuracy and Damage from precision hits. Bungie does not like Players using the same Set of Weapons all the time, which is why Buffs and Nerfs frequent the Sandbox. Perhaps, one day MIDA will rise closer to the top as DMT fades.
Gameplay Test
The "Perdition" Lost Sector on Europa was chosen as the testing ground to compare MIDA and DMT. The entire run is shown for both weapons giving new players a pretty good idea of how each weapon fares against enemies of varying Health levels. The final Boss encounter is the best example of how much Damage each weapon can dish out per shot.
This presentation is a bit lengthy. The first weapon used is MIDA Multi-Tool. On the 6:27 mark, I switch to Dead Man's Tale. I hope you find this information useful. ecj
feature
About the author
Sharing my passion for an eclectic group of Subjects including Fiction, Photography, and Gaming.
Reader insights
Be the first to share your insights about this piece.
Add your insights