Bungie Rewards
The Cost of Earning Achievements

Earning Rewards for gameplay is a common and necessary aspect for incentivizing players to complete Triumphs. However, in Destiny 2, Claiming Rewards comes at a steep cost to each player. Once a Triumph is completed, players open their Account on Bungie.net/Rewards to Claim their Reward. The majority of the time, this Reward is purchased in real currency through the Bungie Store.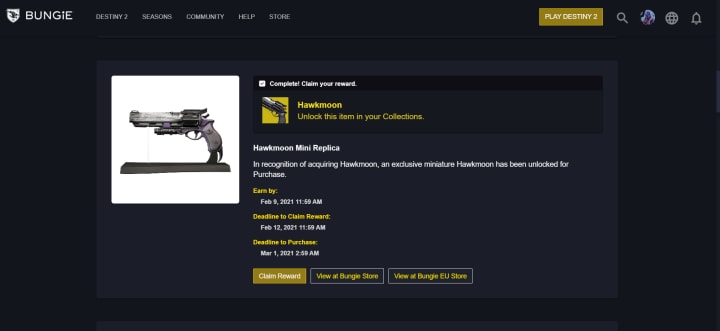 "In recognition of acquiring Hawkmoon, an exclusive miniature Hawkmoon has been unlocked for Purchase." -Bungie
After completing the Hawkmoon Quest, I was able to Unlock this Reward. When you Claim the Reward, Bungie gives you a Code to use on the Bungie Store. Then, you can purchase this Reward for $59.99 and the actual Shipment Window is four to six months. Yes, months.
To put this in perspective, players bought the Deluxe Edition of Beyond Light for $59.99. Now, they have to pay the same amount to get a Reward they earned in the game. This has always felt odd to me and you can correct me if I'm looking at this in the wrong way.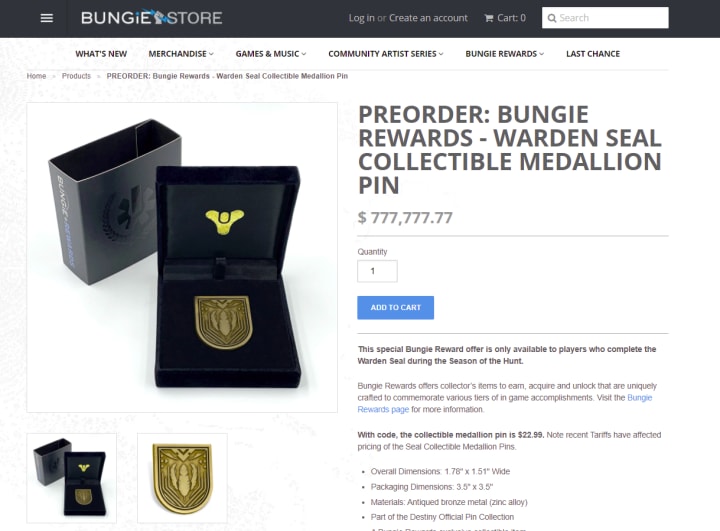 Recently, I earned the Warden Seal for Season 12. After completing all the Triumphs, I Unlocked and Equipped the Seal. It is my highest Achievement of this Season. As a Reward, I can Claim the Code for the Collectible Medallion which can be purchased for $22.99 on the Bungie Store.
The deadline to Claim this Reward is February 12, 2021 while the deadline to purchase the Claimed Reward is March 1, 2021. If you miss either deadline, you will not be able to purchase your Reward. It feels like another case of FOMO (Fear of Missing Out). The four to six month Shipping Window also applies to this Reward.
While it is common to see Merchandise from our favorite games being Sold, it seems uncommon to me that any of this Merchandise is labeled as a Reward for achieving something in a game. Any Rewards you earn should be free or at minimal cost to the player because the price you pay for any Reward is Time and Effort. If you want video game Merch on top of that, simply go to the game's store and buy it. No strings attached.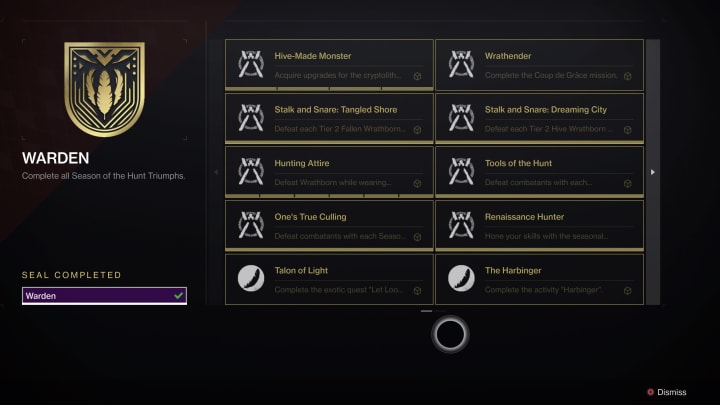 Bungie Rewards are in a unique position because you just can't go to the Store and buy something like this Medallion. You have to earn them through Time and Effort, before they're available for purchase. It should be one or the other, not both. Perhaps, if these items were not under the umbrella of Rewards, I would feel better about this.
Yet, this is in line with how Eververse is handled. Many players, myself included, feel that more Eververse Cosmetics should be earnable in-game. Instead, players have to earn and collect as much Bright Dust as they can while only Select Cosmetics are made available to purchase with Bright Dust on a weekly basis.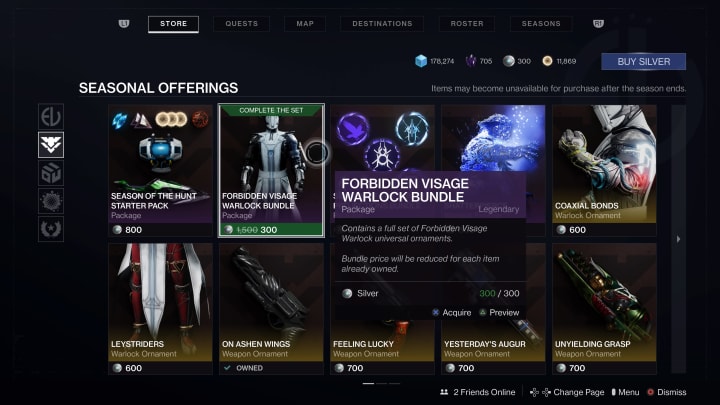 Speaking of those Select items available on a weekly basis, this problem has happened to me on more than a few occasions. Forbidden Visage is the Season 12 Gear Set available in Eververse. At the beginning of each Season, one Gear piece is available to purchase with Bright Dust each week. However, once the Seasonal Event begins, the weekly Gear piece option is removed from the Bright Dust Menu for weeks.
When the Seasonal Event ends, these Gear pieces come back for ..a week or two (?) before disappearing again. I have not seen an Eververse Gear piece available for at least two weeks, including now, the final week of Season 12. I only have four of the five Gear pieces for the Set.
In order to complete this Gear Set, I'm forced to purchase the missing piece with Silver. One hundred Silver equals one U.S. Dollar. Since each Gear piece is 300 Silver, I need to pay $3 for a Gear piece that should have been offered for 1,200 Bright Dust, the in-game currency used to purchase Gear and Cosmetics in Eververse. I have over 11,000 Bright Dust, so this would not have been a problem.
Through my experiences, Bungie really does not give players the entire 3-month Season to purchase the Seasonal Eververse Gear Sets with Bright Dust. They're simply not available on a consistent basis. Which turns this into another way the Developers make money through micro-transactions on top of players purchasing the large Expansions and Seasonal Passes along with the fact that the majority of the Eververse Cosmetics have to be purchased with Silver. No Bright Dust option is available.
Naturally, then, I am annoyed when I earn a Reward in the game that I have to pay $25-$60 for and leave a 4-6 month window open for Delivery time.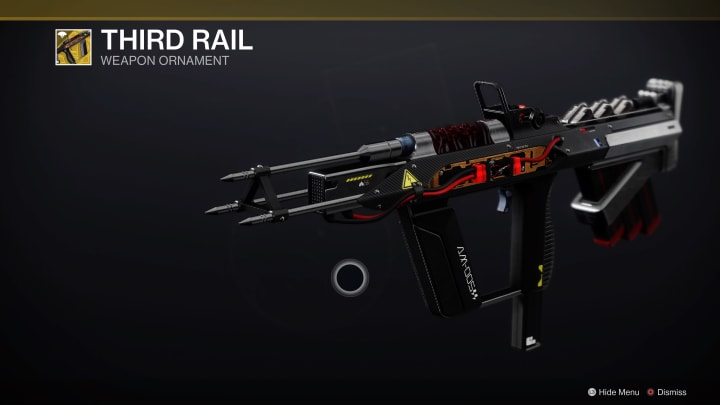 In my closing argument, I have one final example. Over the passed several months, I have been talking myself into and out of purchasing this Exotic Weapon Ornament for 700 Silver (equals Seven Dollars). I still haven't been able to do it simply because I purchase an entire Season Pass for $10.
The Season Pass not only includes an Exotic Weapon with its Exotic Weapon Ornament, it also includes all the Seasonal Gear Sets and Gear Set Ornaments for Warlock, Titan, and Hunter. Ascendants Shards, Enhancement Prisms, Bright Dust, planetary Materials, Enhancement Cores, XP Buffs, etc. are also included in one Season Pass for $10.
With this in mind, how is Third Rail worth $7 all by itself? It's not. However, several Exotic Weapon Ornaments cost $7 in Eververse. The inconsistency in the value system of Destiny 2 is, quite frankly, ridiculous.
Destiny 2 is still, by far, my favorite game to play. Yet, I'm disappointed in how the game is managed in terms of gaining Profit for the Developer. If the Developer needs more money to create and maintain the game, I prefer the base price of the Expansions and Season Passes increase opposed to finding several ways to charge the players money through Rewards and Cosmetics.
Unfortunately, I don't see the principles of Eververse changing ...ever.
-ecj
first person shooter
About the author
Sharing my passion for an eclectic group of Subjects including Fiction, Photography, and Gaming.
Reader insights
Be the first to share your insights about this piece.
Add your insights