4K Touchscreen Portable Monitor - Lumonitor
Lumonitor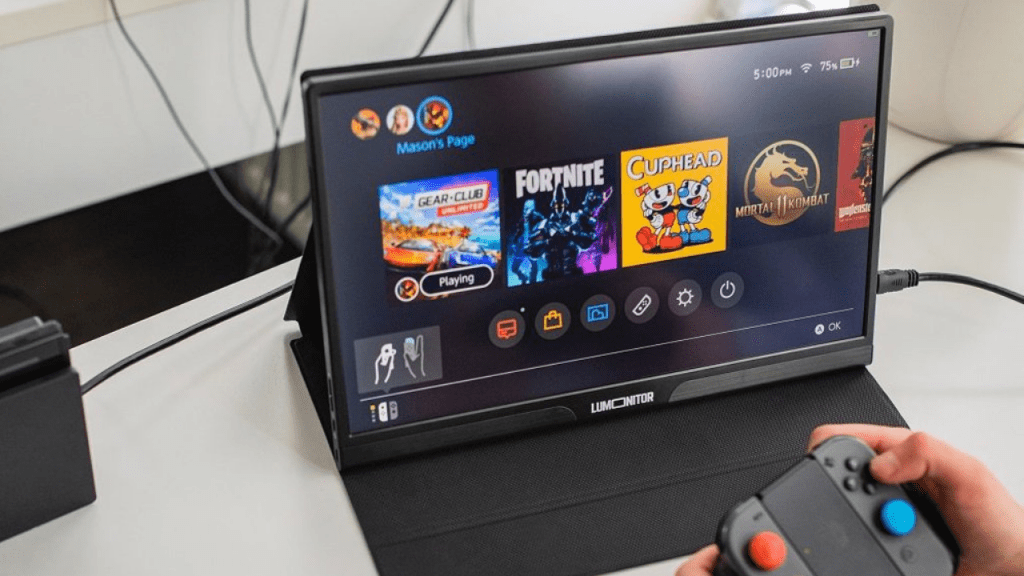 4K Touchscreen Portable Monitor - Lumonitor
* Lumonitor.
- Get ready to unplug and go with Lumonitor, the self-powered portable monitor in brilliant 4K. Razor-thin and ready for anything Lumonitor turns any device into a 4K powerhouse. Its host of high-speed ports and built-in battery liberate your bag from clutter and keep your devices fully charged no matter where you are. Work, game, create, or entertain better on Lumonitor.
* 15.6" Brilliant Color and Clarity at a native 4K resolution.
* Touch and stylus ready.
* Lightest in its class at just 1.3 lbs.
* Ready to use. No setup or apps required.
* HDMI, 2X USB-C, Micro USB, 3.5mm AUX.
* Personalize your productivity.
* Vivid colors and deep blacks with 100% sRGB color range.
* 2x brighter than other portable monitors.
* Supports all devices, operating systems, and cables.
* Lag-free 4K gaming on any console or device.
* Speedy 10ms response time.
* Crystal-clear audio the whole room can hear.
* Anti-glare, anti-blue light, and flicker-free filtering.
* Charge your devices or use Lumonitor as a tablet with 4 hrs of battery life.
* Connect with multiple Lumonitors or other external monitors.
- Brilliant 4K Resolution
The mind-blowing depth and clarity of Ultra-HD 4K is at your fingertips with Lumonitor. Gaming has never been more immersive. Your shows and movies have never been more explosive. And when it comes time to present for work, there's no mistaking the brilliance of 4K over the pixelated tablets and powerpoints of the other guys.
- Pin Point Touchscreen
Lumonitor's brand-new PinPoint touch technology upgrades touch responsivity for the 4K generation. More pixels mean more precision, and Lumonitor has the responsivity that photo editors, designers, and artists need to get the job done with pinpoint accuracy.
Touch and stylus ready, Lumonitor responds to the broadest strokes down to the finest finishing touches. Enjoy confident control and satisfying fluidity with PinPoint touch.
- Lighter than Ever
Lumonitor is the lightest, slimmest, and sleekest portable monitor you've ever seen. At less than 6 mm wide (yes, you read that correctly!) and just 1.3 lbs, Lumonitor is lighter and slimmer than an iPad. Actually, it's slimmer than any tablet or monitor of its kind.
- Universal Compatibility
Streamline your productivity whether alone or with your team. This makes it super easy to collaborate, share, and pass around the conference table when the ideas start to flow. Have you ever brainstormed with 4K at your fingertips?
- Plug & Play
Lumonitor is ready to go when you are. No setup, software, or apps are required. As soon as you plug in your device, Lumonitor mirrors or extends your display instantly. And because it has an internal power source, Lumonitor will remember your settings.
- Connect to Multiple Displays
Need multiple screens to boost your productivity? Lumonitor supports connection to multiple displays. Have everything you need to jumpstart your day in front of you.
Touch and stylus ready, Lumonitor responds to the broadest strokes down to the finest finishing touches. Enjoy confident control and satisfying fluidity with PinPoint touch.
- Ultra-wide 15.6" Display
Tired of straining over your phone's screen? Now, you don't have to. Lumonitor turns your smartphone into a 15.6" screen, so you can view, work, and game with total convenience.
One screen not enough? Lumonitor gives you a screen at par if not better than your primary one. Enjoy greater resolution even when you're on-the-go.
- Gaming Ready
Gaming in 4K is the pinnacle of complete visual immersion. Whether you play on mobile, PC, or console, you'll get lost in the unparalleled depth and color of Lumonitor's 15.6" screen. Lumonitor's ultra-fast 10 ms response time and PinPoint touch technology ensure zero lag and perfect precision. When you game with Lumonitor, it feels like you're really there.
- Premium Ports
Lumonitor is ready for any device with its host of premium ports for high-speed connectivity. Lumonitor's ports include HDMI, 2X USB-C, Micro USB, and 3.5 mm AUX.
- Hi-Fi Stereo Speakers
Whoever said monitor speakers had to sound grainy and hollow? Lumonitor's engineers designed augmented Hi-Fi stereo speakers to make your clunky external speakers obsolete. Dynamic audio and deep bass put Lumonitor's audio miles ahead of other monitor speakers (and most external speakers too!).
- True LED Backlight
Nothing brings 4K to life like True LED backlighting. Deep blacks and a full spectrum of color deliver an Ultra-HD viewing experience that pops with light and intensity. Lumonitor is an industry leader in color contrast and visual clarity.
- Twice as Bright
-
-
-
* Code 50% Discount [ 9W3HXU ]