What Do You Expect From Your Health and Wellness Coach?
Here are a few things that I offer as a Health and Wellness Coach to my customers. What would you add?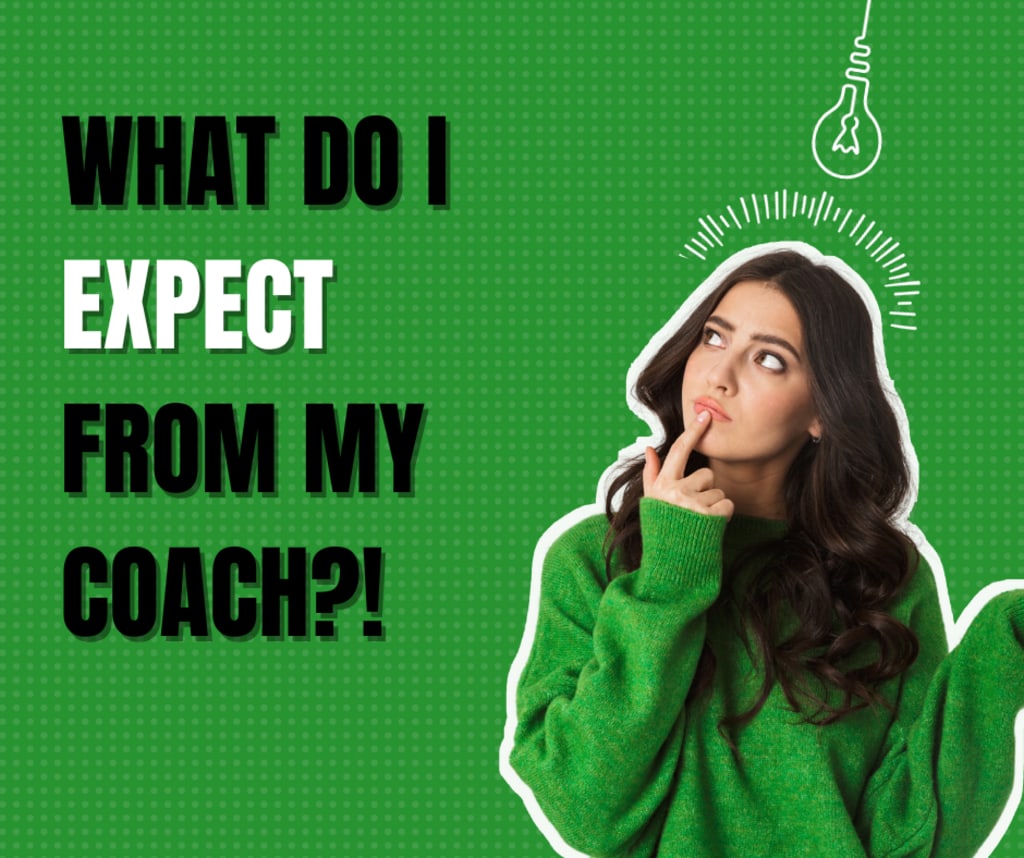 What do you expect from your health and wellness coach?
As a health and wellness coach, I help my customers across the globe with the following.
1. Goal Setting:
As a first step, I help my clients set achievable and meaningful goals that can motivate them. This can fall into learning running as a sport, losing weight in a healthy way, improving their fitness, reversing their diabetes or hypertension issues.
2. Personalized Training Plan:
I create personalized training plan to help achieve the above-defined goal. Personalization is very essential. Every client is unique and they bring with them unique physiology, lifestyle patterns, injury history, chronic illnesses, and habits. It is very essential that coach need to consider these aspects when designing a training plan.
3. Motivation and Accountability:
This is one of the key factors for why clients are engaging coaches in their health transformation. They want someone to hold them accountable. They cannot work alone to achieve their goals. Apart from needing the SME, they are constantly looking for someone to provide them both motivation and accountability.
4. Education:
My primary motive is to educate my clients so that they become knowledgeable in the process of their transformation. I do this through sharing knowledge, skills, and practices. I follow this philosophy "Give a man a fish, and you feed him for a day; teach a man to fish and you feed him for a lifetime.". For me, I am truly making a difference to individuals only when I have made them independent in what they are achieving as their goals and going beyond in the long term.
5. Behavior Change:
This one is most challenging among others to achieve. Helping clients find their motivation to behave in a certain way can be done in so many ways. I do it primarily through knowledge sharing and questioning frameworks. When people really understand and gain knowledge about a certain aspect, they develop the awareness and motivation to bring the changes in themselves.
6. Nutrition Guidance:
Every health transformation is incomplete if it did not touch nutrition. Given the environment that we are living in, which constantly makes us to crave for something especially eating, it is challenging to even know what helps us to better our health from diet/nutrition standpoint. For customers who sign up for full diet and nutrition help, I help them thoroughly. For others who just need a bit of guidance, I offer my services accordingly. For example. for running programs, clients just look for electrolytes, protein and other supplement recommendations while healthy weight loss customers need full-fledged nutrition guidance.
7. Fitness and Exercise:
Apart from providing customized training plan, it is coach's responsibility to ensure the clients can perform the exercises with right form and technique. This may need handholding for some customers who are very new to the exercising world. For others who have expertise, just providing them with WOD will go a long way.
8. Lifestyle Changes:
This is a huge topic when it comes to health because what we do as a lifestyle on a day-to-day basis determines largely what results we get in our pursuits. This needs constant dialogue with my clients, discover what they are doing right/wrong and recommend changes accordingly. A lot of behavior change happens eventually.
If you are a potential customer, what would you add? Please share in the comments.
You can even talk about some of the gaps which you have experienced with other coaches that you have worked with.
PS: By no means, my intention is not to bring a comparison of any sorts between coaches in this post. I truly respect coaches/trainers, myself being a coach. This post is more to do with what clients and customers should understand before they start on their wellness transformation.
********************************************************************
Like the content?
📢 Hit the Subscribe button on my profile to get an instant notification as I post my articles
📢 Share the article in your network
I am an experienced health and wellness coach helping individuals with running, fitness, nutrition, weight management, and type-2 diabetes reversal.
You want to transform your health and wellness? DM me for a free consultation.
Here's my LinkedIn profile - Ganesh Kuduva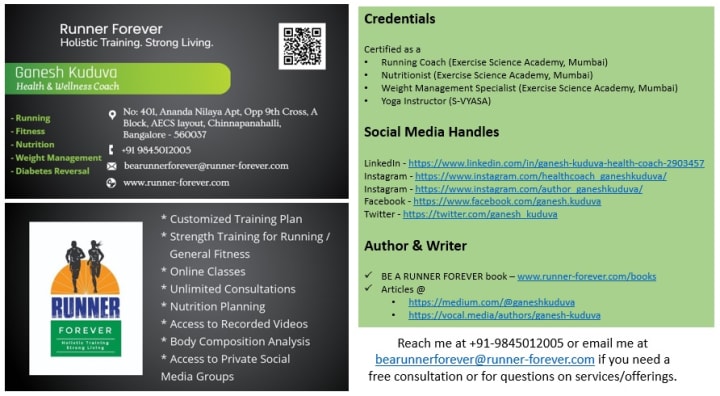 About the Creator
Founder - Runner Forever | Health & Wellness Coach (Running, Fitness, Nutrition, Healthy Weight Loss/Gain, and Type-2 Diabetes Reversal ) | Author | Corporate Speaker | Follow me for posts on Health and Motivation (www.runner-forever.com)
Reader insights
Be the first to share your insights about this piece.
Add your insights