The Eight-Legged Vegetarian
Nearly all spiders are predators, bringing forth images of webs, fangs, and an excessive number of legs that would send chills running down most readers spines. But how would you feel knowing that there is a spider out there that is (mostly) vegetarian?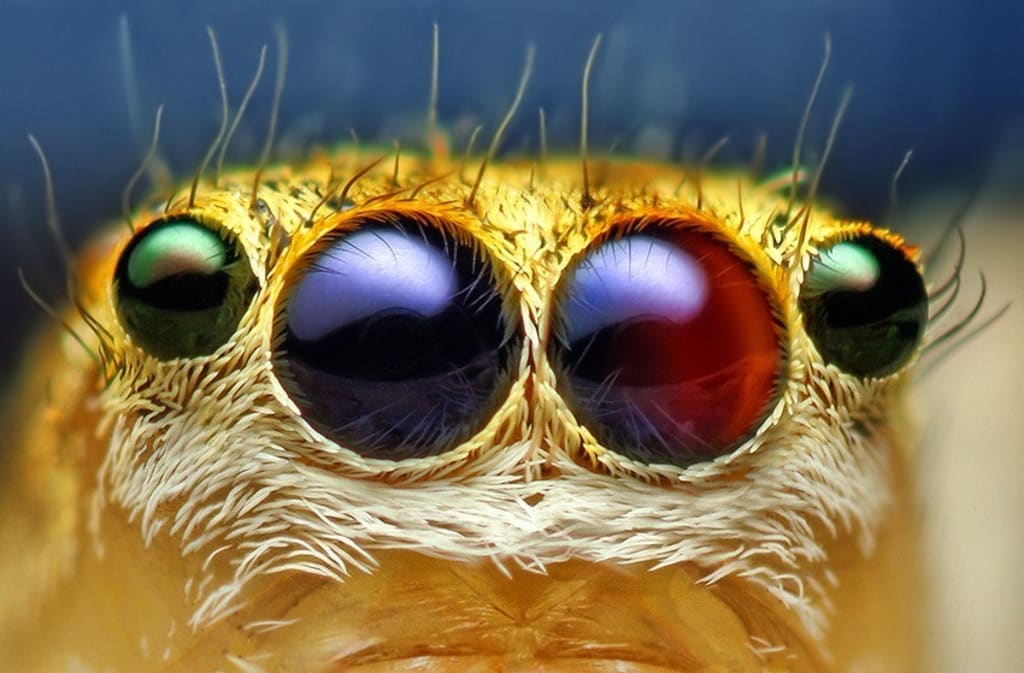 When you think about spiders, 'vegetarian' isn't the first thing to come to mind. More often than not, spiders bring forth images of webs, fangs, and an excessive number of legs that would send chills running down most readers spines.
But how would you feel knowing that there is one particular species of spider amongst the 40,000+ species on this Earth that is (mostly) vegetarian?
Nearly all spiders are predators; though they may hunt in different ways, they all end up sucking up their prey's innards like a Capri-Sun. The majority of their food intake is of other animals, and if they do snack on some foliage, it is often by mistake, like swallowing pollen while recycling their webs. However, some species take the occasional sip of nectar to supplement their fleshy diet.
Bagheera kiplingi is native to Central America and a part of the ever-so-intimidating family of jumping spiders. However, depending on its location, it rarely dines out on meat.
[Fun fact: the family of Jumping spiders (or Salticidae) holds over 600 genera 6000 described species, making it the most prominent spider family at 13% of all species.]
B.kiplingi commonly inhabit Acacia trees which grow in tropical and subtropical environments like the Latin Americas. The reason for this oddly specific choice of housing is due to this little spider's exploitation of the partnership forged between the acacia trees and ants.
The ants provide protection from anything attempting to graze on the tree's leaves/flowers, and in return, the acacia tree provides shelter and food for the ants. This food comes in the form of nectar and Beltian bodies; these tiny nodes are generally found on the tips of the acacia's leaflets and are an incredible source of protein and lipids.
It has been suggested that the Beltian bodies were developed as a result of the relationship between the ants and the acacia tree, implying that the tree only produces these nutrient-rich bodies to feed the ants, which is supported by the fact that the acacia trees only grow the Beltian bodies when inhabited with ants.
However, the ants are not the only ones after these sweet treats. B.kiplingi has an essential diet of Beltian bodies due to high and the occasional fleshy snack when they have no choice. Though its primary food source is nutritional, it is difficult to maintain because of the ants' impressive security. B.kiplingi builds its nests at the ends of the tree's oldest leaves, where the ants scarcely patrol and generally avoids all confrontation with any ant sentries. If surrounded, it just needs to use its powerful jumps to escape.
Another issue that B.kiplingi tackles is that Beltian bodies are high in fiber, which spiders usually cannot handle. Spiders do not chew their foods and rely on venom and digestive juices to ingest their prey's liquified remains! Beltian bodies are anatomically much more challenging to digest, and yet, it is still not understood how this little guy does it! Scientists have even discovered that B.kiplingi's body tissue has been found to exhibit isotopic signatures, which are typically found in herbivorous animals. This implies that most of B.kiplingi's food comes from plants.
Their vegetarianism varies depending on their environment; for example, more than 50% of acacia trees in Mexico are inhabited by thousands of B.kiplingi living almost exclusively on plant matter. While in Costa Rica, less than 5% of acacia trees are occupied by the same spiders, and they live a more carnivorous lifestyle.
Overall, B.kiplingi is an incredibly hardy animal that deems these rewards worth the trouble, and by exploited this feast that was initially produced for others, B.kiplingi has become a successful vegetarian arachnid.
[Extra Fun Fact: Are the names 'Bagheera' and 'Kiplingi' sounding strangely familiar to you? That's because George and Elizabeth Peckham named the genus (Bagheera) after the black panther in the famous novel 'The Jungle Book' written by Rudyard Kipling, from whom this little spider is named after!]
Thank you for taking the time to read our blog! If you enjoyed the content or learnt something along the way, please consider leaving a '<3' below! We would appreciate it if you could leave a small tip to support us in our mission to provide free, weekly infotainment content for you to enjoy!
You're the reason we can continue doing what we love and making all of this possible. We are forever grateful for your support!