How Slavic Mythology Was Demonised, Repressed and Eventually - Almost Forgotten
And we have Christianity to largely thank for that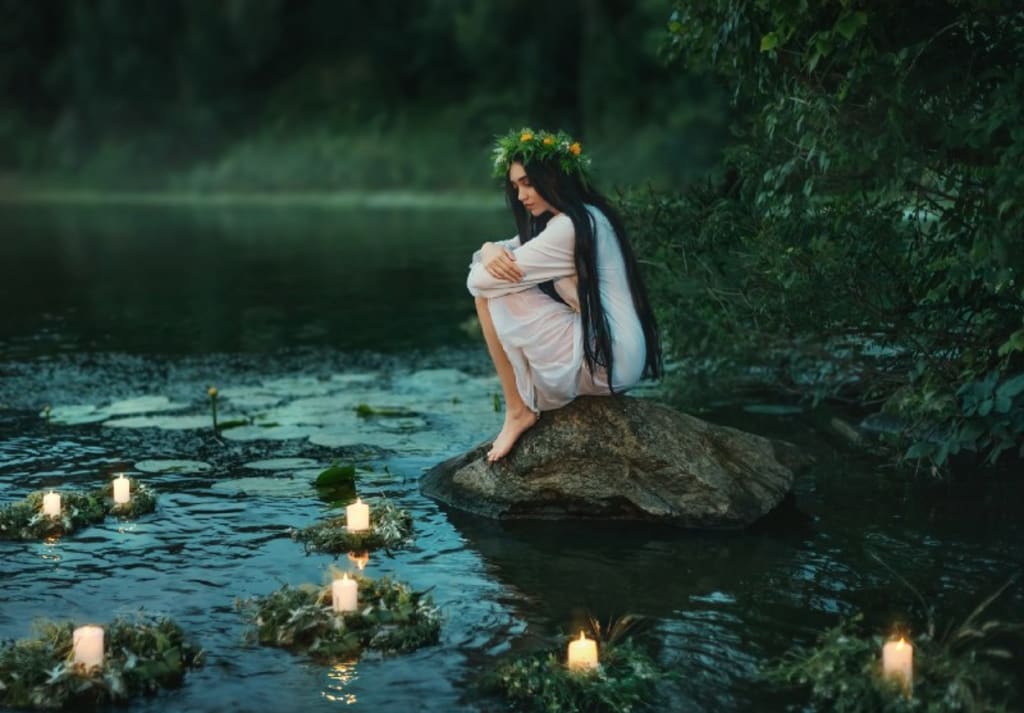 Photo by kharchenkoirina from AdobeStock
I used to jump over fire when I was younger.
During the early summer months, my family and I would have a bonfire in a forest or next to a river, eat roasted potatoes, and sing and dance around the fire, with some of us - mostly kids - even running or jumping over it.
I loved it.
And no, I never got my feet burned.
But until relatively recently, I didn't realise that this practice is rooted in centuries-old Slavic pagan beliefs. And actually, quite a few of our customs are.
Yet we were never taught about any of that in school. Nothing about early Slavic tribes. Nothing about ancient religious rituals and traditions. And nothing about Slavic mythology.
Yup, Slavic mythology.
You've probably heard of Greek, Roman, Norse or Anglo-Saxon mythologies, but chances are not Slavic.
What happened to it? And why even modern-day Slavs are still reluctant to acknowledge that it ever existed?
What happened to pagan Slavs?
I did ask my parents about Slavic paganism some time ago. And they replied, 'Oh, it's just these crazy beliefs our ancestors had before Christianity was introduced.'
Crazy beliefs, huh?
Well, at least they recognised that there was indeed something before Christianity. Because up until today, there still exists this misguided notion that Poland - where I'm from - and other Slavic countries were always Christian.
No, we weren't.
Historians believe that Slavic mythology can trace its roots as far back as the Neolithic era. And we remained pagan essentially until around the 10th century when Christianity started to be all the rage.
However, the Christianisation of the Slavs was a slow and - in many cases - superficial phenomenon at first. They were understandably reluctant to adopt a faith so far removed from their own. And so, even when their leaders and monarchs were baptised, most common people continued being pagan.
Throughout the 11th and 12th centuries, many rebellions and uprisings - often led by volkhvs, pagan priests or shamans - broke in opposition to Christianity. One of the most famous instances of popular resistance occurred in 1168 at Cape Arkona, which had been the last point of resistance of the Polabian Slavs. But in a brutal display of power, the Christian invaders led by Bishop Absalon managed to destroy their temples, all of the idols and other cult artefacts.
And not long after that, Christianity was violently imposed on other Slavic regions that remained pagan at that time - mainly West and Baltic Slavs - by popes and Western rulers through the Northern Crusades.
Armed invaders shattered most of our pagan statutes, idols, iconography and artefacts. Slavic temples were demolished, and Christian churches were built in their places. Christian festivals replaced all of the pagan ones.
Even though some Slavs continued to worship their deities and hold their rituals for centuries after Christianisation, they left almost no traces of their pagan religion. Today, we have no surviving testimonies of Slavic prayers or myths, little iconography and hardly any artefacts - and certainly no spectacular archaeological finds.
But no forgetting is ever perfect or complete.
And the remnants of the Slavic ways survived hidden in plain sight.
Slavic Mythology is not yet entirely forgotten
At the beginning of the 20th century, several historians - including Aleksander Gieysztor, one of the most accomplished scholars of Slavic religion - started gathering secondary data on Slavic mythology to reconstruct as many ancient Slavic ideas as possible.
And luckily, many traces of Slavic paganism were left in European toponymy, including the names of settlements, rivers, mountains, and villages. Many were hidden in the writings of medieval Christian chroniclers. Many could be found in the Slavic folk's tales, legends, and customs. And some could even be reconstructed by comparing Slavic data with data from other Indo-European cultural traditions.
As a result, today, we at last have a better understanding of what our Slavic ancestors believed in and whom did they worship.
While it's not certain if the Slavic religion had an organised pantheon of gods comparable to other Indo-European cultures, some Slavic gods and goddesses appear across various myths and folklore tales.
One of the best known is Perun, the god of lightning and sky. Veles or Volos - god of sea and chaos - is often called the second most important. There is also Triglav, the three-headed god of vigilance; Svetovid, also called Svantovit or Sventovit, multi-headed god of sun, light and good harvest; Marzanna or Morana, goddess of wintertime and death; Mokosh, goddess of fertility, and many, many more.
But as opposed to sensual, badass Greek and Roman gods or powerful Hindu gods, Slavic gods don't exactly seem god-like. They are friends of animals and nature. Their bodies are made of clay or stone, and their hair is made of grain and branches. They wear clothing made from grass and flowers.
They are like the hippy version of all the other ancient deities.
Apart from the major gods, the Slavs perceived the world as enlivened by a variety of spirits, including those of waters (mavka and rusalka), forests (lisovyk), fields (polyovyk), households (domovoy), illnesses, luck and human ancestors.
And they also had a whole array of demons.
If you've watched Netflix's The Witcher - based on a series of fantasy books written by Polish author Andrzej Sapkowski - you should already be familiar with some of the most prominent creatures of ancient Slavic demonology, like kikimoras and strigas.
In addition to worshipping gods, goddesses and spirits, pagan Slavs also had a lot of rituals and ceremonies linked to annual holidays and focused on joyfulness and beauty. Many were performed in the open air, around natural venues, like holy trees groves, river sources, hills, and stones. Many included paying tribute to the gods through tournaments, song, dance and food offerings.
And some of them involved dancing or jumping over a bonfire - just like I did when I was a kid.
The dangers of religious superiority
Now that I know more about Slavic pagan beliefs, I disagree with my parents' view on them.
I don't think they are crazy at all.
If anything, they make more sense to me than the Catholic faith that was shoved down my throat since I was a little kid. All that talk about the importance of pain and suffering, Satan, and constantly being afraid of burning in hell for all eternity traumatised the living shit out of me. And many other people who grew up Christian.
And honestly? If I had a choice as a child, I have no doubt I would've chosen the pagan worship of animal-loving gods and spirits over one man in the sky who demands to be praised and worshipped at all times.
Maybe that's some people's cup of tea, but it's not mine.
What's saddening, though, is that not only I was never given any choice, but I was never taught a thing about Slavic mythology. And up until today, most of what I've written here is not really part of common knowledge in any Slavic country.
It's like we don't even want to acknowledge that part of our history and tradition. Why?
Well, ever since Christianity made its way to Central and Eastern Europe, all Slavic pagan beliefs were quite literally demonised. Christians identified the pantheon of Slavic gods and goddesses with devils. They even claimed pagan Slavs were blood-thirsty barbarians. And Christianity became compulsory.
You had to attend Sunday mass. And fast when it was required. And receive the sacraments. And give money to the Church. Of course. If you didn't - you were immediately classified as a devil-worshipping pagan. And people who were caught practising pagan faith risked being beaten, tortured and had their teeth knocked out.
That's a very Christian way of going about this whole Christianisation process. I know.
And although today you won't be tortured or harassed for taking an interest in Slavic mythology, there's still a significant stigma around paganism, witchcraft and other non-Christian religious and spiritual practices. When I was doing research for this piece, I came across several articles written in my native language that 'warned' about 'dark and sinful' Slavic pagan faith and how even looking for information about it could lead you to Satan himself.
Right.
But this is precisely what happens when you claim that one system of beliefs is superior to all the rest. That it's 'the only true religion.' That you're right, and everyone else is wrong.
This kind of fanatic thinking is both extraordinarily arrogant and dangerous.
Throughout centuries - and even today - Christian missionaries often employed demonisation tactics and harassed people when trying to convert them to their faith because of this messed up religiocentrism.
And it's not only Slavic paganism that has been the target of demonisation and harassment from Christians. It's also the Native American religion, traditional African religions, Hinduism, and even other Abrahamic faiths - Judaism and Islam.
Even though Slavic faith have virtually ceased to exist for several centuries - and we have Christianity to largely thank for that - the good news is that it's finally having a revival. Thousands of people are now flocking back to the traditions of their ancestors.
And personally, I think that's a great thing.
Because that also means that there will be a renewed interest in reconstructing our ancient languages, rites, traditions and beliefs.
All of the things we thought we'd lost forever might not be lost just yet.
This story was originally published on Medium.
About the Creator
Sometimes serious, sometimes funny, always stirring the pot. Social sciences nerd based in London. Check out my other social media: www.linktr.ee/katiejgln
Reader insights
Be the first to share your insights about this piece.
Add your insights