Five-week months wreak havoc on the finances
If you notice that sometimes no matter how you budget you end up with more month than money there is a logical reason why.
My grandma often spoke about months that had five weeks in them and how this could cause financial issues. While I was working a job where I got paid every Friday the extra week was a blessing. Four times a year I received an additional paycheck and looked forward to it. Once I began receiving retirement I recalled what my grandma said and realized that for me along with many others her words ring true.
Depending on the date you get paid and when the month begins and ends there are times when months with 31 days can cause you financial lack. If you budgeted on a day by day basis this would not be an issue because all months have 30 or 31 days except February which can have 28 or 29. Most people plan weekly even those who only receive money once a month and the weekend is the guideline. This can bring about stress and lack for those who do not have a backup plan and are stretching their finances to make it through each 30 or 31-day cycle.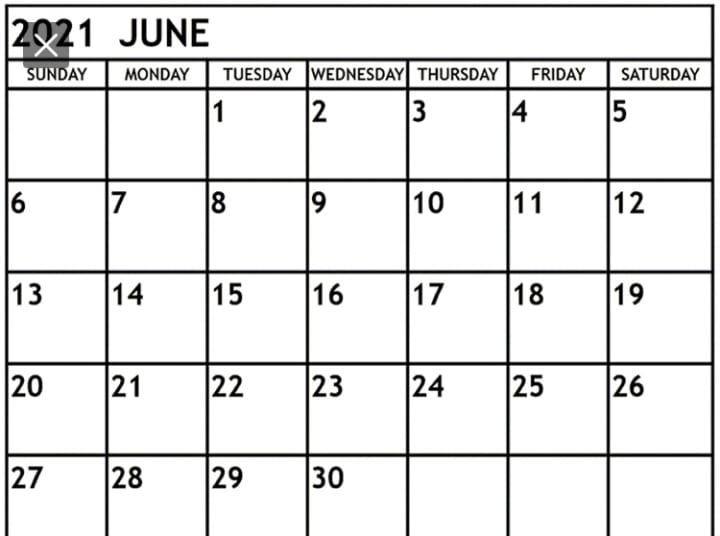 If you receive a monthly salary, disability, or Social Security check you might have noticed that some months it seems as if you are running out of money and cannot determine why. This happens because for 8 months of each year you are dealing with a 4 week system but 4 times every year there are months that have five weeks. This varies from person to person depending on when they get their income and it changes from year to year. As I am writing this article it is July 2021 so I will use this as a reference.
Please consider that on the above calendar there are five Mondays and Tuesdays in June. Anyone who gets their pay date on a Monday or Tuesday every week or even every other week would have had one additional week of income in June. Those who get their money on the 15th or 16th and again on the last day of the month or the 1st might also have extra if the additional week is incorporated into their check or direct deposit. Those who get a standard salary or a monthly government check receive the same amount of money each month no matter what and this is where the problem comes in.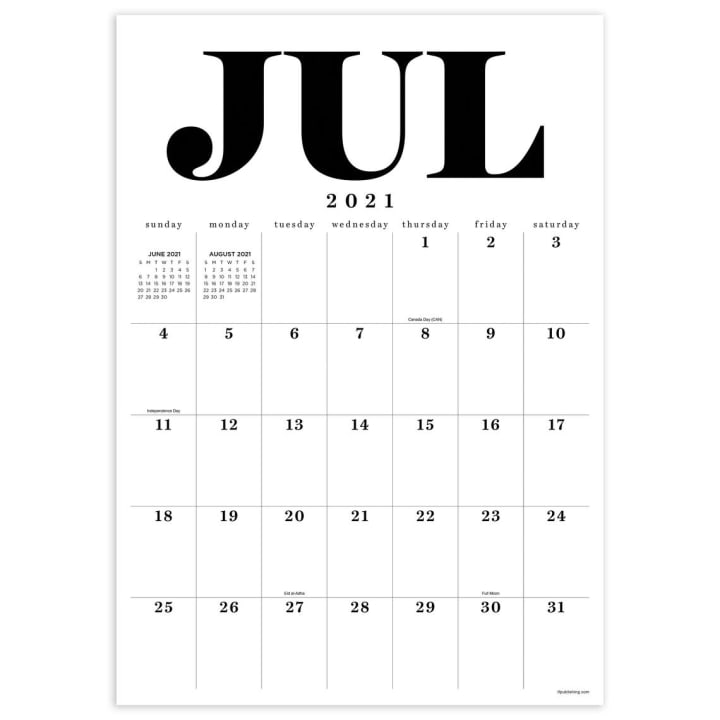 On the July calendar please note that the third of the month was on Saturday so people who get their income on that day would have received it on Friday, July 2. The third of August does not come four weeks later but goes over into another week on Tuesday. People who budget based on Friday ending the week and who get their money on the first or the third will essentially have an additional week in the month but no extra money like those who get paid every week. From July 2 until the 30th equals 4 7 day periods.
Although it actually is only 4 additional days it is the fact that it goes over the weekend into another week that hurts a lot of wallets and pocketbooks. Those who shop on Friday or Saturday probably are broke and do not have the money to make it. Not everyone can save extra money to prevent this situation from happening. I have been on the receiving end of benefitting from the extra pay day four times a year and also dealt with running short at the end of the month and the latter sucks.
If all of this has confused you let me put it another way. If you are retired and get $1200 monthly you probably unwittingly budget based on 4 weeks which would allow you $300 a week. When that extra week comes in you still need to buy groceries and put gas in your vehicle but did not budget for a 5th week. Those who are living paycheck to paycheck struggle and perhaps did not realize this may be a reason why.
When my oldest son was living at home he received his direct deposit every other Monday. He was giving me $100.00 each pay period and four times each year I could count on an extra $100.00 each of those months. If you find that these cycles cause you to have more month than money there are things you can do so that it will not affect you as badly as it could. In 2021 in a post COVID society, telling anyone to simply save extra and cut back does not work so I offer other solutions.
You might want to check online, or with churches, and social service agencies to find out about food and clothing pantries. Dialing 211 might also give you additional assistance. There may also be organizations that will assist you with delinquent bills, deposits or even fill up your tank with gas. If you are not able to take on a second job you might consider donating blood plasma, selling books to a bookstore, or taking items to a local Pawn Shop. No one wants to have to do these things but they have been a blessing for many who had no other choice.
Watch the calendar to find out in advance when one of those long months will affect you. Prior planning might help you more than you realize. Take advantage of buy one get one free items at the grocery store and use coupons when possible. You might also plan to pack lunch or brew your own coffee to save, Be creative and find your own methods to prepare in advance so you will not have more month than money.
Pop Culture
Cheryl is a poet, freelance writer, published author and former Newspaper columnist. She has degrees in Psycology and Biblical studies. She enjoys sharing natural cures, and Nostalgia related info. Tips are greatly appreciated.
Receive stories by Cheryl E Preston in

your feed