Author Profile: Alexandre Dumas, Legendary Author of Swashbuckling French Literature
The author of The Three Musketeers shaped both literature and history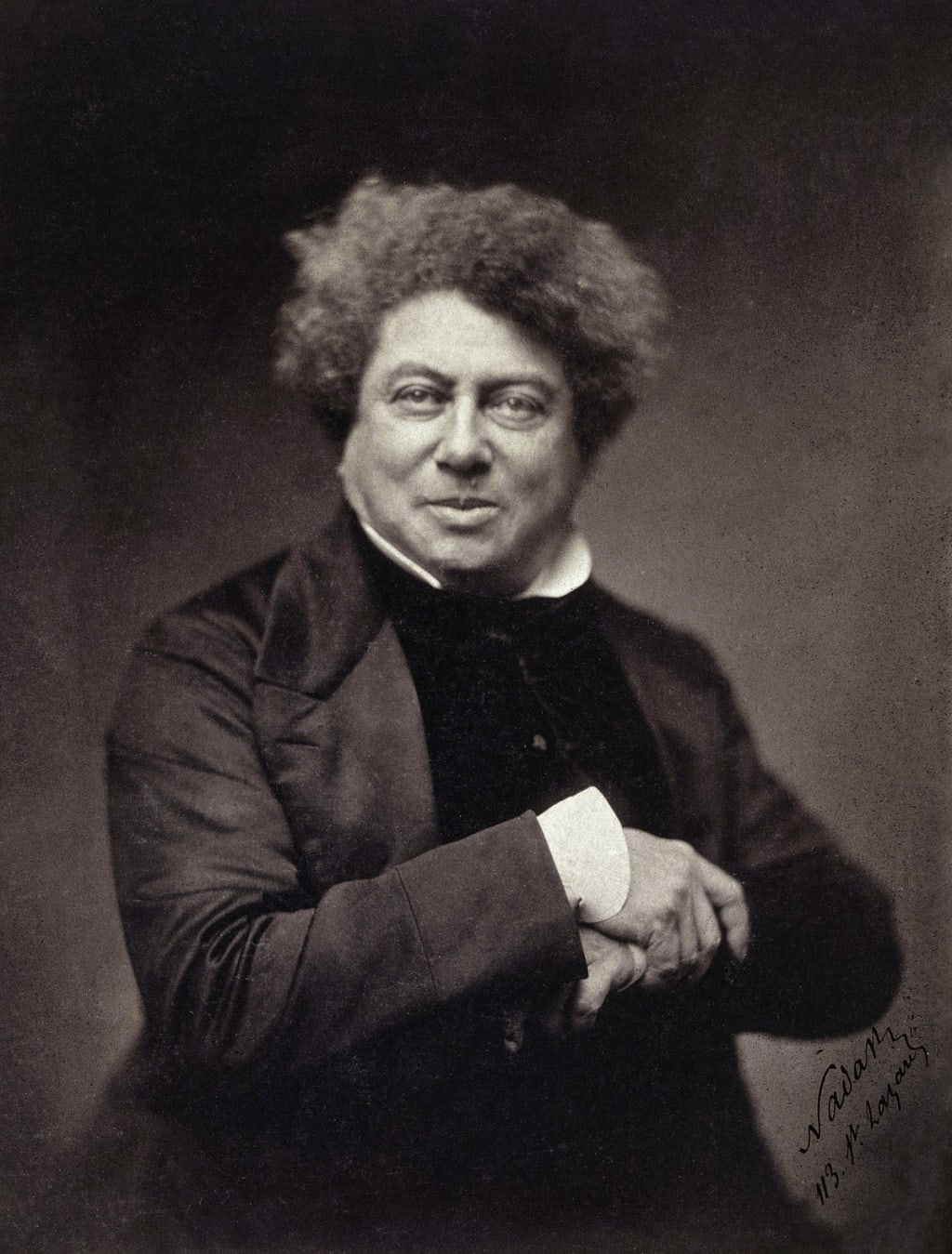 Image: Wikimedia Commons
If you're a fan of classic literature, you likely already know the name Alexandre Dumas. If you're a movie fan, you may not know his name, but you certainly know the many film adaptations of his most famous novels: The Three Musketeers, The Count of Monte Cristo, and The Man in the Iron Mask. Our view of large swathes of French history have been shaped (sometimes erroneously) by his novels, and history aside they are some of the greatest adventure tales ever written. Today, let's meet the man behind the stories.
Alexandre Dumas was born on July 24, 1802. His father, Thomas-Alexandre Dumas, was a general in Napoleon's army; his grandparents were a French nobleman stationed in Haiti and a female slave of Afro-Caribbean ancestry. While his mixed-race heritage would have certainly prevented Alexandre from achieving literary fame in 1800s America, in the French Republic it proved no such obstacle.
His first play was produced in 1829, when Dumas was 27 years old; a second the following year was successful enough to allow him to write full time. Following several more successful plays, Dumas turned his energy to writing novels, the art form for which he would become legendary. At the time, newspapers were publishing serialized novels, which were released in installments and then later bound into books.
Like Charles Dickens in England during the same period, he made a lucrative income from these serialized novels. In 1838, he serialized Le Capitaine Paul, a rewrite of an earlier play, proving that getting paid for the same work twice started long before bands started releasing greatest hits albums in the 1960s.
He was a prolific writer, publishing more than 100,000 pages in his lifetime across a wide variety of subjects and genres. He is best known for his adventure novels, which used a heavily fictionalized version of French history as the basis for their plots. Among the best known are The Three Musketeers (1844), The Count of Monte Cristo (1844), Twenty Years After (1845), Queen Margot (1845), and The Man in the Iron Mask (1847). All have been made into successful films (some multiple times) and have been a part of popular culture for over 150 years.
Though he was a prolific writer who earned a huge amount of money, Dumas was often on the verge of bankruptcy, at least in part because of his free spending on his many mistresses; some scholars estimate that he had as many as forty during his lifetime. In this he was again like Dickens, who wrote feverishly in order to support two separate families, with his wife in one house and his mistress in another.
In 1851, both to escape his creditors and a disapproving new French regime, Dumas moved to Belgium. In 1859 he moved again, this time to Russia, where his novels were hugely popular. From 1861 to 1864 he joined the Italian patriot Giuseppe Garibaldi in the movement for Italian unification, founding a newspaper while in Italy. Upon his return to Paris, he wrote several well-received travel books about Italy (yet another thing he had in common with Dickens, who wrote the travelogue Pictures from Italy in 1846).
Dumas died on December 5, 1870, the same year as Dickens. Like Dickens, he left a literary legacy rarely equaled. Also like Dickens, he is not read as widely today as he should be. The language of his novels is a bit flowery at times, something common in all novels of the time that only ended with Hemingway and the Modernist movement in the 1920s. You should still read them, as they are swashbuckling page-turners with just the right amount of romance.
I want to close with a quote that I think sums up Dumas' writing and legacy better than any other. In 2002, on the 200th anniversary of his birth, his ashes were reinterred at the famous mausoleum of the Pantheon in Paris. At that ceremony, French President Jacques Chirac said:
"With you, we were D'Artagnan, Monte Cristo, or Balsamo, riding along the roads of France, touring battlefields, visiting palaces and castles. With you we dreamed. With you, we still dream."
First published on Medium.com.
Historical
About the author
I'm a writer, podcaster, and bookseller whose ultimate goal (besides being a roadie for the E Street Band) is to make reading, writing, and books in general as popular in Texas as high school football. It may take a while.
Reader insights
Be the first to share your insights about this piece.
Add your insights