Application and Uses of Stainless Steel Pipe Fittings
SS 304 Pipe Fittings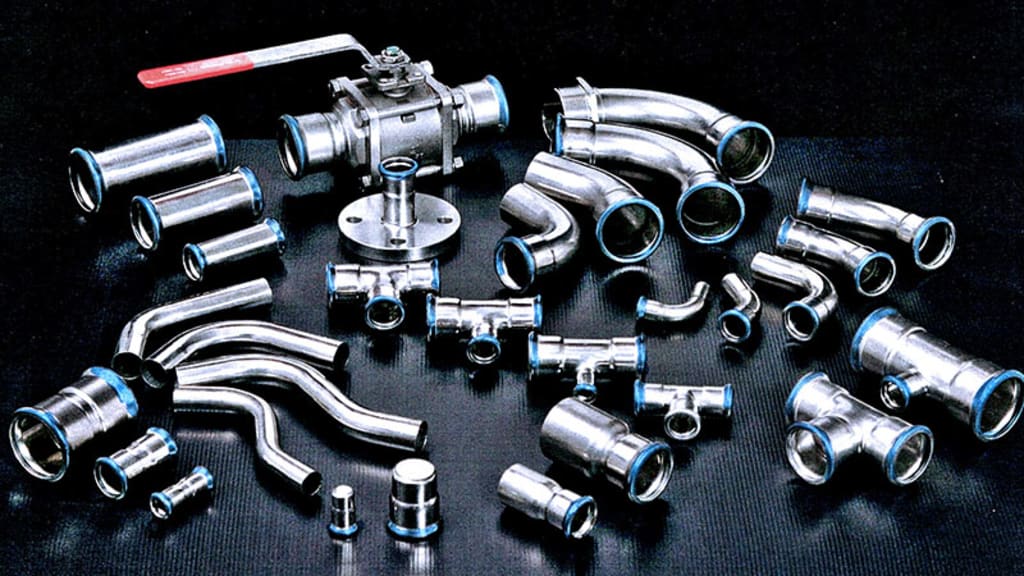 SS Pipe Fittings
What is Stainless Steel?
Stainless Steel is a type of metal that has been invented by mixing some metals altogether. Stainless Steel is a strong alloy that gets combined with many metals. Metals like Chromium, Nickel, Molybdenum, Silicon, Aluminium, and carbon are the components of this alloy.

Stainless Steel is strong and effective all because of all the metals, chromium has 10-11% part in SS that gives a gleaming property to the alloy, carbon has 0.03-1.00% part and it provides strength to the steel. Molybdenum and Nickel together make the SS resistant to corrosion and rust. Stainless Steel has distinct features that make it easy to identify the metal. SS is a very shining alloy which is due to Chromium at a certain ratio. Stainless Steel is generally stored in the form of pipes, tubes, sheets, plates, bars, rods, etc.

All the other metals present in SS make it suitable for the application as it is a durable metal and has accurate dimensions which means that it fits perfectly on the pipes and works just fine. It do not require regular maintenance. They are relatively lightweight which makes them optimum to be used in Industries and Factories.

Stainless Steel Pipe Fittings

Pipe fittings are made of stainless steel and are utilized in the pipe system. Pipe fittings are little gadgets that attach to pipes to guarantee that the product flows continuously. Pipe fittings are not especially tiny, and they come in a variety of shapes and sizes depending on the business.
Pipe fittings come in a variety of forms, sizes, materials, and classifications. Sizes range from 50mm to 500mm. Pipe fittings are available in a variety of forms and kinds, including

Tee
Cross Elbow
90° Elbow
45° Elbow
Union, Reducer
Forged Fittings
Threaded Fittings
Socket-Weld Fittings
Flanges
Stainless Steel
Carbon Steel
Alloy Steel Hastelloy
Inconel
Monel
Nickel
and other materials that are extensively used for pipe fittings.

There are many advantages of stainless steel pipe fittings, including the fact that they are widely available around the globe. Because of their corrosion and rust resistance, stainless steel fittings have proven to be very effective and beneficial to the industry. The next best thing is that it comes in every shape and size imaginable, and if you don't see it in your preferred size, you can have it custom-made. Customization of fittings and other required products is now available from industries and factories.

Applications of Stainless Steel Pipe Fittings

Stainless steel pipe fittings are used in a wide range of applications. On a large scale, the alloy has already been used. Stainless steel is used in every industry. Stainless Steel pipes and pipe fittings are used in the food and beverage industry because they prevent chemical reactions or chemical mixing between the alloy and the substance.

Stainless Steel pipes and pipe fittings are also used in the petrochemical, oil, and gas industries. Because it is an excellent material that prevents fluid leakage, SS pipe fittings are also used in offshore and onshore drilling.

Stainless steel is used in a variety of industries and monuments; for example, the top of the Chrysler Building in New York is entirely made of stainless steel, and the Gateway Arch is a 630-foot stainless steel arch; and in Dublin, Ireland, there is a monument called Spire, which is a 130-meter-high pin-like tower.

Uses of Stainless Steel Pipe Fittings

Due to its excellent properties, stainless steel pipe fittings are used all over the world. Typically used in the construction of any building or house in the piping system to prevent water leakage and corrosion. Scaffoldings are also made of SS pipe fittings, which are stronger and can withstand a lot of pressure. In various industries, for moving materials such as hot water, chemicals, oil, gas, and sulphur.

Stainless steel pipe fittings are used in the automotive industry to carry air and water flow systems, piping systems, sewerage systems, industrial water lines and water mains, offshore and onshore drills, and so on. Stainless steel products are used all over the world on a large scale.