Your Soon-To-Be Favorite 'Rogue One' Character Gets a Massive Action Figure, Because of Course He Does
K-2SO, the Imperial-turned-Rebel droid from 'Rogue One', is set to become a fan-favorite character and an action figure.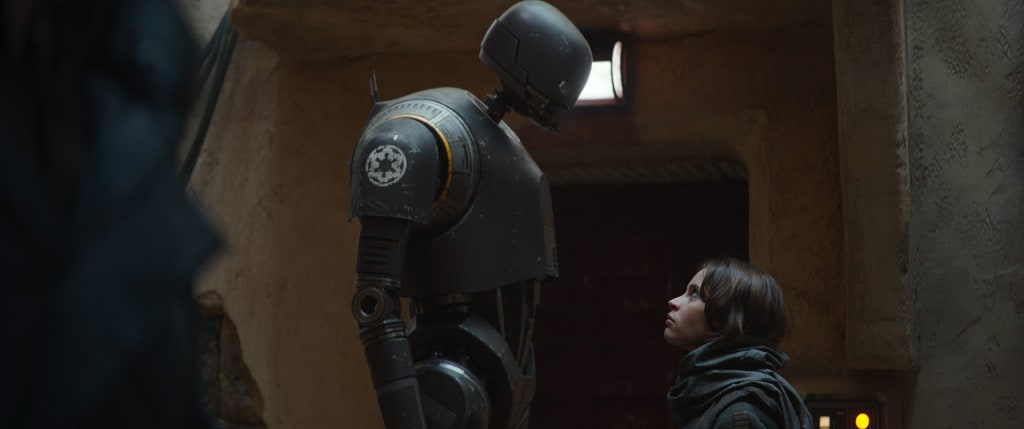 Rogue One: A Star Wars Story is still a month and a half away, but it's the perfect filler to wedge between two bombastic episodic installments. The smaller scale story is the best way to let audiences recover from space lasers and magic knights, and nothing says smaller-scale like a plot driven by its characters. Speaking of characters, #RogueOne looks to have some of the most interesting humans, aliens, and of course, droids in the #StarWars universe.
K-2SO, the Imperial-turned-Rebel droid you've seen all over the film's marketing, is set to become a fan-favorite character. This can be chalked up to numerous reasons, but putting Alan Tudyk in the motion capture suit is probably the largest. Paired with a snarky attitude and wholly unique design, it's not surprising that audiences anticipate K-2SO just as much as they do the movie. And that's probably why Jakks Pacific made a 20-inch action figure for him: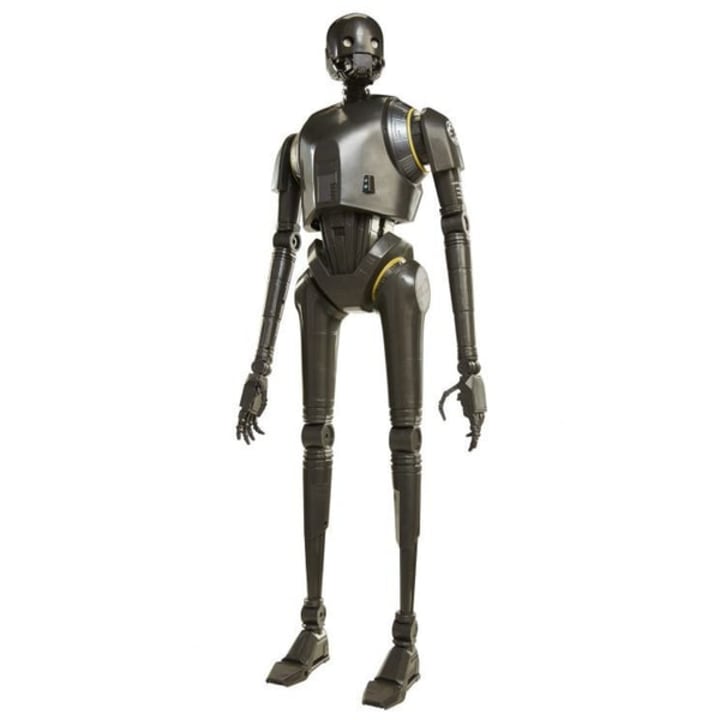 From Entertainment Earth:
Bring your favorite Star Wars droid to life with the Star Wars: Rogue One K-2SO 20-Inch Action Figure! Each detailed action figure brings movie authenticity to your toy box in a big way, giving you your favorite droid from the film Rogue One: A Star Wars Story! Immerse yourself in the galaxy far, far away with the Star Wars Rogue One K-2SO 20-Inch Action Figure! Figure stands about 20-inches tall, features seven points of articulation and comes packaged in a display tray.
If you're not sold on Kaytoo just yet, keep reading!
The Packaging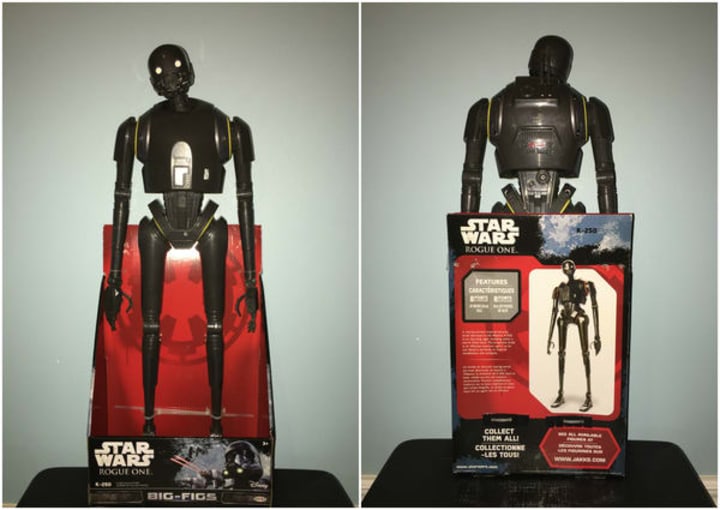 The figure comes in a half-display box, probably because 20 inches is a lot to keep in a box. The red background behind K-2SO shows a graffitied Imperial logo, and the small space in front shows the standard Rogue One toy banner. The back is a little more interesting, and has a lot of space to fill. This includes a photo of the droid next to a little character biography:
A reprogrammed Imperial security droid now loyal to the Alliance, K-2SO is an alarming sight standing within a secret Rebel base. The pragmatic droid is an effective insertion agent, as he can blend in perfectly at Imperial installations and outposts.
Sounds like Kaytoo plays a pretty big role in the plot! Let's just hope he doesn't get banged up in the process of defeating the Empire. Speaking of getting banged up, the figure is fastened to the box with rubber bands at the arms and plastic ties at the legs, so it's nearly impossible for it to fall out of the box: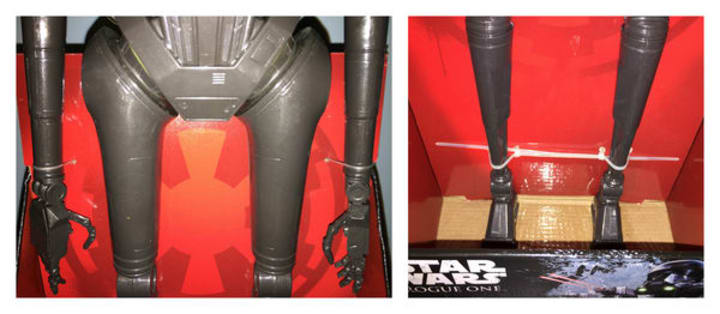 Design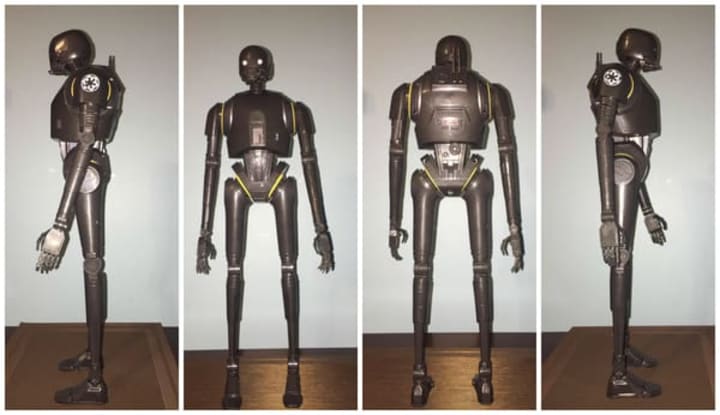 K-2SO is a weird looking character, and it's not surprising that his action figure follows the same path. Standing at a massive 20 inches, the droid is just as lanky and disproportionate as you would expect. The entire thing is a dark grey, with yellow lining at the arm and leg sockets. The waist area is especially slim, taking an odd shape and showcasing the "machinery" inside Kaytoo. Both arms have a fading Imperial logo, as if to show the droid's former allegiance. The figure is top-heavy, but making it stand isn't too much of an issue.

For a toy that looks stiffer than a tree, you can change it up quite a bit! Both legs can be rotated 360 degrees (at a slight diagonal angle), and the arms can do the same. The hands can be turned around as well, but the semi-curled fingers are immovable. No need to worry though, because the fingers are made of a softer plastic than the rest of the figure and can be bent. The best feature, however, would be the head. It also rotates 360 degrees, and the angle it looks down at makes any situation look funny.
As for how the figure stacks up against the movie K-2, take a look below: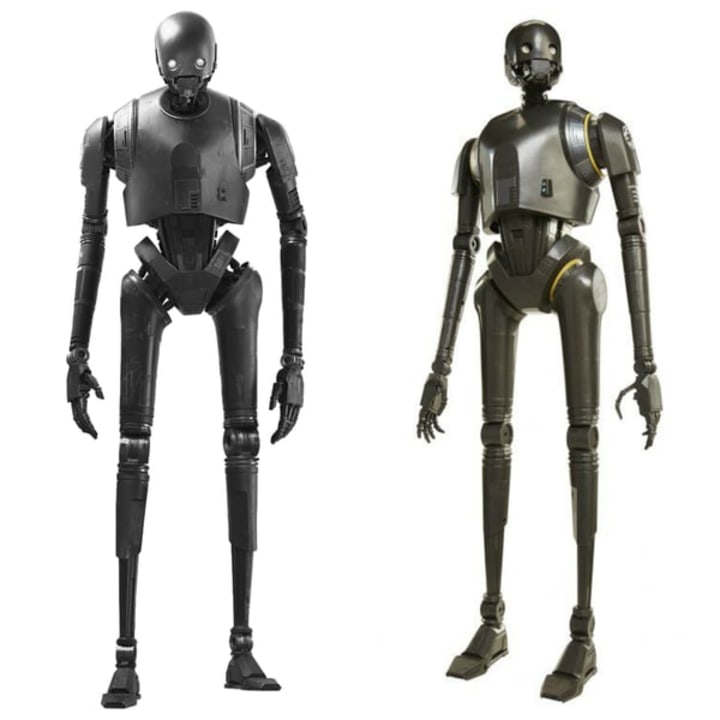 Aside from a slight sheen and color difference, the two are practically identical. Take that for movie accuracy.
The Real Reason to Buy It
Okay, so you haven't really seen anything mind-blowing from this action figure yet. Sure, it's a weirdly tall, slightly creepy robot toy. But this tall, creepy robot toy looks hilarious in whatever situation you put him in. Don't believe me? Check it out yourself:
K-2SO, meet Darth Vader.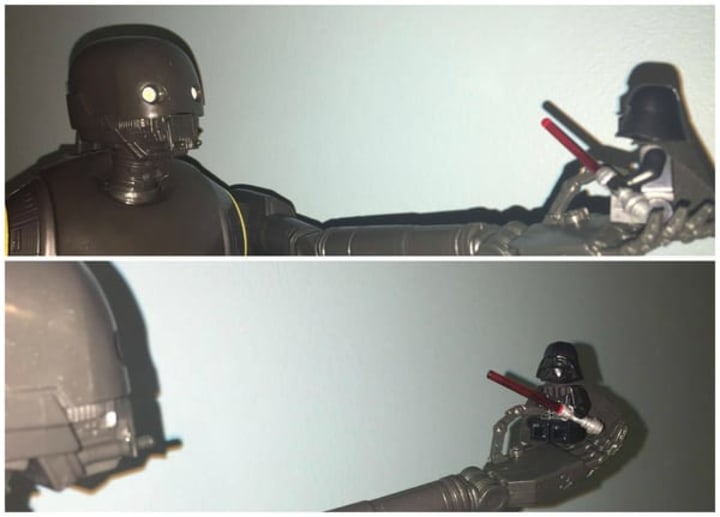 "You are the strongest Sith in the galaxy?"
"Yes."
"You are sitting in my palm."
K-2SO, meet the Millennium Falcon.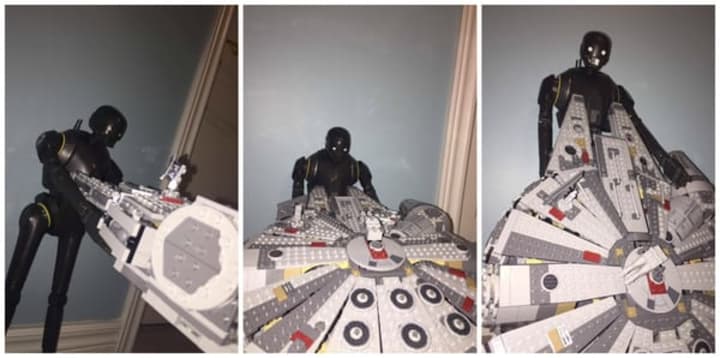 "What is this? Oh! It's a ship. Wait, was this supposed to stop me?"
K-2SO, meet The Hulkbuster.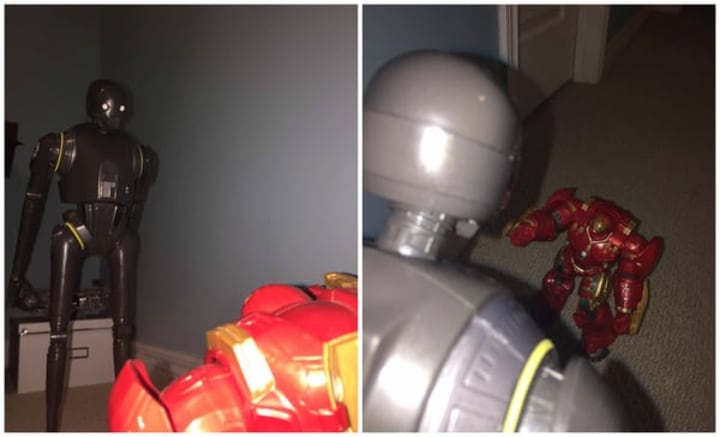 Or more accurately: Hulkbuster, meet your maker.
Go Home K-2, you're drunk.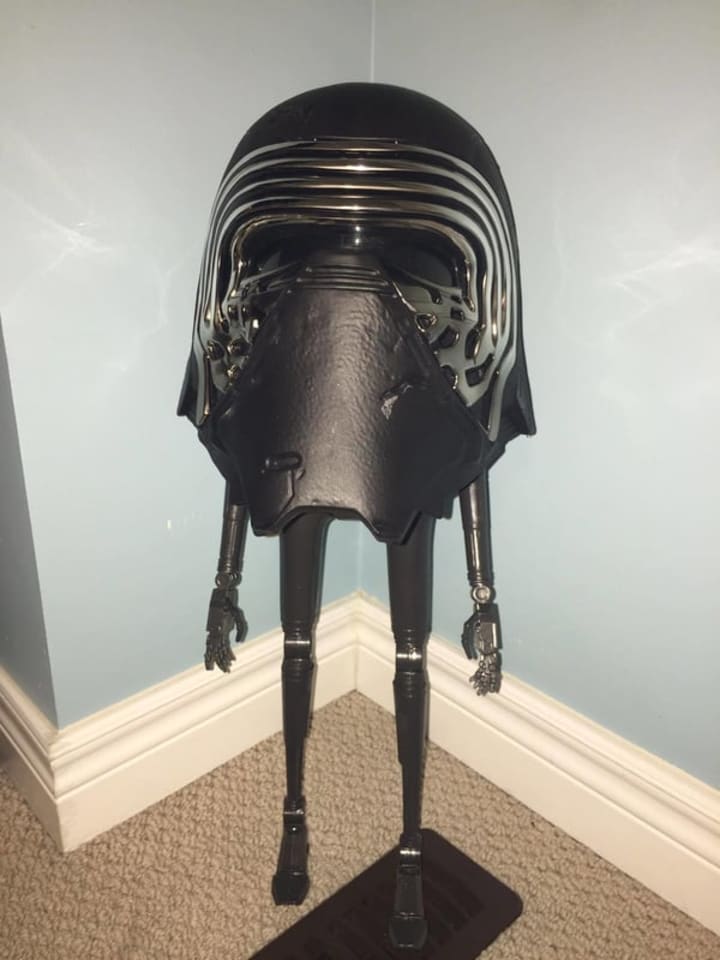 Kylo-2SO?
Come December, I'm sure I'll be using Kaytoo as a Star Wars-themed Elf on the Shelf. Wouldn't that be something?
So how much money are we talking here?
Considering the action figure is ultimately a pretty simple toy, the price tag sits at a comfortably low $24.99! On the outside, it's a seven-joint plastic robot. On the inside, it's a creepy-but-charming Elf on the Shelf-type toy. But if 20 inches doesn't meet your unnecessarily high standards, Jakks and Entertainment Earth still have you covered — with a 31-inch version. It's only a matter of time until we get our hands on a life-size one, but this'll do for now!
Rogue One: A Star Wars Story comes out December 16, 2016!
Reader insights
Be the first to share your insights about this piece.
Add your insights