The "Green" Articles: An Archive
Old, Previously Unreleased Articles for Your Reading Pleasure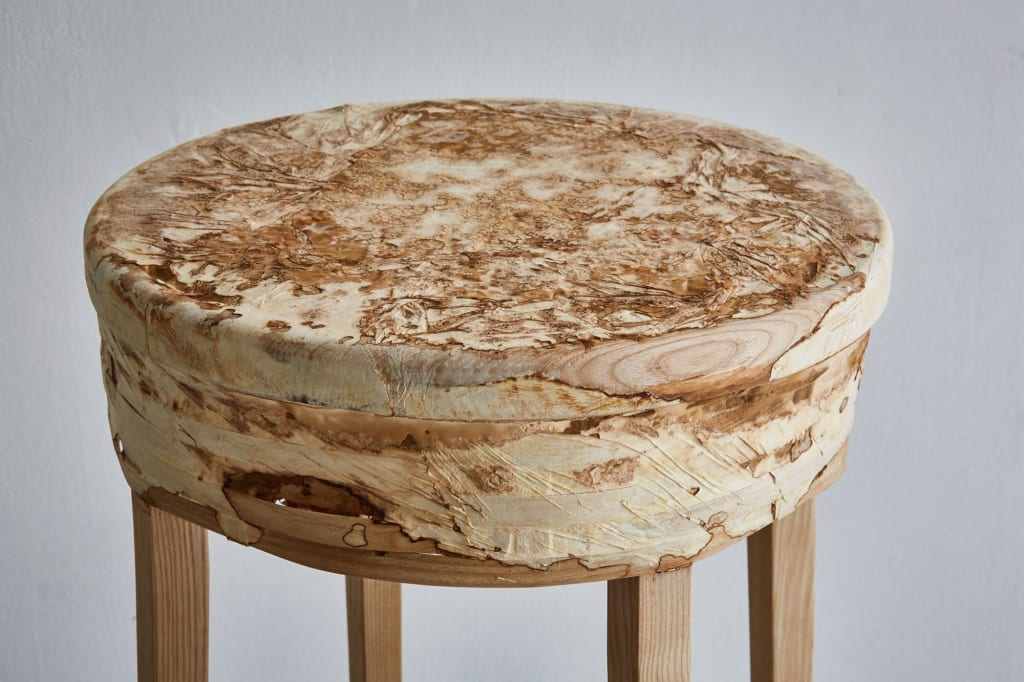 Image via Pinterest
Home Improvement: The Green Edition
For some, furniture shopping is like exploring a museum with artifacts so dazzling that admirers could only dream of owning it all. For others, it's like being trapped in a bank vault with hoards of other people only to see who can grab the most assets first. Though most people can probably agree that picking out furniture can be quite the hassle, whether they dread the heavy lifting they'll likely have to do while constantly rearranging pieces at home, or fear for the well being of their ever-shrinking wallets.
With the growing interest in sustaining the environment, however, there may be a way to alleviate the latter issue. The furniture industry has slowly begun taking a greener approach to production by using non-toxic, sustainable forest-based resources, and locally manufactured products that are sturdy, easily repairable, and, as might be expected, recyclable. Although environmental design tends to be costly, there are worthwhile alternatives available for buyers that, while the furniture itself may not always be aesthetically unique, are still practical, and, above all, wallet-saviours.
One of the most common materials used to build furniture is, of course, wood. Canada is known for being a leading exporter of wood, although we're also the biggest contributor to global deforestation, surpassing even Brazil. With that being said, Canada is nevertheless a chief participant in sustainable forest management, and it isn't difficult to find furniture made from sustainable wood here. This wood comes from harvested forests and tree farms.
To find out what qualifies as sustainable wood, you can check for certifications provided by the Canadian Standards Association, and the Forestry Stewardship Council. Certifiers like these set the standards for what constitutes legal forest management practices. Reusing wood, buying secondhand furniture, and/or opting for furniture made from stripped wood are also excellent options that assure maximized sustainability, and minimized contributions to landfills.
Other commonly used resources are plastic and metal. It is best to look for furniture made from recycled or recyclable materials. These pieces are usually durable, and can be easily dismantled and fixed. Many of these types of furniture are designed to be smaller, lighter, and flexible, lending themselves to easy storage. Sites such as Cradle-to-Cradle provide viable information about which products are certified.
Furnishings tend to off-gas toxins such as volatile organic compounds, which, when exposed, are said to be cancerous and linked to birth deformities among other disorders. For health protection, keep indoor air as clean as possible by selecting untreated furniture, furniture treated with natural substances (naturally tanned leather), or furniture made with organic cotton.
Furniture shopping doesn't just stop at ensuring a healthy household. Making local purchases benefit the district economy, smaller companies and craftspeople, and reduces the [environmental] cost of shipping overseas. Although it seems like it's just home decorating on the surface, it can potentially have a positive environmental impact not only in the household, but also on the planet in the long run.
Story credits: Tree Hugger, Green Living Online, NRCAN
"Don't forget to take out the trash!"
In a society with a dominant culture such as Ontario, anyone spotted collecting garbage would be quickly dismissed as either homeless or just plain weird. Ironically enough, many of these "dumpster divers" are actually relatively wealthy people, and they make up a good chunk of the province.
The dumpster diving subculture is becoming increasingly apparent as a result of how wasteful industrious nations like Canada and the US are. Before, garbage picking was seen as a last resort for underprivileged citizens; now, many of us are paying little mind to normative values, and are instead finding value in things that probably shouldn't be thrown away in the first place.
So what exactly do dumpster divers scavenge for? For starters, most of them can be found sifting through commercial trash bins where grocery stores and other food establishments are located. More often than not, they discover "expired" foods that are still safe and edible. Granted, food donations are common, but because of health regulations, companies are usually required to discard foods in order to make way for fresher stocks. This practice mostly has to do with their reluctance to keep the foods at reduced prices for fear of customers purchasing those instead of the newer ones at higher prices.
Putting that into perspective, the wasted food would be enough to feed many developing countries that rarely throw food away due to scarcity. Charities around the world bring it upon themselves to take extra stocks from food establishments, and make distributions to impoverished communities.
Beyond that, there are divers earning an income by redeeming recyclable materials for their deposit value, sorting and/or engaging in trash exchanges (depending on where they live). These people strive to reduce their ecological footprint by living solely off dumpster supplies.
Besides food, there are many items such as tech devices that are regularly being disposed of while still being functional, or at the very least repairable. Manufacturers will even purposefully destroy their items because discardure is cheaper than actually repairing or upgrading electronics.
As well, it's hard for them to find schools and not-for-profit organizations that can or want to accept these items, and they definitely don't want dumpster divers fixing and profiting from them. Regardless, even if these items aren't readily profitable, they are still feasible for personal use, and people will naturally find benefit in the form of free merchandise.
To name a few examples, engineering students might uncover high tech tools and materials for industrial projects, and artists are known to create eco-art out of trashed goods.
Dumpster diving has even proven to be useful in scholarly, institutional, and government research. Academics who study the sociology and archeology of garbage (and what it says about the throwers) will dive for "artifacts," as a major part of their fieldwork, while private and government agencies will obtain information that they could use for their inquiries.
The act of dumpster diving, of course, isn't without its fair share of controversy. Health and safety issues are constantly called into question, and it is illegal to dive into trash bins located on private property. However, acts that ban trespassing have also been challenged.
Recently, there was a Canadian case that involved a potential violation of the Trespass to Property Act, where a police officer retrieved a disposed weapon to present as evidence in a court case. While their action was ruled legal, they didn't have a warrant to raid garbage on any premise, which led to arguments that any citizen, by that logic, should be allowed to dig through disposals regardless of location.
While it is important to be wary of ethics and legal issues, there is something to be said about the impact dumpster diving has on improving sustainability. It shows that reusing items, or offering them to entities that can make use of those items, can help eco-friendly communities (and those that want to be eco-friendly) realize their environmental goals. It should also make regular throwers think carefully about what they're creating landfills with.
Story credits:lectures provided by Prof. Anita Lam of York University and wikipedia.org
The Beauty of Taxidermy
Taxidermy is an art form that has long been the subject of controversy when it comes to the ethical treatment of animals. Many argue that it involves hunting down and killing wildlife to make them into game trophies. What they don't realize is that taxidermists aren't the ones actively pursuing the animals; they are solely responsible for preparing and mounting skins of already-dead fauna and nothing else.
As well, the practice isn't only limited to commemorating successful hunts. Museums and exhibitions across the globe display mounts for educational purposes, and they are also very useful for scientific studies in fields such as taxonomy and species identification.
Harvested animal hides are even donated to raise funds for organizations that aid injured or abused, sick, and abandoned animals like shelters and wildlife rehabilitation centres. And of course, there are pet owners who want to preserve their beloved companions after they've passed on.
For those not comfortable with using real skin mounts for all their projects, should they decide to practice, and get a license in, taxidermy, casting molds from skin mounts to create replicas is the best option. Replicas last forever, while actual skin deteriorates over time, and replicas can also be displayed outside or hung over fireplaces.
Ontario has strict laws regarding the trafficking and shipping of animal parts, though selling reproductions is not a problem. What's also remarkable is that the same mold from any particular skin can be used over and over again. That way, many animals are spared despite the few sacrifices that are made.
The thought of resurrecting some of the world's fascinating creatures is beautiful and exciting to me, because it gives people a chance to see a safe and up-close (semi) accurate portrayal of animals that they have probably never encountered in their natural state.
I also think that taxidermy is an effective and symbolic way of raising awareness about endangered species. The displays serve as a constant reminder that we must be wary of how we impact the environments that they live in, as well as how we treat the animals themselves.
Taxidermy jewelry is becoming a unique and innovative fashion trend to boot, with all materials handcrafted and recycled.
How is taxidermy done?
Artists use a combination of techniques to reconstruct wildlife representations, such as sculpting, painting, molding, carpeting, and/or casting.
Records of the death, species identity, and natural habitat must be kept as reference.
Specimens must be appropriately frozen or sealed depending on their nature.
An in-depth understanding of animals' postures and behaviourisms is necessary to recreate their natural poses. Having background knowledge in biology, art/design, and anatomy will be an asset here.
The skin is removed using cutting instruments. To preserve it, it must be tanned and degreased. Otherwise, mold is made from it.
The carcass is cleaned out; after removing the skull, the artist has the option of either preserving it, or creating an artificial one altogether. Features such as eyes, eyelids, fur, scales, teeth and soft tissues are usually man made.
The body's armature is built with a mixture of materials like wood, steel rods, plastic, fiberglass, and/or papier mâché. It should also be noted that the armature is kept empty, debunking the common misconception that taxidermists stuff their specimens.
All of the parts are attached to the armature. The last real step is placing the finished product on a mount, but artists can also simulate natural surroundings to give their work an aesthetically pleasing touch.
Story credits:Wikipedia and Wikihow