The Full Hunters Moon in Aries: Oct 20th, 2021
The Aries Full Moon will show us how to embrace our individuality and become more bold.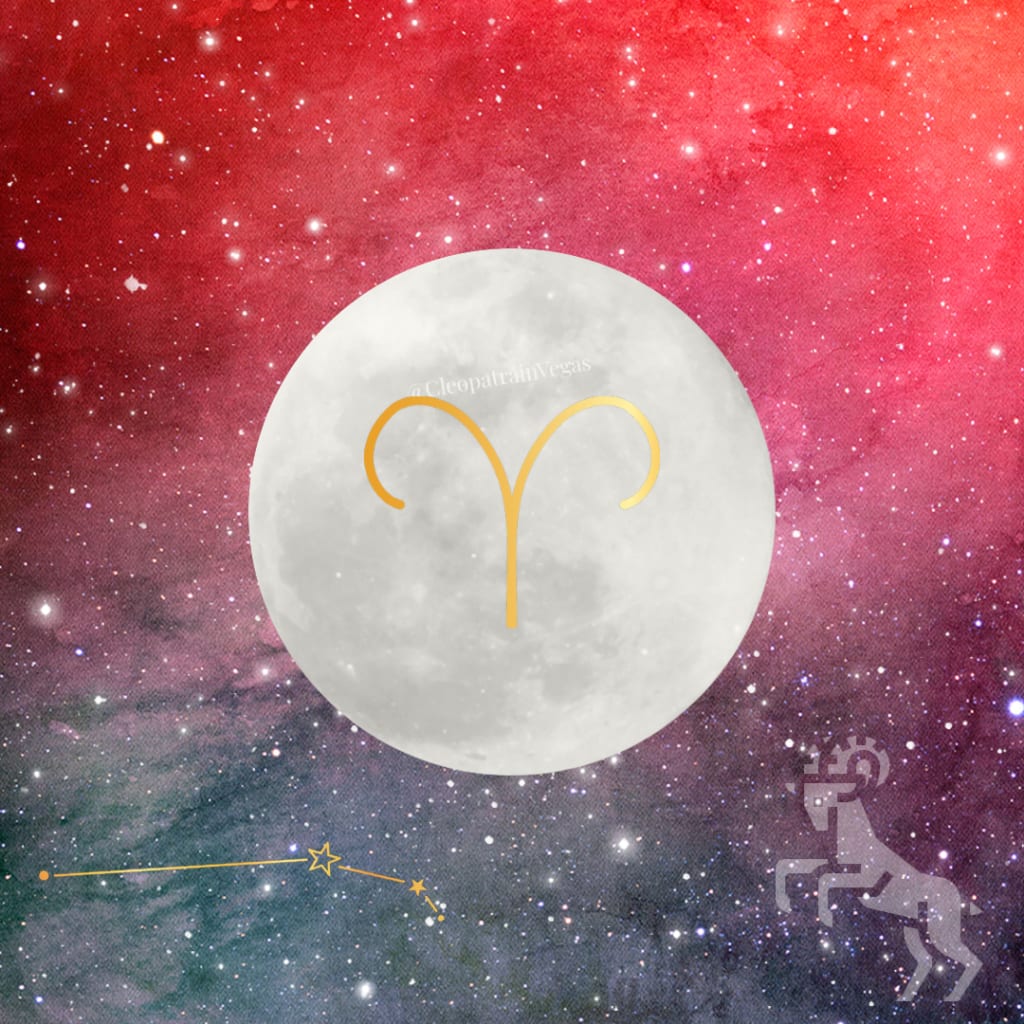 Hey guys, we have the Full Hunters Moon at 27 degrees of Aries happening at 7:56 am Pacific, which would be 10:56 am Eastern check your local time to see when this Lunation is occurring for you.
So not only do we have a Full Moon, but it happens to be a Hunter's Moon as well, which signifies gathering the things you need to sustain yourself. In ancient times, the Hunters Moon occurs annually as a period for hunting before hibernation occurred; to ensure there was enough food to last the Winter. Therefore, one of the vibes for this Moon is about getting your ducks in a row; it's about preparation so you can fuel yourself.
Interestingly, this is a Full Moon with some edgy alignments; as a result, the vibes could feel stressful. During this Lunation, you'll want to ensure your emotions are in check and resist being impulsive. Therefore, try to wait for the right moment before you act because doing anything while you're feeling sensitive is counterproductive.
Mars plays a massive role in this Lunation because it Rules Aries and the Moon's Sign during this Full Cycle.
Currently, Mars is at the last degrees of Libra, which is its sign of Detriment, making things more complex during this lunar phase. Also, The Moon is in Opposition to the Sun, which always happens during full moons, but considering Mars and the Sun are Conjuncted and connected to a complex aspect to Pluto, this is forming a T Square.
T-Squares are Aspect patterns that indicate tension and something of a tug of war at times. Therefore, this T Square could place extra pressure on the things that need to transform in your life. Full Moons represent complete cycles, so this will emphasize the things you need to keep and the situations that simply need to go in your life.
Vibes of The Full Moon in Aries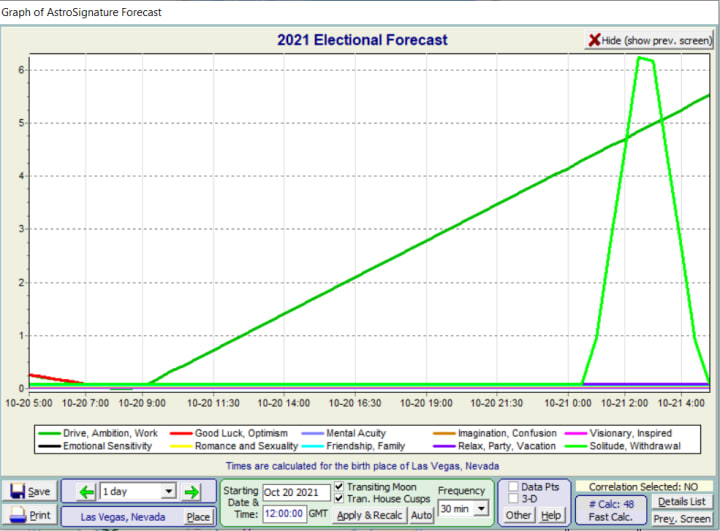 With these Transit vibes shown on the graph, it's a bit contradictory because, on the one hand, we have a ton of drive and ambition on the chart. All of this motivation will help in terms of taking action on the things that require your attention.
On the other hand, there is some solitude energy on the graph, so you might need to do your own thing during this time. With the significance of this Moon, you might feel like staying to yourself because you are more irritated than usual. When we are aggravated, it's hard to be ourselves, so our socializing needs will be slightly low. Try your best to give yourself some space from others so you can do you. Also, this could be a mixed bag of just feeling jittery which adds to the need for personal space.
Full Moon in Aries Questions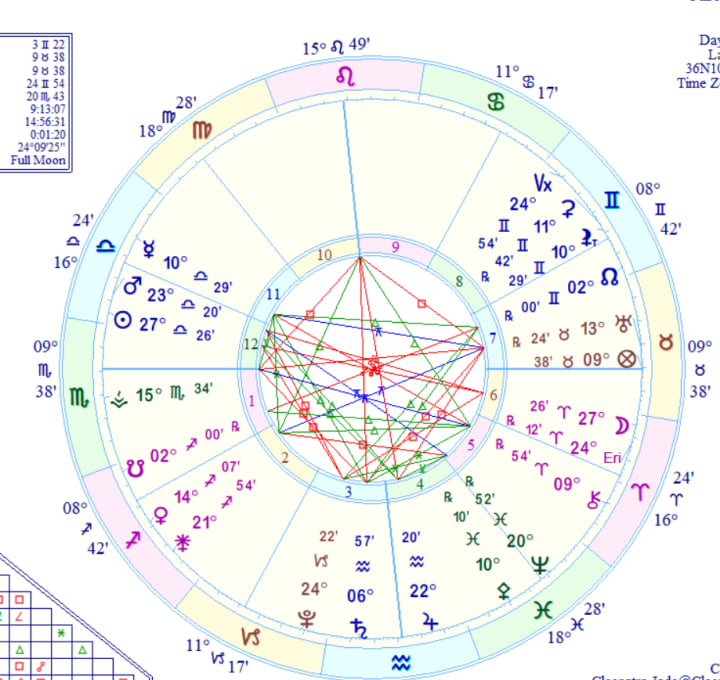 Think about where you were at the beginning of Spring; where have you learned to become bold in your life?
What situations are you letting go of that hinder your independence?
Have you learned how to do your own thing?
In these last 6 months, have you learned how to be more outspoken?
Did you become more ambitious?
Learned how to assert yourself?
Have you become more open to new opportunities that could further your life?
Decided to get in the driver seat, so you aren't just a passenger in your own life?
You're at the height of your Aries cycle, so now it's time to see what is working and the things that were bogging you down. Use the skills you have along with a strategy that brings you immediate results.
Full Moon in Aries Themes
Here is your Full Aries Moon Checklist:
Stand up for yourself to those who try and hinder your progress; it is time to let go of relationships that hold you back. ⠀
Find ways to move away from repetition and start a new method to bring some freshness to your life.⠀
Be courageous and self-assured in your own abilities ⠀
Separate yourself from the heard and enjoy your individuality⠀
Create a sense of fun and adventure back into your life⠀
Keep building up your confidence so you can reclaim your personal power⠀
Continue to work on being more responsive and quicker on your feet⠀
Let go of negativity you've been carrying for the last 6 months and fill your life with optimism⠀
Embrace your authenticity and speak your mind about what you need to be happy, even if it means putting yourself first for a change⠀
Own who you are and live in your truth⠀
Seize all of the opportunities you have in front of you and take advantage of those blessings ⠀
Continue to work on being more proactive in your social life; it's time to attract your tribe instead of hanging with people who aren't on the same frequency.
It's time to put yourself out there romantically and get out of your dating rut.
Look at where you can continue leveling up your fitness and embrace the Aries powers of athleticism.
Hopefully, you guys have been able to see your progress since the New Moon in Aries and are channeling your inner gladiator so you can be mighty.
-Later guys