"Take Us to Your Chief": An Indigenization of Colonial Literature
An essay for my master's class that I'm very proud of.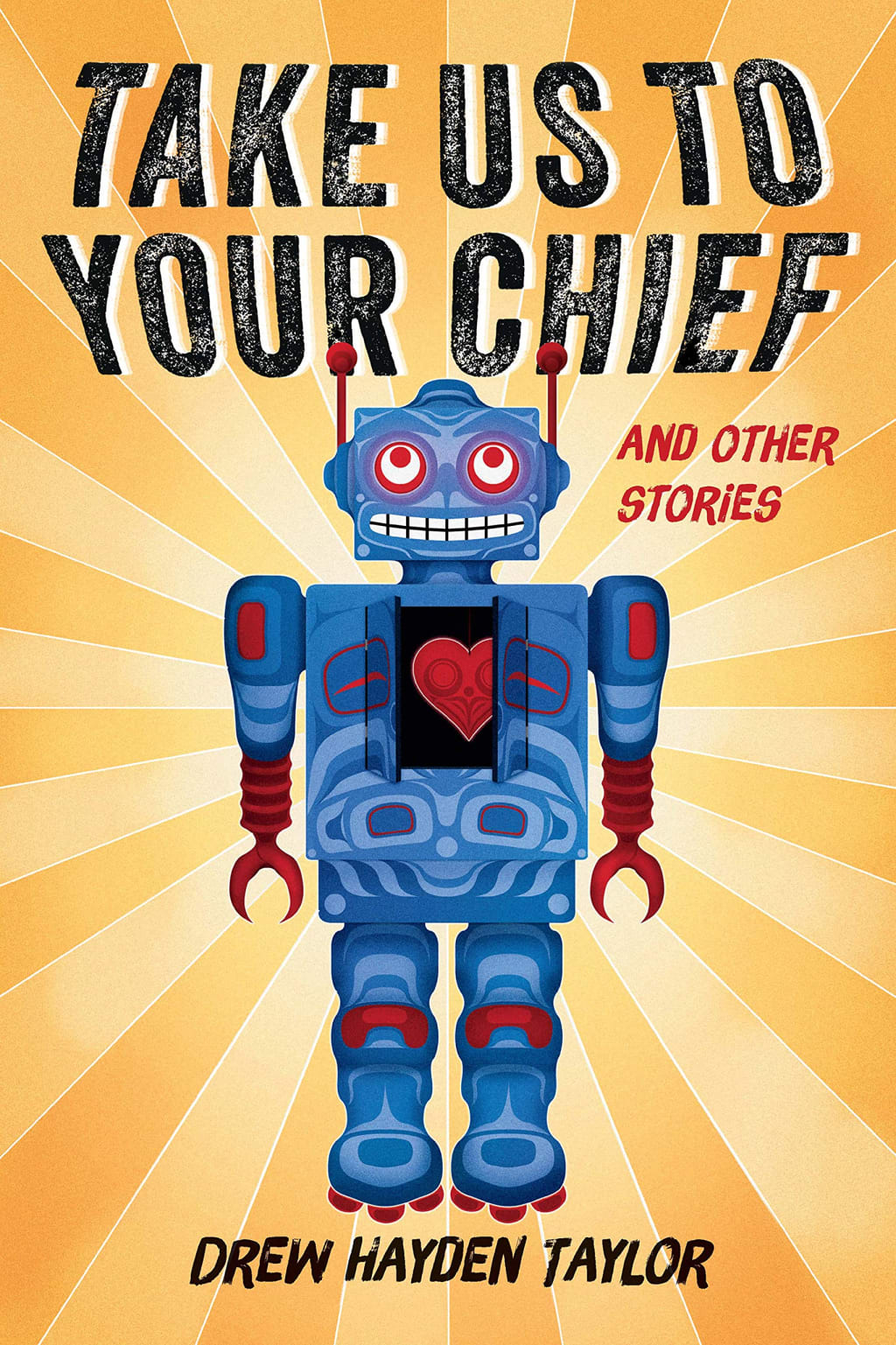 Image via Amazon Canada
When it came time to select a topic for this next essay, I was pleased to find that Indigenous literature was an option. It is seldom discussed in the debate on world literature, yet traditional storytelling, which includes Indigenous literature, is supposedly the oldest method of imparting knowledge, culture, and experience. I was especially curious to learn how the imagistic techniques and metaphorical power of Indigenous narration would operate as a commentary on contemporary genres. Having done so, I contend that Drew Hayden Taylor's short story collection, Take Us to Your Chief: And Other Stories (hereafter abbreviated as Your Chief), challenges prevalent tropes in science fiction by indigenizing colonial literature. Taylor's future-oriented reinterpretation of humankind through the Indigenous lens reminds readers of the postcolonial traumas Indigenous peoples in Canada and worldwide still endure. Your Chief also strives to empower Indigenous communities with its forward-looking motifs.
Ethics plays an integral role in storytelling, particularly where a people's history is concerned. Indigenous authors must be able to shape, and ascribe meaning to, their own narratives without the disruption of imperialist influence (Hitchcock). By transmitting stories across generations, an ethical standard could be established. For Indigenous writers, sharing texts not only brings generations together, but also encourages a comprehensive view of the world and each person's responsibility to it as a global citizen (Barca 378).
Like other stories in Your Chief, "A Culturally Inappropriate Armageddon" (hereafter abbreviated as "Inappropriate Armageddon") focuses on the theme of personal awareness and accountability. In the second part of the story, protagonist Willie Whitefish fears the imminent alien invasion while other unsuspecting characters see it as an opportunity to connect with the foreigners. Through his studies in colonial histories, Willie can identify oppressive behaviours exhibited by the aliens (Taylor 22). Willie's perspective may be a reference to H.G. Wells's War of The Worlds (1897) because he states that people are destined to repeat the history they cannot remember. Thus, Willie warns the reader that forgetting the past will lead to world destruction (Taylor 23).
Willie's message demonstrates that the indigenization of colonial literature is necessary because doing so creates worlds that both represent and externalize alterity. Literature that is unconstrained and capable of expanding its influence could instigate a confrontation with collective narcissism (Hitchcock). Taylor's "I Am... Am I" is a retelling of Isaac Asimov's "Reason" that shows the respective ironies of artificial intelligence and human nature (Rabkin). The difference in Taylor's version, however, is that it is told from an Indigenous viewpoint. The story details the curiosity of an AI about the world and its purpose in it. At one point, the scientists nonchalantly supply the AI with astonishing mortality statistics of Indigenous peoples throughout the world. Meanwhile, the AI is deeply affected by the devastation of colonialism—poverty, disease, and slaughter—on Indigenous populations and wishes to unearth the perpetrators (Taylor 42).
Unfortunately, the AI's search is met with hostility and willful blindness. The characters that the AI speaks with justify these atrocities by claiming their cause is too complicated to understand themselves, much less explain to someone else. Horrified by their responses, the AI decides it does not want to associate itself with humans any longer (Taylor 43). "I Am... Am I" shares its strong criticisms against humanity with Arthur C. Clarke's "The Star". Both stories, however, also ask if there is moral justification in the universal acknowledgement of humankind (Rabkin).
Taylor's "Lost in Space" is similar to "I Am... Am I" in that it tasks the past with challenging, and possibly changing, the future. On the other hand, the story is more optimistic in how it portrays AI. "Lost in Space" argues that AI has the potential to inspire the will of the people in their inclusive, emancipatory actions and sustain Indigenous communities. The protagonist, a computer named Mac, informs a man of Indigenous descent that his activist grandfather has passed away (Taylor 55). Mac shows the man a video of his grandfather's protest and offers him the opportunity to learn more about his heritage. These revelations are significant, as they galvanize the man into reconnecting with his people and bringing their struggles to light (Taylor 55).
By reclaiming Indigenous cultures and histories, Taylor, as well as other writers who will be discussed shortly in this paper, contribute to the creation of their own canon. Indigenous literature symbolizes the road of traditional communities to self-concept and moves away from studies on them conducted by outside parties (Barca 379). Community members are encouraged to reconcile with their customs and promote eco-sustainability through the art of storytelling (Barca 379).
One of Taylor's multifaceted stories, "Dreams of Doom,", attempts to answer several direct questions: 1) How do Indigenous communities overcome colonialist mentalities that either neglect or continue to oppress them; 2) Is giving up an appropriate response; and 3) Can we remember, be held accountable for, and support oppressed groups in a public capacity? (56-76) The idea of moving forward is also present in Taylor's "Mr. Gizmo,", a story about a boy contemplating suicide due to his tragic family situation. His father died in prison, his mother's whereabouts are unknown, and his grandfather is passed out from alcohol poisoning (Taylor 84).
The boy's tragedy is reflected in statistics concerning Indigenous peoples across Canada. Examples include: a disproportionate number of male prisoners relative to their population; thousands of women being declared either missing or murdered in recent decades; and the citing of depression, suicide, and alcoholism as prevalent issues among Indigenous communities ("Truth and Reconciliation Commission"). Taylor responds to this data through the boy's sentient toy robot. The robot draws the boy's attention to the suffering of all Indigenous peoples and the need to create a hopeful future for them (84).
With the help of his robot, the boy confronts not only his suicidal thoughts, but also the collective trauma that results from a long history of colonialism. While he is ashamed of his initial thoughtlessness, he eventually recognizes the strength, nobility, and pride of his community that should not be repressed any longer (Taylor 87). The robot explains that by coming to this realization, the boy is effectively intervening in the cycle of victimization. He gives himself and his people the opportunity to reclaim their narrative and preserve their identity (Taylor 89).
In recent decades, we have seen other Indigenous writers similarly dedicated to the development of an eco-sustainable literary canon. The anthology Our Story: Aboriginal Voices on Canada's Past (King) contains two notable short stories: Lee Maracle's "Goodbye, Snaug" and Tomson Highway's "Hearts and Flowers". Snaug is Maracle's birthplace; in the story, she describes its transformation from a plentiful food market into an urban area (Barca 379). Highway writes about a young musician named Daniel who wins first place at a music festival on the same day Indigenous peoples were granted the right to vote in Canada. One of the pieces he performs for the occasion, likewise titled "Hearts and Flowers,", is a symbol of this progression (Barca 379).
Like Taylor, Maracle, and Highway re-appropriate Western literature to underscore the Indigenous perspective. The authors exercise their creative power by implementing various storytelling techniques—most noticeably, elements of orature— in their texts. "Goodbye, Snaug" is innovative in the way it fluidly communicates the narrator's interior monologue to the reader (Barca 379). This literary style immerses the reader as a hypothetical resident of Snaug so that they may "remember" what it was like before its demolition (Barca 379). The narrative is rooted in imagism, which guides the reader through many vivid experiences of actual residents at the time (Barca 379). The atmosphere in Snaug invites the reader, so to speak, to taste its food, smell the materials used in its structures, and to observe its fauna. As they partake in these activities, the reader imagines a restored Snaug. Although the demise of Snaug was unavoidable, remembering it is nevertheless a crucial step in its endurance (Barca 379). Additionally, thinking about the restoration of Snaug in eco-sustainable terms may discourage further dispossessions of Indigenous land (Barca 379).
"Goodbye, Snaug" reinforces the notion that simultaneously recalling the past and envisioning the future will forge new paths in a post-colonial discourse (Barca 379). Taylor's "Petropaths" conveys this message more explicitly than his previous entries in Your Chief thus far. The story follows an Indigenous man who travels through time. Echoing Wells's The Time Machine (1895), "Petropaths" suggests that the way we shape the future depends on how well we understand our past and our commitment to learning more (Taylor 107). Focusing solely on what had been lost means we forget what we still have— or could have, if we choose to rediscover it (Taylor 107).
The rest of Your Chief emphasizes the following themes: consciousness heightening perspective, the prospects of empowerment, and unexpected results. "Superdisappointed" satirizes Hugo Gernsback's Ralph 124C 41+ (Rabkin) with its Indigenous superhero, who reveals the unsettling truth about life on reserves and the dangers of their subpar living conditions (Taylor 120-35). Finally, "Your Chief" is comparable to Murray Leinster's "First Contact" (Leinster et al.) in its optimism. Contrasting with "Inappropriate Armageddon,", the eponymous story maintains that encountering other humans does not necessarily guarantee a repeat of history, and can instead lead to an appreciation of new cultures (Taylor 136-46).
For Indigenous writers, it is imperative that they also embrace an inclusive approach to literature. This principle stems from their belief that all interpretations are valid and worth investigating (Barca 380). Discoursing with eco-activists is instrumental to the development of lore. Readers, upon engaging with the content, are theoretically motivated to advocate against projects that devastate the environment (Barca 380). The readership is at the front of the storytelling process; they can create meaning and therefore reach conclusions the author may not have initially considered when conceptualizing a given narrative (Barca 380).
Highway subverts interpretation in "Hearts and Flowers,", but he nevertheless provides a transformational experience to the reader like the other stories cited in this paper. He marries sonata forms with Indigenous insight to tell a story about the declining mistrust of colonial sympathizers toward Indigenous communities (Barca 380). Their skepticism ceases to exist when Daniel symbolically invites one of the teachers, Mr. Tipper, to immerse himself in the real lives of Indigenous peoples through the movements of his sonata (Barca 380). The sonata explains, develops, and recapitulates the significance of this narrative. It should be noted, however, that the coda points to the hope of a new direction for all the attendees at the festival (Barca 380).
Highway, like Taylor and Maracle, believes that literature is intended to change the way humans view the world and those who are seemingly different from them. There are high hopes that these stories can help stimulate dialogue and apprehension between divisive societies (Barca 380).
In public and academic spheres, literature is regarded as an empowering tool for Indigenous writers. The power of language aids them in bridging gaps between Indigenous and non-Indigenous spaces, particularly in the pursuit of environmental initiatives (Barca 381). Indigenous authors of all ages and genders are exploring their unique relationships with the world. This goal reminds all humans that we do not own the Earth, but rather the Earth owns us (Barca 381).
Ethical consideration is relevant to the construction of a transcultural understanding because it affects whether indigenized texts are viewed as world literature or not. Indigenous writers value and structure their narratives around the importance of preserving our planet. As with the colonizers and the colonized, there is tension between old and new canon that must be resolved with a transformative set of standards (Hitchcock). Taylor's Your Chief finds itself in the middle of this divide. The book implores us to not forget what had transpired during colonization, but it does not neglect the work to be done for the victims of intergenerational trauma. Although Indigenous readers may be burdened with reminders of their harrowing past, Your Chief nonetheless upholds the possibilities for their emancipation, honour, and vigour.
Works Cited
Barca, G. The Re-empowerment of Native Canadians through Literature: A Comparison between Lee Maracle's Goodbye, Snauq and Tomson Highway's Hearts and Flowers. Le Simplegadi, vol. 15, no. 17, 2017, pp. 378-81.
Hitchcock, Peter. "The Ethics of World Literature." Routledge Literature Companions: The Routledge Companion to World Literature, edited by Theo D'haen, et al., Routledge, 2012, Credo Reference, 2019, http://0-search.credoreference.com.aupac.lib.athabascau.ca/content/entry/routworld/the_ethics_of_world_literature/0?institutionId=1122.
King, Thomas et al. Our Story: Aboriginal Voices on Canada's Past. Penguin Random House Canada, 2005.
Leinster, Murray, and Joe Rico. First Contacts: The Essential Murray Leinster. Nesfa, 1998.
Moran, Ry. "Truth and Reconciliation Commission." The Canadian Encyclopedia, last edited 16 January 2020, https://www.thecanadianencyclopedia.ca/en/article/truth-and-reconciliation-commission.
Rabkin, Eric S., editor. Science Fiction: A Historical Anthology. Oxford UP, 1983.
Taylor, Drew Hayden. Take Us to Your Chief (and Other Stories). Douglas & McIntyre, 2016, pp. 22-146.
Wells, H. G. HG Wells Classic Collection I. Orion, 2010.