Sun in Libra Vibes: September 22nd to October 21st
Libra Season is here, giving us the chance to relate to others in a balanced way.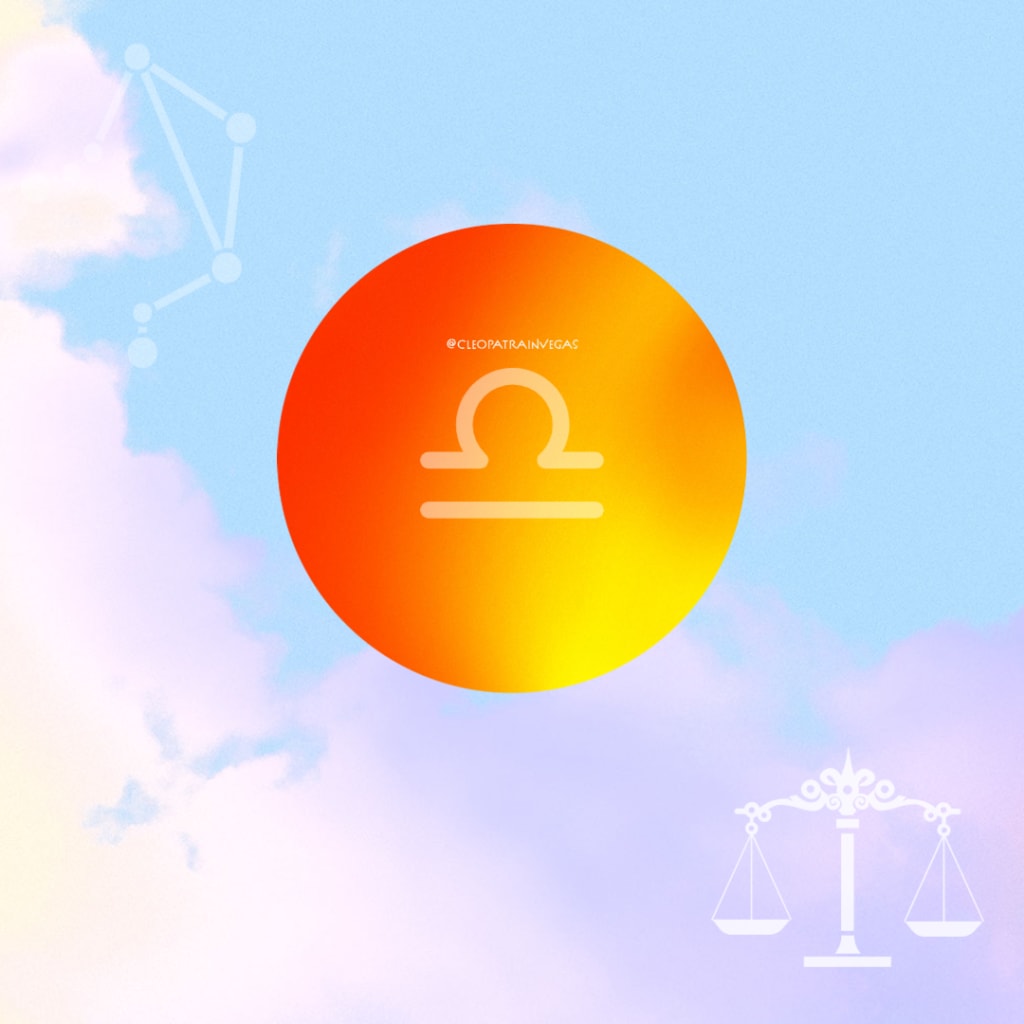 Happy Birthday, Libras!!
The Sun has now left Virgo, so the tone will shift from practical to a warm social and flirty vibe.
Libra is about gathering together with the people you're closest to, so the need to connect with others you enjoy will be powerful for the next 4 weeks. And considering we already have Mars and Mercury in this Sign, the need to be social will be high.
And now that we are in Libra Season, this is officially the Equinox Point, and we will be experiencing Equal Day and Night.
We are back to the Equinox points, which is the Aries and Libra axis for our seasons. The Cardinal points mark a change of any season; the other two are Solstice points of Capricorn and Cancer. These Signs celebrate the shortest day (Capricorn) of the year and the longest day around the beginning of Cancer season.
So now that we are here at the Autumnal Equinox, this marks the Fall position of the Sun. In Libra, the sun is in a condition called "Fall," meaning it isn't at full strength due to it being exalted in Aries, the polarity.
Some things seem to flow in life, but certain combinations just don't blend at other times. Essential Dignities in Astrology allows us to see which Signs flow or have a bit of friction in certain planets. Each celestial body combined with a Zodiac Sign will have its place where it shines or has an uncomfortable experience.
Astrologically, the Sun represents the self and how we shine as an individual. In Libra, one-on-one relationships become the focal point, so the Sun has a more difficult time here for that reason. Libra is all about relationships which diverts the Sun's attention off itself.
Does that mean The Sun in Libra is a bad thing? Certainly, not!
A Sun in the Libra period is a pleasant time. Plus, it's cuffing season, and that can't be a bad thing. I mean, when people start getting into relationships, I honestly find it funny that that happens around Libra and Scorpio season, which makes sense because these two signs take love seriously.
Regardless of all those technicalities, it wouldn't be the first day of Autumn without Libras!! So let's soak up the fun things that come with this Sign.
Here's what you can expect:
Gaining fulfillment through your connection with others, especially one on one relationships
Taking action and responsibility for other people rather than yourself
Finding a way to relate to others no matter what they might be into
The urge for some much-needed peace will be what you go after
Justice for those who have been wrong will be a theme with Libra energy.
Successfully using your powers of objectivity plus fairness.
Learning the art of healthy balance and limits in relationships
The ability to meet others halfway when it comes to compromising
Craving the finer pleasurable things in life
You might find it easier to create harmony and balance in your world.
When everything is off-kilter, Libra will try to counterbalance that and make everything fair.
Libras are fun and love a good time, so the vibes in the air will be filled with enjoyment, socializing, adventures, and connecting with others.
It's all about the right aesthetics.
This is going to be an excellent time to harmonize your love life
Coordinating your work-life balance will be crucial
Your focus will be on beauty and art with this Venus-ruled sign.
This is our time to learn balance in everything we do.
On a Lower Vibration
Be aware of becoming codependent
Losing your identity in a relationship
Dealing with people who are vain and more concerned with outward appearance
You might see some indecisiveness in others
Not being able to choose a side
Dual natured actions that confuse others
Passive Aggressive behavior
Not speaking up when wronged but holding grudges until it blows up
Behaving in a petty manner due to built-up resentment
Even though the Sun will make some uncomfortable Transits, we can at least soak up this sign's higher vibrations. So, take this time to enjoy the Autumn and all those pumpkin-flavored treats because it's time to indulge a little like a Libra.
-Later guys