'Star Wars' Action Figures Are Just As Cool As They Were 40 Years Ago
Both The Force Awakens and Rogue One had tons of action figures, and it doesn't look like they're slowing down.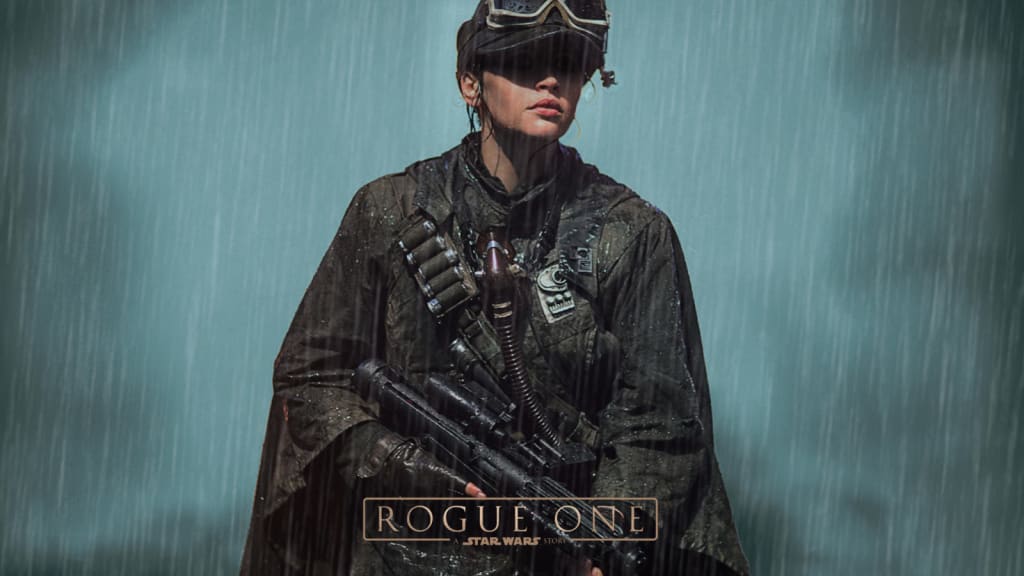 Warning: Minor spoilers For Rogue One.
Since #Disney bought #Lucasfilm back in 2012, it was clear that there would be a renaissance of stories from a galaxy far, far away. Fast forward to today, and we already have two brand new #StarWars movies: #TheForceAwakens and #RogueOne. The former was released in 2015, and served as a reintroduction to the world of the Jedi, while the latter was released a mere two weeks ago and gave us a new look at the Galactic Civil War.
Since A New Hope's release in 1977, it's been clear that merchandising would play a large role in the franchise going forward. When your movies are filled with alien gangsters and lovable robots, you'd be a fool not to pump out action figures based on every variation of each character. Luckily Lucasfilm didn't forget that, and Disney hasn't either. Both The Force Awakens and Rogue One had tons of action figures of all sizes, and it doesn't look like they're stopping anytime soon. Check out one of their most recent lines below.
Rogue One 3 3/4-Inch Action Figures (Wave 1 Case)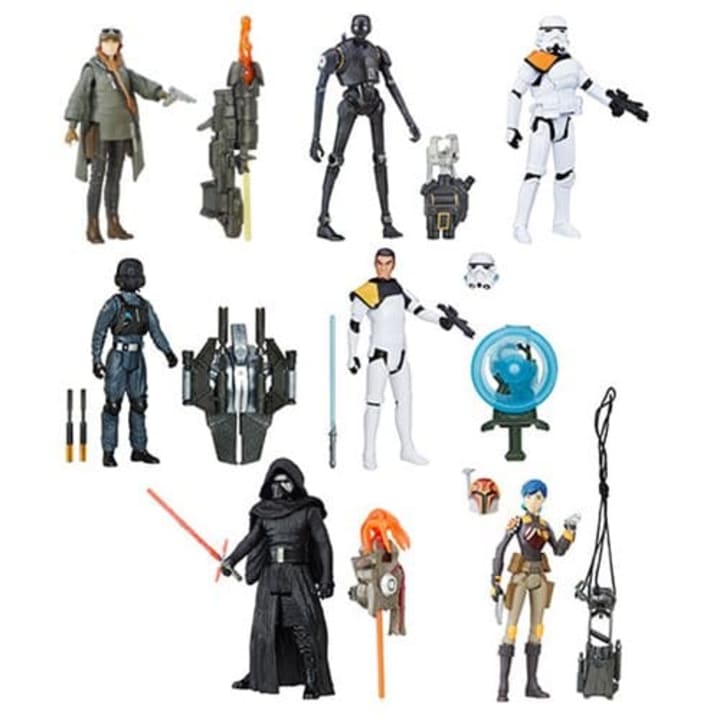 From Entertainment Earth:
Awesome action figures from 'Rogue One: A Star Wars Story' and beyond!
The Star Wars 'Rogue One' 3 3/4-Inch Action Figures Wave 1 Case includes 12 articulated action figures with awesome accessories!
Tour the galaxy with the Star Wars 'Rogue One' 3 3/4-Inch Action Figures Wave 1 Case! Each 3 3/4-inch action figure includes a pair of accessories - or possibly even more - from a galaxy far, far away. Feel disturbances in the Force, and then shoot at them, with this exquisite collection of action figures. Most action figures feature 5 joints each.
Not mentioned in the description is the number of each figure you'll get. Obviously, there are only seven different characters in this wave (Jyn Erso, K-2SO, Imperial Ground Crew, Stormtrooper, Sabine Wren, Kylo Ren, and Stormtrooper Disguise Kanan Jarrus) , but you still get 12 figures. That means each shipment includes an extra Jyn Erso, K-2SO, Imperial Ground Crew, Stormtrooper, and Kylo Ren. For a quick review on some of the figures, keep reading.
Jyn Erso

Outfit: Galen Erso Rescue on Eadu
Accessories: Small Blaster, Large Projectile Launcher
Articulated Joints: 7
Jyn Erso is one of the best characters in Rogue One, so it's only fair that she goes first. Her outfit is similar to the one the rebels wore on Endor at the end of Return of the Jedi, with a color scheme clearly designed with camouflage in mind. A cloak hangs over her outfit, made of a softer plastic than the rest of the figure. There's also a rubber oxygen tube connecting from her side to her neck, and a holster on her waist, which can hold the blaster.
Functionally, the figure has quite a few moving joints. The neck rotates and can be popped off, and both arms and legs can be moved forward or backwards. Additionally, both hands rotate and are the right size to hold the launcher or blaster.
Kylo Ren

Outfit: The Force Awakens
Accessories: Kylo Ren's Crossguard Lightsaber, Wrist-Mounted Projectile Launcher
Articulated Joints: 5
Although the wave's name includes Rogue One in the title, characters from The Force Awakens and Star Wars Rebels managed to sneak in. And that's a damn good thing, because this Kylo Ren figure is one of the best I've ever seen. It may be small, but the materials and texture perfectly nail the aesthetic of the film costume.
There are small ridges going in every direction of the actual costume, while the detachable hood and mini-cape have similar uneven lines. It's easy to tug off, but doesn't slip off the figure when it's on. The lightsaber fits into both hands (albeit a little loosely), and the location of the blades is accurate to the movie version. The figure has an articulated neck, as well as both arms and legs.
Imperial Ground Crew

Outfit: Imperial Ground Crew Uniform
Accessories: Direction/Attack Batons, Combat Wingsuit
Articulated Joints: 5
We hadn't seen the Imperial Ground Crew prior to Rogue One, but their distinct design has stuck in the brains of lots of viewers. They appeared throughout the movie's third act, with a heavier presence when Rogue One first arrived (they were the ones processing and inspecting the ships). The figure itself actually looks more detailed than the one in the movie with more texture, a different color scheme, and a wingsuit.
The batons that come with the toy can be held or attached to the back, while the wings can be easily added or removed around the neck. They also fold in and out to display "flight-mode." Although there's no face below the helmet, you can pretend that it's Jyn under there. She did disguise herself as an Imperial Ground Crew member, after all: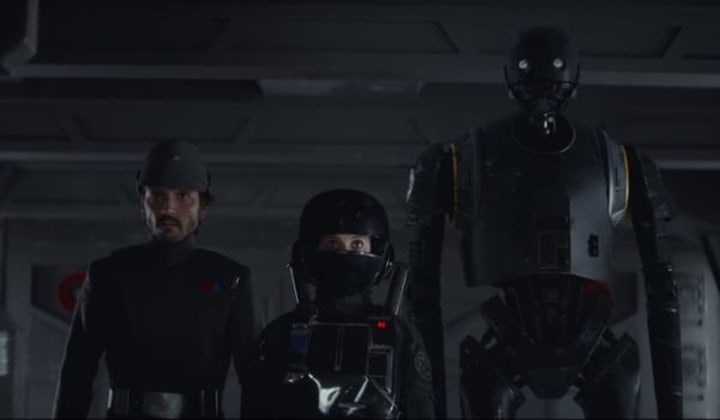 Each figure comes with a QR code, which can be scanned inside the Star Wars: Studio FX app to add new features while making videos. The code can be found on the instructions, where it will tell you how to get the app, how to get the new effect, and then how to use it. If you scan a code from an effect you already unlocked, you get in-app coins which can be used to purchase new effects (you can get coins by using the app). It's a great way to link technology and toys, and one that will keep you entertained for hours.
The Cost
All 12 action figures, complete with accessories, come in at $99.99! That's much cheaper than the 6-inch Black Series toys, which clock in at $20.99 each. On top of that, there's free shipping! Here's the link to this wave, or take a look at Wave 2 and Wave 3 if you're looking to expand your collection!