Six Reasons Not To Play With a Ouija Board
It's almost time for Halloween, be prepared.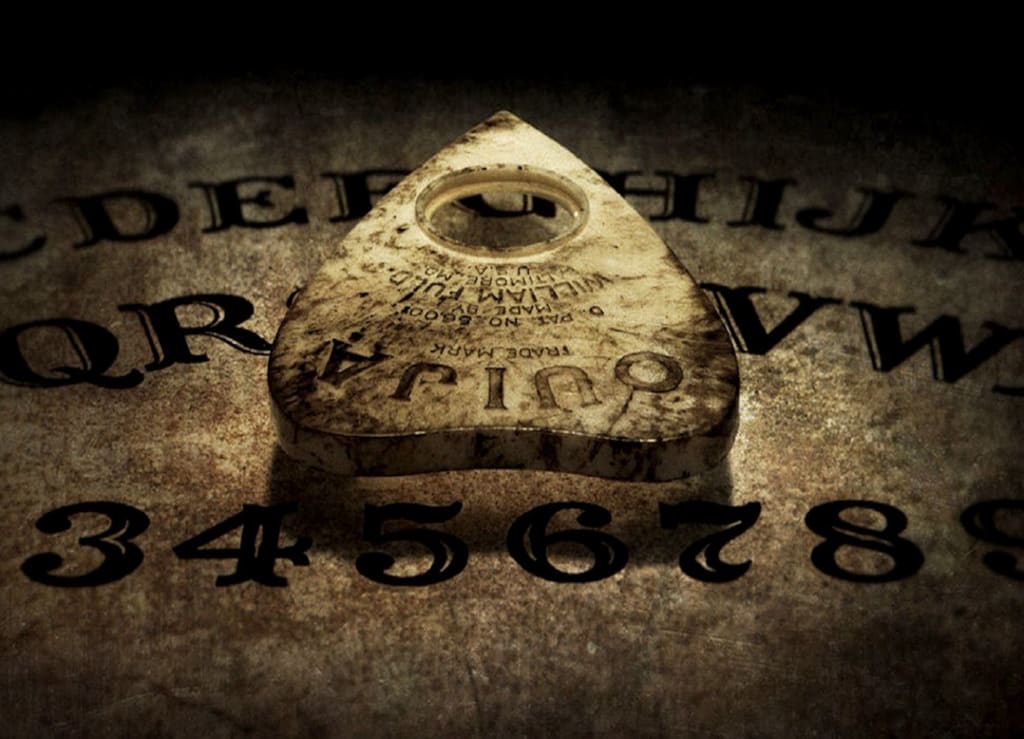 I own a Ouija Board. I like my Ouija and I even have used Ouija Boards many times throughout my life. However, I also had one that did weird things, like moving by itself from one room to another. Nope, I'm not crazy. I do believe in ghosts and spirits. I believe in good and evil entities. Even if you don't believe in them they could still exist, couldn't they?
If you don't believe in ghosts you really have no business using a Ouija Board. It's marketed as a toy, but it really shouldn't be used as one. Many mediums and believers in the supernatural use them to call to spirits or talk to dead loved ones, and many professionals in these fields won't touch them at all. Plenty of children and teens play with them at slumber parties. But if you've ever taken the time to watch a horror movie about Ouija Boards you'd know you are opening yourself up to a whole lot of creepiness and evil.
So, while it can seem like a fun game to play, here are some reasons why Ouija Boards shouldn't be with the rest of your family games.
You'll Probably Just Think the Other Person Is Moving the Planchette
There's also that skeptical side of your brain that is going to tell you that the other person or persons playing the Ouija board with you are the ones moving the planchette, not some otherworldly being(s). There's also a chance that someone from your party is actually moving it. That's why some people choose to play alone, but all of the movies warn against doing that.
It's Not Really a Toy (Or Is It?)
Obviously, if anyone in the world has actually contacted a real spirit through the spirit board or Ouija board then it's definitely not a toy. If we're all just making it up, then I guess there's nothing to worry about. I think you're better off only using this "game" if you're going to take it seriously and understand the fact that you could reach another plane or some dead people with it.
You Might Learn Something You Don't Want To Know
We've all learned that sometimes fortune-telling can reveal information you don't want to know. While many fortune tellers refuse to answer questions about when or how a person is going to die, your spirit board doesn't automatically come with that filter. If you really do get in contact with a spirit they may give you all kinds of information you'll regret getting.
You Could Become Possessed
Messing with spirits can put your well-being and your life in jeopardy. There have been reports of people being possessed by ghosts and demons after using Ouija boards. Whether that was the catalyst for their issue and whether or not they were possessed and not pretending may not be able to be proved (and even if proved, some people still wouldn't believe it), it still should be a warning to be careful.
You May Release Spirits Into Your Home
Even if you don't get possessed using the board, that doesn't mean that you won't let loose some kind of bad spirit into your abode. Spirit boards are believed to be portholes to other dimensions, and who knows what you've made contact with. You may start to hear strange noises, things may start to move around in your home without anyone touching them, and electronic items may even start working on their own.
Spirits Lie
Don't believe every word that board tells you either. Ghosts and demons lie. Just because the spirit board tells you that you're talking to your grandma doesn't mean that you actually are. Make sure to ask personal questions and keep your mind clear of the answers if you want real proof.
Ouija boards aren't meant to be played with. Make sure you're grounded before using one. Have a trusted friend use it with you. And never trust a word it says!
Since our world is now dominated by the use of the internet, everything that we do is often accompanied by anything technologically connected. More so that the world is now suffering from the pandemic, most people tend to buy online. What we do, eat, and seek fun of is related to technology and the use of the internet.

Recently, NASA announced surprising news about their spacecraft, Osiris-Rex, traveling in space. This spacecraft was designed to chase asteroids in space. It has a Touch-And-Go Sample Acquisition Mechanism (TAGSAM) arm that can collect the required samples. This spacecraft successfully touched down on the Bennu asteroid. They collected samples that can help NASA scientists study the origin of the planets and how Earth was formed and the existence of life on this planet.

Whether you're a fan from as early on as 1977, only recently hopped on the bandwagon as of The Last Jedi, or was among the few who found awe in the prequels, Star Wars has given us some of the most powerful and meaningful phrases in sci-fi, and possibly even cinema.

Let's face it, almost 8 percent of movies nowadays are pretty bad, or don't hold a candle up to the works provided by some of the greatest filmmakers: Stanley Kubrick, Fritz Lang, Steven Spielberg, or even H. G. Wells, for that matter.

The idea is to preserve the day-to-day story of one's life. What will happen if we can save each incident, intriguing photograph, great video from our living memory forever on Vocal Media? let's explore more below,

The Star Wars sequel trilogy is now long over. Some plot points have been resolved, but others still leave the audience hanging. As it is with most trilogies, there are story issues, plot holes, and missed opportunities out there. While the sequel trilogy closes a chapter on the Skywalker family, it opens up another. The stories of Rey rebuilding the Jedi Order, Finn tapping into the Force, the New Republic coming back together again, and the fate of the First Order remnants are all loose ends that need to be tied up and expanded on. Here are the questions from the sequel trilogy that fans want answered.