Keyboard Killer (Chapter 3)
An interactive/reality game of life or death.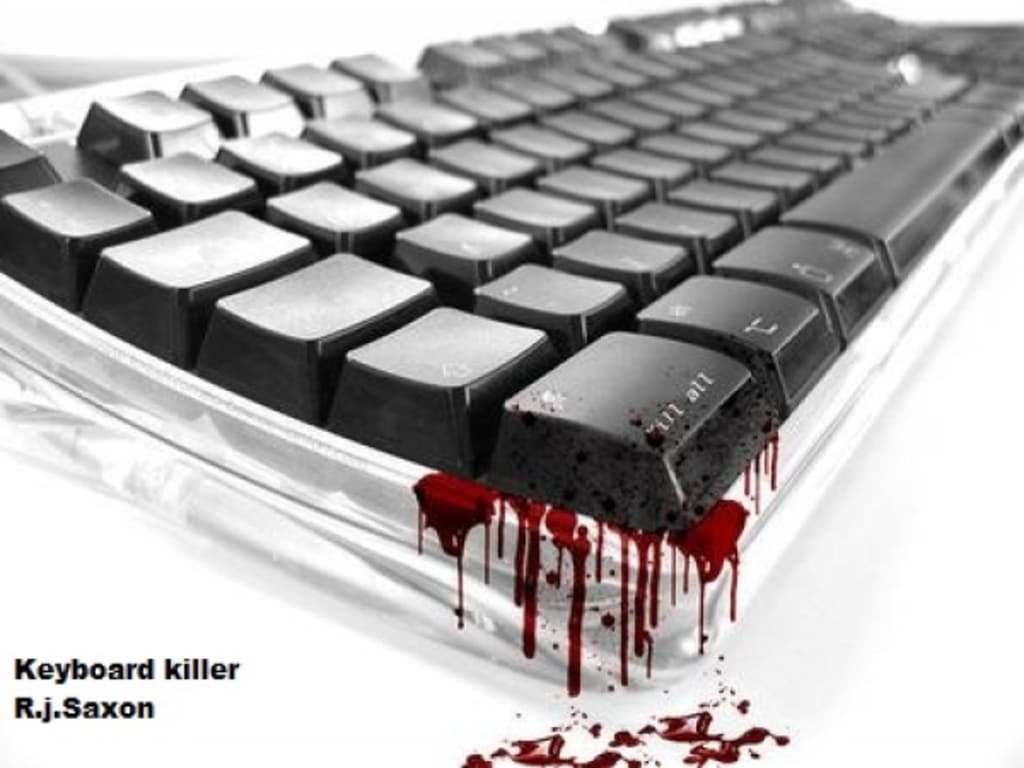 Chapter Three
Blake provided the answers to the five questions that were required to evaluate his eligibility for C.F.L. He hovered his cursor over the submit button and clicked. The page read 'EVALUATING RESULTS.'
It took about five seconds until the site made the decision.
The screen read 'CONGRATULATIONS AND WELCOME TO C.F.L. YOUR ASSIGNED CATEGORY IS GIVER, PLEASE CLICK ON THE PROCEED BUTTON BELOW TO ACCESS YOUR PROFILE PAGE.
Blake clicked and was directed to a standard web profile. He clicked on mail. 'WELCOME TO C.F.L. HERE IS WERE YOU WILL FIND YOUR PROMPT REQUESTS, PLEASE BE SURE TO ADD NOTIFICATION ALERTS TO YOUR CELL PHONE. YOUR FIRST PROMPT WILL BE IN 4 HOURS FROM NOW AND EVERY FOUR HOURS AFTER THAT, UNTIL YOU REACH YOUR MAXIMUM OF TEN. YOU MUST EXECUTE YOUR PROMPT WITHIN FOUR HOURS OF YOUR NEXT PROMPT, FAILURE TO DO SO WILL RESULT IN EXCLUSION FROM C.F.L. AND MAY INCUR A FURTHER PENALTY. REMEMBER YOU MAY CASH AND OPT OUT AFTER YOUR FIRST PROMPT, WE HIGHLY RECOMMEND THAT YOU STAY YOUR DURATION FOR A CHANCE TO SWITCH CATEGORIES.'
Blake leaned back in his chair and stared at the message, a little uneasy of the prospect of the new rule that had been added, which wasn't there upon sign up.
'AND MAY INCUR A FURTHER PENALTY.'
He checked his watch, 08.30am. He would receive his prompt at 12.30pm. Leaning forward Blake palmed his mouse and shut down his computer, before heading out of his bedroom. Making his way down the stairs he grabbed his rucksack and baseball cap, that was heavily stained with grease from the 3 years of wear, working at 'THE FLIPPIN BEEF.' burger joint, a job that he loathed, but this was the only way he could save to open his own restaurant. 'Maybe C.F.L. could speed up that savings' Thought Blake.
"Blake, I've put some fresh fruit and a couple of tuna sandwiches in your rucksack." Said Sarah shouting from the kitchen to the right of the stairs.
Sarah had been Blake's flatshare tenant for the last 3 years now, they went to Stanmore College together and had been friends since they were eight, Blake had spent the majority of his childhood at his grandparents and also at sarah's parents. At the age of 7, he lost his parents in a car crash.
"Thanks Sarah, I'm on a split shift, so I'll catch up with you around 11.30, if your still around." Said Blake.
"Yeah, I should be, I'll see you then." Replied sarah as she raised a mug of coffee to her lips.
Blake gave her a thumbs up as he made his way out of the basement flat up the stairs, out onto the street and into his beat up old honda civic parked at the curb.
Blake started up the engine and headed off down 6th avenue, towards the motorway for a 6 mile trip to his workplace at 'THE FLIPPIN BEEF.'
..........................
He breathed heavy as picked up his running pace. Receiver 22 had been running now for last 2 hours, his chest burned with exhaustion, sweat had drenched his hoody. He quickly turned into an ally and hid behind a construction skip, His heart pounded as he watched nervously. He could hear them coming, he hoped they would drive past and not see him. He had tried to dismantle his tracker, but only made a bloody mess to his neck, trying to gouge it out.
22 reached into his combat trousers and pulled out his plasma pistol, he had only one charge left, if he could take this last C.F.L. unit he was in the clear he'd avoided 9, this would enable him to cash and opt out.
He watched as the blacked out escalade hovered into view, 22 set the pulse switch on the pistol, it made a sound similar to switching on night vision goggles. The escalade stopped at the entrance to the ally, 22 prepared his shot. The escalade shot out of view, as 22 lined up the shot.
"DAMN IT." He cursed.
He placed his pistol back in the pocket of his combat's, on doing so 22 heard the sound of a bottle being knocked behind him, he quickly turned, but he was not quick enough, as the C.F.L. soldier behind him slammed down his pulse sword, straight through 22's skull.