Jodie Whittaker Confirms Return for Series 13 as Work on the Next 'Doctor Who' Series Begins
The Thirteenth Doctor isn't going anywhere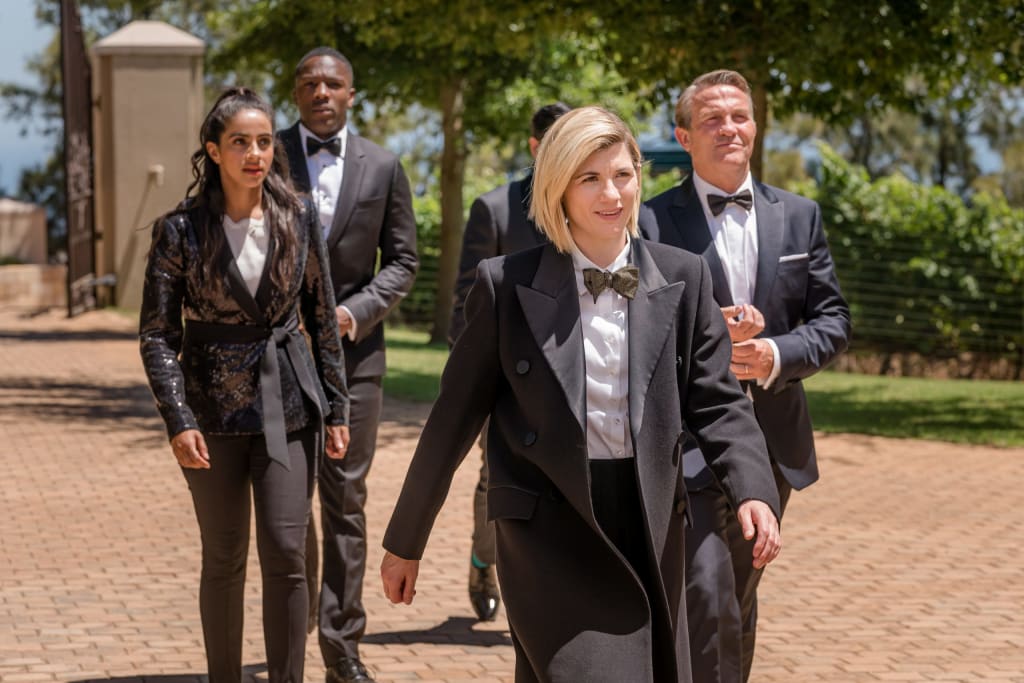 'Doctor Who' [Credit: BBC]
After being off air for a year, Doctor Who will make an explosive return on New Year's Day with a blockbuster two-part story. "Spyfall" written by current showrunner, Chris Chibnall, will be the first of ten episodes in Series 12. Chibnall has described episode one as the show's "most lavish, location-filled, action-packed episode" they have ever done.
The spy themed opener will see current Doctor, Jodie Whittaker, and her TARDIS fam team up with Stephen Fry in a thrilling adventure also starring Sir Lenny Henry. With the series starting very soon, fans feared this series will be Whittaker's last based on the narrative of the trailer. However, it appears fans can put those troubles behind them as Whittaker confirms she isn't going anywhere as of yet.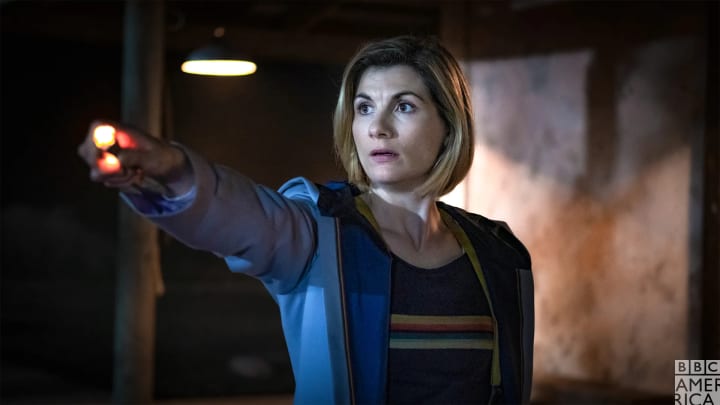 In a magazine interview ahead (pictured below) of the twelfth series, Whittaker stated there are some standalone episodes, as well as major character arcs that will pan out across the new series. Whittaker then suddenly stated:
"This isn't the last season I'll play the Doctor."
Short and snappy, but it's good news for the millions of people who love Whittaker in the role. Whittaker made her first full debut back in October 2018 with a series opener that broke records. "The Woman Who Fell to Earth" is now one of the most watched series openers since the show was revived in 2005, and Series 11 held strong figures throughout, beating Series 10's figures by a mile.
With Whittaker sticking around for Series 13, it is unclear whether Bradley Walsh (Graham), Tosin Cole (Ryan) and Mandip Gill (Yaz) will be hanging around for a third series or if the Thirteenth Doctor will be joined by someone new. Whatever the outcome, work on Series 13 has already begun.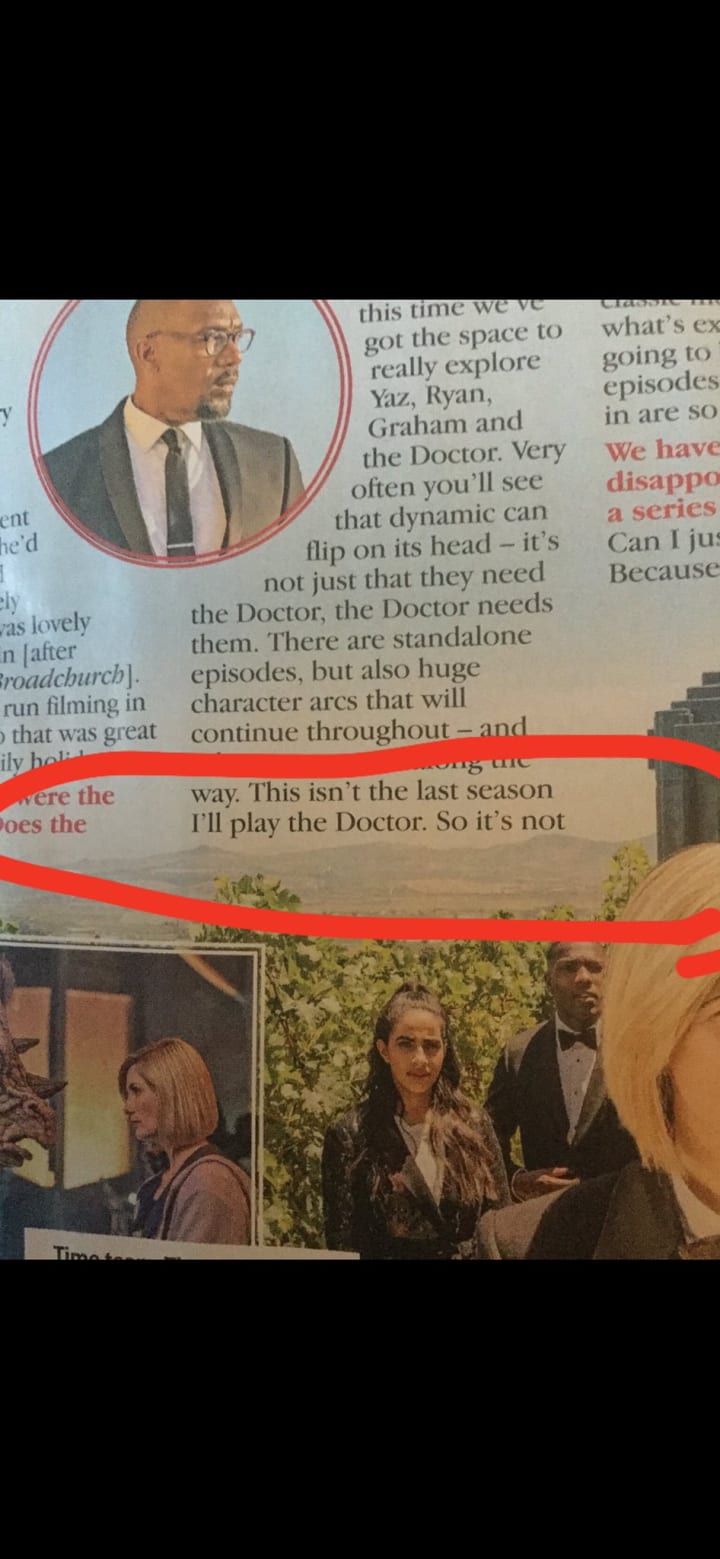 There were rumours during the production of Series 12 that both Chris Chibnall and Jodie Whittaker have quit Doctor Who, however, Chibnall said those rumours are "categorically untrue" and that they're "already planning the next series" following Series 12.
Chibnall has his writing team are planning the next run of adventures for the Doctor to take on in 2021 and onwards, but who will be on the 2021 writing team?
Series 12 is Chibnall's second series as showrunner and judging by two trailers, he's more comfortable in the role now as the show is back with a bang. The showrunner said to Radio Times:
"It feels like a step up. It's probably more ambitious than last year. Scale, storytelling, everything. I would say we are aiming to keep moving forward and up. There are bigger moments this year."
Jodie Whittaker – also in her second series – stated that she doesn't have as many nerves like she did in Series 11:
"I felt more comfortable, because playing it [the Doctor] during my second season is obviously less nerve-wracking than day one of season one. Now, it's second skin already."
With Series 13 in the works already, it makes fans wonder what the Doctor will come up against next.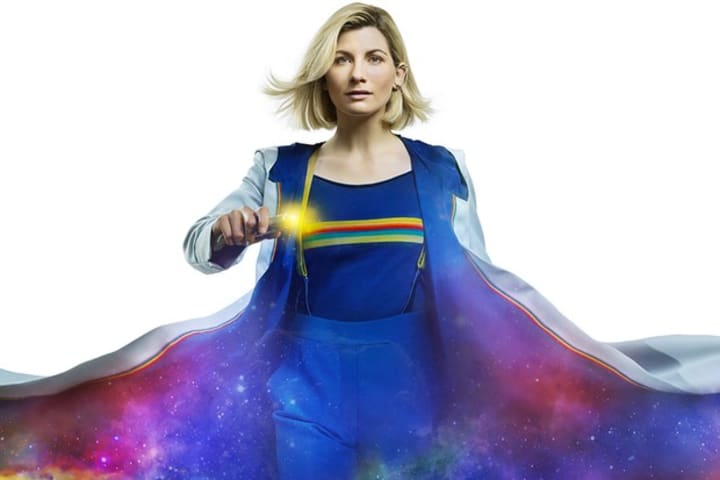 Series 12 will see the return of some familiar foes, who will battle with the Doctor and her team. The Judoon will make their highly anticipated return to Doctor Who in the new series for their first full story since they first appeared in 2007. Also returning are the Cybermen, who have had yet another redesign. We last saw the cyber army in 2017, causing the Twelfth Doctor (Peter Capaldi) to regenerate. Why are they back and what do they want?
The upcoming series will also introduce brand new monsters, which itself is quite exciting. With Series 12 being a step-up, it appears it's something to be excited for and it's not far off now.
About the Creator
MA Media and Communication graduate from the University of Portsmouth - Massive Doctor Who Fan.
Reader insights
Be the first to share your insights about this piece.
Add your insights